What to look for in an Outsourced IT Help Desk Provider?
An outsourcing company must have a set of characteristics to qualify as exceptional. These qualities tell you the kind of service, solution quality, and ethics the company values while dealing with a client.
You only reap the benefits of IT helpdesk support when your IT help desk needs are met 100% and get IT Help Desk Services round the clock.
It is a big step to entrust that responsibility to a company, and hence the following factors matter enormously. If you require reducing overheads, increasing customer satisfaction and business growth, you should check out the comprehensive list below.
10 things that make an Outsourcing IT Help Desk Provider Extraordinary.
Expertise in Managed Services:
With efficient managed services comes exponential growth in your business. You need to find a company that manages your IT help desk services in a manner that aligns with your business goals and focuses on improving your performance efficiency.
Exceptional Knowledge of the Latest Technologies:
More knowledgeable the IT help desk support provider, the more quickly your tickets get closed. Hence the outsourcing service provider should possess immensely excellent knowledge and keep themselves up to date with the trending technology and upscale their skillset at all times.
Quick Troubleshooting:
Efficient problem-solving comes from experience and a keen eye to look at things with an innovative and intuitive perspective. When combined with the immense understanding of the company's technical skillset providing IT help desk solutions, the ticket resolution rate increases along with excellent customer satisfaction.
Highly Organised:
An IT help desk outsourcing company must follow a project management methodology adhered to the industry standards that vouches for a seamless ticket resolving process.
Customer-centric:
An IT help desk solutions provider should put the client's needs ahead and guarantee an uninterrupted business workflow. If the IT help desk outsourcing company can provide effective on-demand IT help desk services in almost no time, the client is in good hands.
Dedicated Support:
It is crucial that the team that is providing IT help desk services works only for you and not splitting their attention or juggling between two businesses. So, making sure the IT help desk outsourcing company provides dedicated support is fundamental.
Provide Clarity and Insights:
A company is not just defined by its services but its involvement in providing quality services. When you go to an IT help desk outsourcing company, they should not just resolve your issues but provide insights with clarity that will prevent such problems in the future.
Great Communicative Skills:
When you entirely rely on the IT help desk company through outsourcing, everything stands on the IT help desk service provider having excellent verbal and written communication skills. It is one of the core necessities that one should never compromise with while outsourcing IT help desk services.
Quality Management and Secure IT Help Desk Solutions:
Taking responsibility for your IT help desk services for your clients is you handing them your company's reputation to withhold. And when a company adheres to and is certified to uphold the ISO standards, it shows they are reliable in providing Quality Management and Secure IT Help Desk Solutions.
Flexible Engagement Modules:
Providing IT help desk services as per your business requirements is essentially what a good IT help desk outsourcing company will do. If you require a seat-basis, graveyard shift, full-time, part-time or on-demand IT help desk services, the solution provider should be open to it.
Why Should you Consider Infomaze for IT Help Desk Services?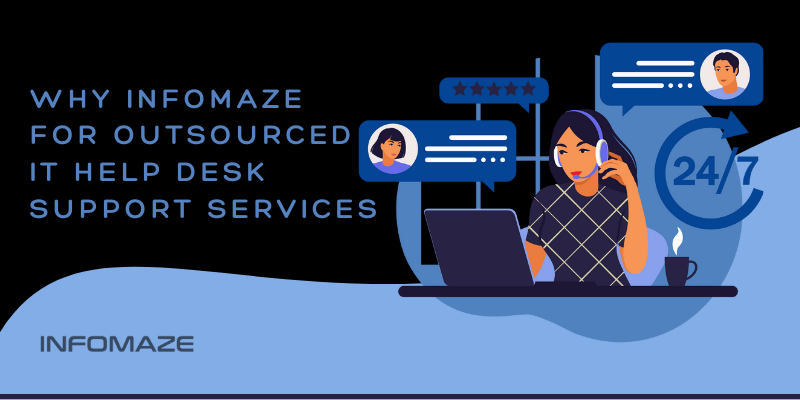 Infomaze has been delivering business IT help desk solutions for years now and has continued to serve its clients with 100% satisfaction with their services.
As an IT help desk outsourcing company that aims at and achieves all the above mentioned crucial factors, we succeed in helping you harvest the benefits of IT help desk support that we provide fully.
Being an ISO 9001:2015 and ISO/IEC 27001 certified company, we guarantee you get high-quality, secure solutions, precisely as we promise to deliver.
Get our IT help desk solutions now to get an impressive customer experience and provide high customer satisfaction standards to your clients. Be it team augmentation or complete IT help desk support you require, we are here to help.
---