What to look for in an Outsourced IT Help Desk Provider?
An outsourcing company must have a set of characteristics to qualify as exceptional. These qualities tell you the kind of service, solution quality, and ethics the company values while dealing with a client.
You only reap the benefits of IT helpdesk support when your IT help desk needs are met 100% and get IT Help Desk Services round the clock.
It is a big step to entrust that responsibility to a company, and hence the following factors matter enormously. If you require reducing overheads, increasing customer satisfaction and business growth, you should check out the comprehensive list below.
An IT Help Desk, also known as a Service Desk, is a centralized point of contact within an organization that provides assistance and support to users regarding their information technology (IT) needs and issues. It serves as a primary resource for users to seek technical support, troubleshoot problems, and receive guidance related to various IT services and systems.
The primary goal of an IT Help Desk is to ensure the efficient and effective resolution of user issues, minimizing disruptions and restoring normal operations as quickly as possible. The Help Desk team consists of skilled IT professionals who possess a wide range of knowledge and expertise in different areas of technology.
10 Key Factors That Make an Outsourcing IT Help Desk Provider Extraordinary
Outsourcing IT help desk services has become a popular choice for businesses seeking efficient and reliable support. However, not all IT help desk providers are created equal. To ensure you partner with an extraordinary outsourcing provider, consider the following ten factors that set them apart:
Managed services are crucial for exponential business growth. An extraordinary IT help desk provider understands this and manages your IT help desk services in a manner that aligns with your business goals. They focus on improving your performance efficiency and provide strategic guidance to enhance your overall operations.
The speed at which your IT tickets are resolved greatly depends on the knowledge and expertise of your help desk support provider. An extraordinary outsourcing service provider possesses excellent knowledge of the latest technologies. They continually update their skillset to stay abreast of emerging trends, ensuring efficient and effective troubleshooting.
Efficient problem-solving is a hallmark of an extraordinary IT help desk provider. Through their experience and innovative perspective, they can swiftly identify and address issues. A deep understanding of the company's technical skillset further enhances their ability to provide timely and effective IT help desk solutions. This results in a high ticket resolution rate and excellent customer satisfaction.
An exceptional IT help desk outsourcing company follows a project management methodology adhering to industry standards. Their organized approach ensures a seamless ticket resolving process. By efficiently managing and prioritizing tasks, they reduce response times and enhance overall service quality.
Putting the client's needs first is a fundamental characteristic of an extraordinary IT help desk solutions provider. They understand the importance of an uninterrupted business workflow and provide effective on-demand IT help desk services promptly. By offering personalized support and tailored solutions, they demonstrate their commitment to customer satisfaction.
To ensure focused attention and optimal service delivery, it is crucial that the team providing IT help desk services works exclusively for your business. An extraordinary IT help desk outsourcing company provides dedicated support, ensuring that their resources are not divided between multiple clients. This dedicated approach enhances communication, responsiveness, and problem-solving efficiency.
Beyond simply resolving issues, an outstanding IT help desk outsourcing company offers valuable insights and clarity to prevent future problems. They go the extra mile to provide in-depth explanations, guidance, and recommendations. By sharing their expertise and educating clients, they empower them to make informed decisions and proactively address potential challenges.
Effective communication is essential when relying on an outsourced IT help desk company. Extraordinary providers possess excellent verbal and written communication skills. They communicate clearly, actively listen to client needs, and respond promptly. Strong communication ensures smooth collaboration, understanding, and successful issue resolution.
An extraordinary IT help desk provider understands the importance of upholding your company's reputation. They take full responsibility for your IT help desk services, recognizing that it reflects on your brand. By adhering to quality management standards and being certified to uphold ISO standards, they demonstrate their commitment to providing reliable and secure IT help desk solutions.
An exceptional IT help desk outsourcing company understands that each business has unique requirements. They offer flexible engagement modules to accommodate your specific needs. Whether you require seat-based support, graveyard shifts, full-time, part-time, or on-demand IT help desk services, they are open to tailoring their offerings to align with your business requirements.
Why Should you Consider Infomaze for IT Help Desk Services?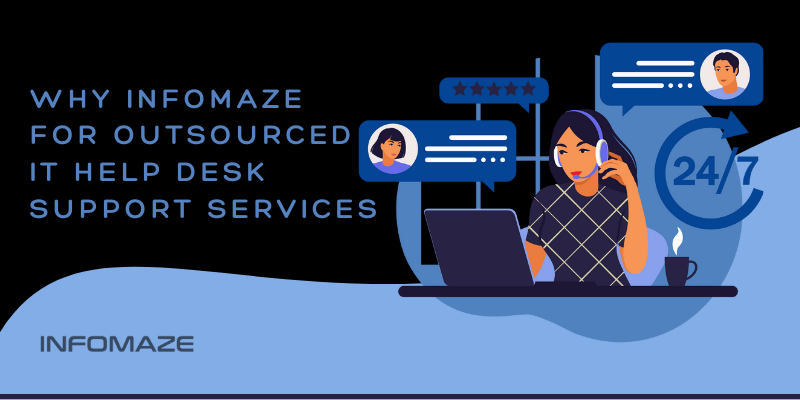 Infomaze has been delivering business IT help desk solutions for years now and has continued to serve its clients with 100% satisfaction with their services.
As an IT help desk outsourcing company that aims at and achieves all the above mentioned crucial factors, we succeed in helping you harvest the benefits of IT help desk support that we provide fully.
Being an ISO 9001:2015 and ISO/IEC 27001 certified company, we guarantee you get high-quality, secure solutions, precisely as we promise to deliver.
Get our IT help desk solutions now to get an impressive customer experience and provide high customer satisfaction standards to your clients. Be it team augmentation or complete IT help desk support you require, we are here to help.
---