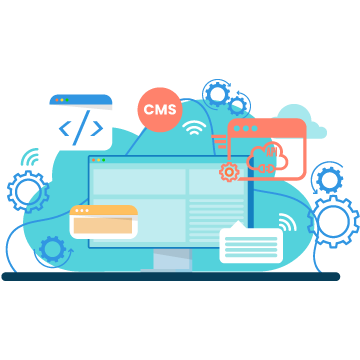 Cloud-based API Integration
Our developers integrate applications and other workloads to the cloud, using APIs to ensure access across different platforms and devices. Cloud APIs offer a robust interface for developing remote solutions across business applications and storage systems.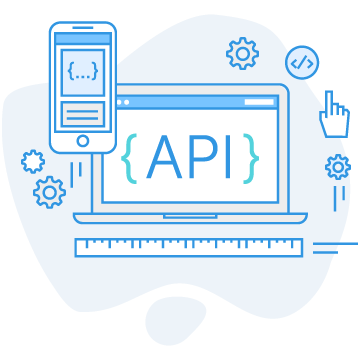 API as a Service
We target web API protocols like HTTP/HTTPS, JSON, REST, and SOAP for executing API-based micro-services with API as a service. In simple terms, API as a service lets you manage your custom APIs and interact with third-party APIs.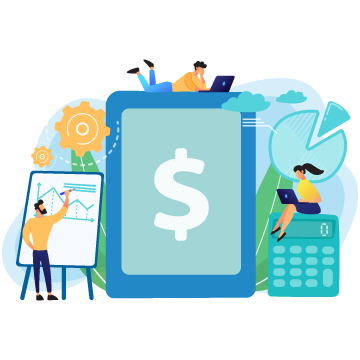 Accounting Software API Integration
We carry API integration services for leading accounting solutions, including QuickBooks, Xero, MYOB, Freshdesk, Sage, Fortnox, among others. Adapt to the change in building custom API connections to enhance your business portfolio effectively.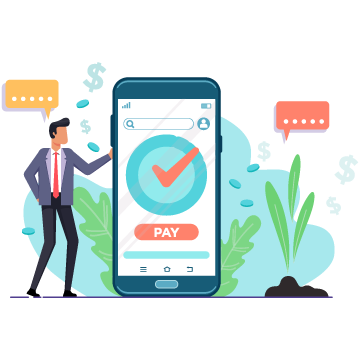 Payment Gateway API Integration
Integrate your business website to a Payment gateway with custom API integration using major payment gateways, including PayPal, Stripe, Authorize.net, Google Checkout, PayU, BillDesk, and CCAvenue.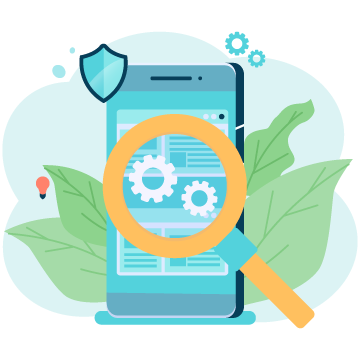 API Testing Automation
We understand the criticality of testing the product quality before a successful deployment. Our developers are experts in the CI/CD process and automated testing, including unit testing, functional testing, penetration testing, UI testing, and load testing to check APIs' performance.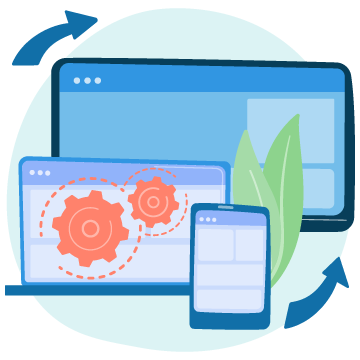 Custom API Integration
We help businesses align their workflows through our custom API integration services and achieve better connectivity between apps and websites. Be it an eCommerce integration or a CRM integration, and we build solutions to meet your requirements.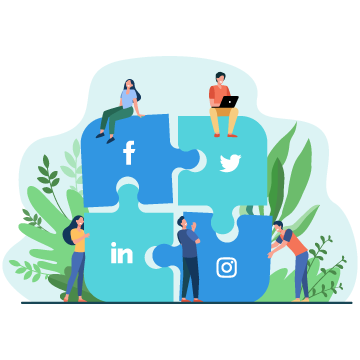 Social Media API Integration
Enhance the popularity of your websites with our rich selection of social media API integration services. Build your audience reach and your social presence to connect with potential leads and increase your ROI.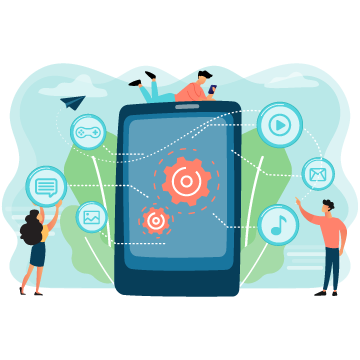 Third-party API Integrations
We offer custom third-party API integration and development services to assist businesses with connecting their systems, apps, and websites. Improve your productivity and work efficiency by integrating unique features and third-party integration services.
Our API Integration Case Studies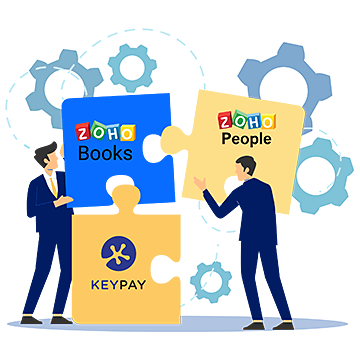 KeyPay Integration with Zoho Books
Through our Zoho and API Integration services, we helped our Australian client Infra Hub, a SaaS-based payroll management solution provider, eliminate manual, double data entry on Keypay and Zoho Books and bridging the gap between Zoho Books, Zoho People, & KeyPay.
With our expertise in API integration and authentication processes, we provided a Zoho solution that acted as efficient employee management within their organization. By streamlining the payment process, leave management, sorting and storing email correspondences with HR, and more, we dramatically reduced the operational costs and increased performance efficiency.
View Details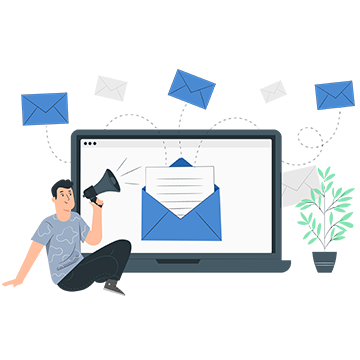 Email Automation with Zoho Campaign Integration with Lob
Our client, based in Texas, was looking to automate email campaigning for their mortgage company. The client provided home finance solutions and had a vast clientele. Our client was looking for a way to obtain error-free email campaigning, both online and offline communications.
We provided a secure, customized approach to sending personalized emails with service notes and bills with our Zoho and API integration services, with a verification step to prevent erroneous emails. We linked Zoho Campaign with Lob, which took care of both email automation and secured a direct mailing service.
View Details
Get API Integration Services now!
We offer tailored API Integration services to simplify and automate complex business processes. Get all your data sources integrated and save workforce energy and time.
Schedule a Meeting Now
Industries Served with our API Integration Services:
Solar Industry

Solar Industry

Get better at serving your clients with an integrated workflow management system and improve your business growth.

Entertainment

Entertainment

Get the maximum benefit of API integration and get a digitally enhanced entertainment system.

Real Estate

Real Estate

Link your CRM, Database, and other data resources and ensure quality and secure services for your clients.

Education

Education

Get different data assets integrated in an organized manner through our API integration services.

Healthcare

Healthcare

Get HIPPAA compliant, secure integration between all of your workflow management systems, including ERP, CRM, DMS, to name a few.

Manufacturing

Manufacturing

Eliminate departmental silos by integrating all department-level management systems with authenticated API services.

Law

Law

Stay data-ready at all times with the API integration services we offer. Get compliant, secure access to all of your data on a single platform.

Travel Agency

Travel Agency

Integrate your CRM, work management software and streamline your travel agency business processes.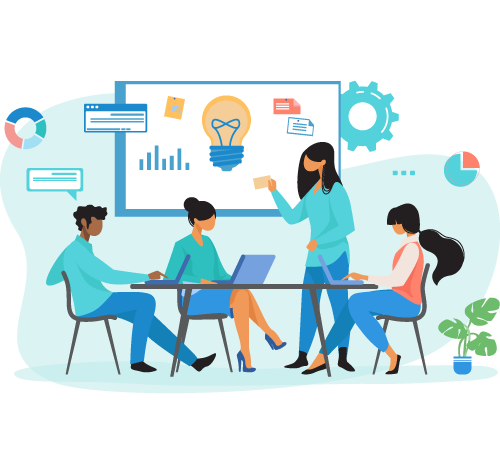 Why choose Infomaze for
API Integration Services?
Diverse expertise in handling multiple communication methods, including SOAP, REST, JSON, to name a few.

100% satisfaction guaranteed with exceptional functionality boost to your application

Smooth user experience and seamless connectivitys

Cost-effective API development for desktops, websites, mobile apps, controllers, and cloud platforms.

Increase productivity and ROI

Flawless end-to-end API testing capabilities

Reduced development time

Industry-specific solutions for B2B and B2C applications.

Scalable API architecture

Experience linking CRM, ERP, HRMS, ticketing systems, accounting and payment gateways, social media, mapping solutions, email services, and other web and on-premises applications.
Salvatore

Project Manager
"Infomaze is the best technology partner any business could ask for, they go above and beyond to satisfy my business needs and they will do research and develop anything you need. I will never switch to any other company, may your success be our success! P.S. Gaj is the best."
Bryce

Project Manager
"Vic and the team at Infomaze are absolutely awesome to work with. Their price was fair and their professionalism is top notch. They spent more time waiting on me than I did them, and they were patient and courteous every step of the way. I would definitely recommend hiring them , and I will continue to use them for my future projects"
Jonathan

Project Manager
"I was very happy with the promises made and, more importantly, delivered. Quality code. Neat and organized. Ace assisted with the last tweaks to ensure I was a happy client. I would be happy to work with them again on my next project."
Gerhard

Project Manager
"The project thus far was not complicated and we are continuing to the next phase. My experience with Vik to date: Very good service – friendly and helpful with" high level of technical understanding and competence. Listens to what I want, makes suggestions where appropriate and delivers very quickly.