Hire Zoho Developer
Hire Zoho developers who are well-versed with the latest technologies, have undergone rigorous training, including test projects, and have gained expertise by delivering many successful live projects.

Hire Software Maintenance Team
Extend the vitality of your software with our software maintenance services to ensure smooth functioning, eliminating crash downs and expenditures with regular error fixing, bug tracking, and upgrades.

Hire PHP Developer
Our skilled and talented PHP developers create top-notch web applications, including CMS, e-commerce solutions, API integrations, image processing and PDF conversion to deliver best-in-class solutions.

Hire API Developer
Leverage APIs' capabilities create new and compelling ways for clients to interact between applications for first-class digital experiences and cost-effective solutions that match your goals.

Hire MEAN Stack Developer
Get end-to-end MEAN stack development services from development, designing & testing using great technologies like NodeJS, MongoDB, AngularJS, & ExpressJS. Hire us today!

Hire MERN Stack Developer
Our talented MERN stack developers provide robust solutions with MERN using ExpressJS, MongoDB, Node JS, & ReactJS to build dynamic applications that scale the company's operation.

Hire QA Testers
Screen our talented pool of testers and choose from a list of our QA profiles who will run multiple tests to analyze the quality of your unique software for any defects or bugs.

Hire Angular Developer
Get robust, data-driven & highly interactive Angular applications developed by Infomaze developers at competitive prices. Hire Angular developers today to fulfil your various business goals!

Hire Azure Developer
Our Azure developers offer end-to-end purpose-driven solutions to build, deploy and manage apps in a cloud environment. Migrate your app, website or business system to Microsoft Azure cloud to develop a cloud-based application.

Hire UI/UX Developer
Hire UI/UX developers who have excellent knowledge to develop the integral parts of web apps, mobile app UI, UX design & software applications to create an everlasting impression on the user's mind.

Hire Magento Developer
Infomaze's Magento developers have a solid history of developing distinctive E-commerce solutions anytime to get flawless and innovative solutions with faster response times.

Hire WordPress Developer
Our WordPress developers are proficient with plug-in development, custom-based themes development, custom web development, & WordPress customization. Hire us today!

Hire Sharepoint Developer
Our SharePoint application development team follows an agile methodology to develop unique cloud-based SharePoint SaaS solutions and maintain transparency with 100% customer satisfaction guaranteed.

Hire Dot NET Developer
Hire our experts in .Net languages (C# & VB.NET), who know the basic working of .Net runtime & .Net class libraries and deliver seamless solutions for clients across the globe.

Hire React.JS Developer
Our ReactJS developers have hands-on experience with ReactJS development, integration, migration to consulting and offer a wide range of ReactJS development services to SMEs and large businesses worldwide.
Infomaze's Flexible and
Affordable Hiring Modules
Our trained developers have proven their abilities, not just in theory but in practice, including development, integration, publishing, documentation, and providing regular updates on project development.
Infomaze is a reliable & trusted software development company in India with a faster turnaround time. Our dedicated programmers offer business-centric development services to global clients, building scalable and performance-oriented mobile & web apps solutions to increase their ROI.
Hire Indian Software Developers

Project basis
Hire dedicated developers in India on a project basis and let our team know your project needs. Projects are completed on a milestone basis and undergo testing stages before providing a working software.

Agile Methodology
Our experienced Indian software developers follow the agile process throughout the software development cycle and will be available on-demand to take care of any urgent needs to complete the project.

Hire Part/Long Term
Hire programmers in India to work on your unique project for part or a long time with our flexible engagement modules. We offer the finest team with similar experience to deliver sterling results based on the job.
Know-How our Dedicated Development Team Operate
Project Requirements
Do you have a web or mobile application that you want to integrate with third-party applications to automate your enterprise? If yes, reach out to us.
01
Hire Software Developers
in India
Screen our experienced & talented pool of software developers and choose from a list of our best programmer's profiles to work on your project.
02
Project
Completion
We complete the project needs with zero-data loss to ensure data security and smoothly operate uni-directional or bi-directional data exchange.
03
QA &
Testing
Once the project is complete, we will run QA (Quality Assurance) tests on your mobile and web application to ensure the developed application is error-free.
04
A Quick Look at the Industries Our Development Team Has Worked On
Foodservice

Foodservice

Hire programmers from Infomaze to maximize customer satisfaction in your unique foodservice business by customizing your delivery apps and providing other web solutions.

eCommerce

eCommerce

Hire developers in India to get the best web and mobile app integration & customizations along with eCommerce platform development.

Photography

Photography

Manage your photography business seamlessly with the help of our software developers for hire and customizations in your web and mobile or software development solution.

Consulting

Consulting

Have all the necessary information at your fingertips and operate your consulting business from one customized website. Hire a coder in India to work on your project now!

Legal

Legal

Handle all of your data dumps, clients' confidentiality intact with software development solutions, and efficiently handle your law firm's workflow.

Construction

Construction

Manage all your assets and workflows in your industry by hiring software developers from Infomaze, who can customize and handle your applications with reassurance.

Solar

Solar

Automate your customer relationship and record management to obtain the maximum benefits in your solar industry business by modifying and managing your old web and mobile application.

Telecommunication

Telecommunication

Hire software developers in India who have experience working on mobile telecommunication apps and get customizations per your business needs.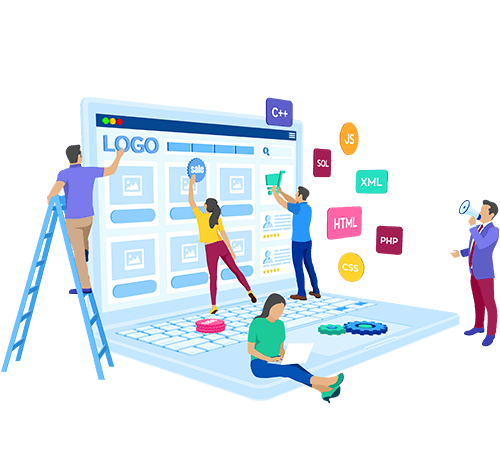 Why Choose Infomaze for Software Development?
Infomaze is an ISO 9001:2015 certified & ISO 27001 accredited company, and we take quality and privacy very seriously. We sign NDAs and obey them strictly.

Our skilled developers and coders follow a quick and agile development process to ensure your customized project is completed and delivered on time.

All our coders & programmers are excellent at English Speaking and coordinate with clients on Chats, Emails, Skype, Etc.

Hire Indian software developers from Infomaze, who offer cost-effective solutions worldwide for big and small enterprises.

You can hire developers in India of your choice by looking at our developers' profiles. We schedule interviews to ease hiring Indian programmers according to your needs.

Hire a coder from Infomaze who is highly skilled across various platforms & technologies and has the creative intellect to think out-of-the-box project development.

Our developers have worked in different time zones worldwide to assist your project development at any given time.

The developers at Infomaze provide the best-in-class scalable solutions that go beyond your anticipations.

Our reliable and experienced developers follow agile methodology throughout every stage of development to deliver projects on time.
Ready to Hire Programmers in India?
Salvatore

Project Manager
"Infomaze is the best technology partner any business could ask for, they go above and beyond to satisfy my business needs and they will do research and develop anything you need. I will never switch to any other company, may your success be our success! P.S. Gaj is the best."
Bryce

Project Manager
"Vic and the team at Infomaze are absolutely awesome to work with. Their price was fair and their professionalism is top notch. They spent more time waiting on me than I did them, and they were patient and courteous every step of the way. I would definitely recommend hiring them , and I will continue to use them for my future projects"
Jonathan

Project Manager
"I was very happy with the promises made and, more importantly, delivered. Quality code. Neat and organized. Ace assisted with the last tweaks to ensure I was a happy client. I would be happy to work with them again on my next project."
Gerhard

Project Manager
"The project thus far was not complicated and we are continuing to the next phase. My experience with Vik to date: Very good service – friendly and helpful with" high level of technical understanding and competence. Listens to what I want, makes suggestions where appropriate and delivers very quickly.