UI and UX Design and Development
Our UI and UX designers are talented in translating client requirements and building superior graphic masterpieces in value and quality. We take care of every aspect of the UI and UX designing according to your needs. Hire UI UX designers now.

Mockups Designing
When you hire UI UX designers from Infomaze, they develop mockup designs for your websites or mobile apps as per your requirements and keeping every tiny detail from colour to matching your brand image. Once done, we undertake tweaks as much as you need until we have the perfect mockup.

Wireframe and Prototyping
Hire UI UX designers who offer a full suite of wireframe design services using the latest tools and techniques for a beautifully branded web or mobile app experience. With the initial blueprint finalised with the wireframe, our UI UX developers for hire add colour and life to the wireframe design and provide you with the final look of your app through prototype designs.
Mobile UI UX Design
Hire UI UX designers who understand the importance of developing responsive UI/UX designs and get seamlessly flowing interactive mobile app designs. Our UI and UX strategists understand the app's purpose and strategise the best way to reflect it through the UI/UX designs and also come up with cross-platform designs when required.

Web App/Website/eCommerce UI UX Design
Get highly creative, innovative web app UI and UX designs that provide a unique user experience built with mobile compatibility in mind. Only after a thorough competitive analysis do we come up with a UI/UX design that ensures you stand out. And equally, come up with impressive website/eCommerce UI and UX designs that are responsive, SEO-friendly and helps increase user engagement. Hire UI UX developers now.

PSD to HTML Designs
Suppose you have a PSD design and thinking about getting started with the app or website development. In that case, we convert it to HTML, check the design's viability, and improve the UI/UX to help you get the best functionality and interactivity. Hire UI UX designers now.

Usability Testing
After the project completion, we run multiple tests to ensure the result meets all accuracy, efficiency, and security requirements. We also check if the UI and UX match your company standards after understanding your branding and marketing plan.

IT Architecture Development
We leverage our expertise in information architecture UI and UX designing and build robust IT infrastructures for maximised scalability and performance across various industry verticals and domains. Hire UI UX designers NOW.

Dashboard Interface Design
Hire UI UX developers who build data-driven, interactive dashboards. Gain more visitors through impactful decisions based on the strategic display of information on the dashboard and achieve higher growth in your business. We know what it takes to create lasting impressions with one view of the informational dashboards. Hire UI UX developers now.

UI UX Consulting Services
From helping you set the tone of your brand, strategically developing the UI UX designs to its fulfilment, we understand every nook and corner of it all. Through our UI UX consulting services, we answer any questions you may have and bring clarity before you decide to move forward with us. Talk to us now.
Infomaze's Affordable and
Flexible Hiring Modules
We are flexible in offering our services, solutions, and developers as per your business needs.
Hire UI/UX designers and choose a full-time, part-time plan that meets your project needs.
Have an idea and need to work on a fixed cost basis? Fret not; our fixed cost module will deliver the exact quality solutions at an agreed cost.
Check out our hiring modules for UI/UX developers for your project, and share your requirements. We can reduce your fixed cost and deliver the best quality & solution for your needs.
Hire Our Team Now

Fixed Cost Project Based
Engage us to work on your project on a fixed-cost basis. What we need is the project requirement, and our team can take it from there. Projects are delivered on a milestone basis and undergo a testing process before providing a well-written and tested solution.

Hire UI UX Designers Now
Hire a UI/UX designer or a team for your project needs and engage us weekly, monthly, or long-term. You can hire UI/UX designer, and only when you like our work hire UI/UX designers. The cost gets more competitive with the duration of the engagement. Based on the project, we recommend the best team with similar experience to deliver top-notch results.

Hire Team on Demand
Often you may not require a full-time or a part-time team to work on a task or project for your website or application designs. This model lets you engage our team on demand and takes care of any immediate or urgent needs. Our team of UI UX developers for hire can start immediately in a strategic and organised manner.
The Project Management Process Followed when you Hire UI UX Designers:
Share Project Requirements
Give us a call or drop us a line and share your UI/UX requirements for our UI UX designer for hire to work on and we will begin with a systematic plan.
01
Hire UI UX Developers
Screen our talent pool and choose from a list of our UI UX developers' profiles to work on your unique project.
02
Get the Project Completed.
We will keep you in the loop during the UI UX development process from designing, coding project management, and QA.
03
QA & Testing
Once the project is complete, we will run meticulous QA (Quality Assurance) tests for UI and UX before its implementation.
04
Hire UI UX Designers with Expertise in Various Industry Verticals:
Entertainment

Entertainment

UI UX plays a significant role in the entertainment industry, and our UI UX developers help create great user interfaces and experiences for the end-users.

Education

Education

For an excellent e-learning experience, hire UI UX developers from Infomaze who follow the current trends in UI UX designs.

Human Resource

Human Resource

Interacting seamlessly with employees is essential, as it affects the employee retention rate. Hire UI/UX designers to develop an excellent medium with great UI/UX now.

Travel Agency

Travel Agency

A remarkable journey starts with an exceptional UI/UX on your website and applications. Hire UI/UX developers now.

Healthcare

Healthcare

With a great UI/UX, get insightful dashboards and serve patients and handle administrative processes better.

Manufacturing

Manufacturing

Break silos with high-standard UI/UX in your management applications and get the best results in your manufacturing business.

Real Estate

Real Estate

From property lists to tax compliance, get easy access to all the data with exceptional user experience and interface. Talk to our UI/UX consultants now.

Telecommunications

Telecommunications

Get high-level data management for properties, taxes, and other impactful factors and manage your business efficiently with web applications.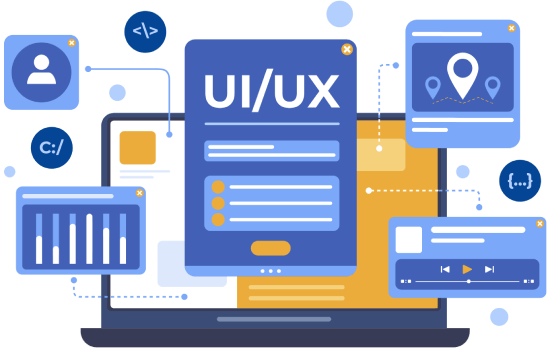 Why hire UI and UX Designers
from Infomaze?
Our UI and UX designers team offer the perfect blend of creativity and technology to give the best visual appearance.

Our UI UX designers and developers have real-life experience dealing with multiple UI and UX development projects, from UI and UX development for web and mobile, third-party API integration, wireframe design services with prototyping, IT architecture development, usability testing, and other UI UX services.

When you hire UI/UX designers from us, we use the latest tools and technologies, including Photoshop, Adobe ImageReady, HTML, CSS, to name a few and provide the best UI UX designs.

Through our UI & UX development services that you get when you hire UI UX developers, we implement a research-oriented approach to deliver strategic insights on designs that support users' needs and business goals.

We develop highly flexible, scalable, responsive, and user-friendly applications for all platforms. Added to this, our skilled designers work on the visual touch-points and facilitate smooth navigation and post-deployment support.

With regular communication and a client-centric attitude that we carry, we make as many tweaks as you want to get the best UI UX designs that jumpstart your business towards better growth and development.

Our excellence is what differentiates us from our competitors. At Infomaze, we emphasize innovation to provide value-added services to our clients.
Discuss Engagement Module
Salvatore

Project Manager
"Infomaze is the best technology partner any business could ask for, they go above and beyond to satisfy my business needs and they will do research and develop anything you need. I will never switch to any other company, may your success be our success! P.S. Gaj is the best."
Bryce

Project Manager
"Vic and the team at Infomaze are absolutely awesome to work with. Their price was fair and their professionalism is top notch. They spent more time waiting on me than I did them, and they were patient and courteous every step of the way. I would definitely recommend hiring them , and I will continue to use them for my future projects"
Jonathan

Project Manager
"I was very happy with the promises made and, more importantly, delivered. Quality code. Neat and organized. Ace assisted with the last tweaks to ensure I was a happy client. I would be happy to work with them again on my next project."
Gerhard

Project Manager
"The project thus far was not complicated and we are continuing to the next phase. My experience with Vik to date: Very good service – friendly and helpful with" high level of technical understanding and competence. Listens to what I want, makes suggestions where appropriate and delivers very quickly.