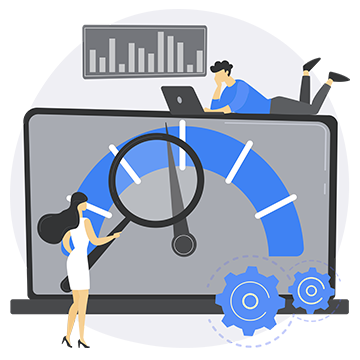 Performance Testing
Our talented QA testers deliver quality-driven performance testing on your applications to evaluate how a particular system performs under maximum workload to measure an application's responsiveness, scalability, speed, and reliability.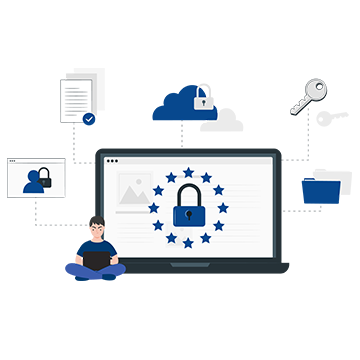 Vulnerability Testing
In this testing, we use efficient test strategies to identify crucial network, software, and hardware defects to protect the system from hostile viruses and attacks. Our QA testers will dynamically place testing codes to check on security authentication and real-time vulnerabilities.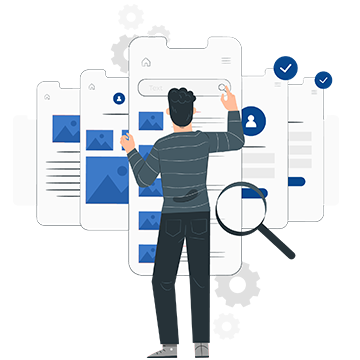 Usability Testing
QA services also include usability testing, ensuring the supplied code is expandable and free of bugs and errors and expandable. Our skilled and trained QA engineers perform oriented code verification testing to evaluate the user experience.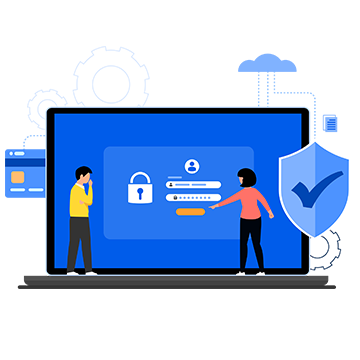 Security Testing
Our software quality assurance testing services include security testing, which identifies the software system's possible weaknesses and loopholes, which might result in losing vital information and revenue to validate for maximum functionality, usability, and consistency.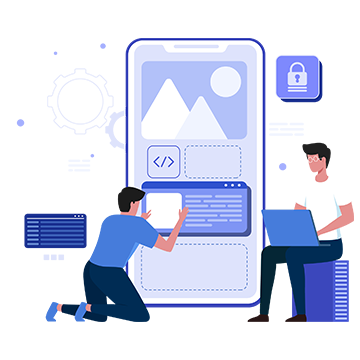 Mobile Application Testing
This testing can be manual or automated, ensuring the modern mobile devices you deliver to prospects meet all the user expectations and business needs. Our QA testers cater to outstanding manual testing services to achieve performance, usability, functionality, and much more.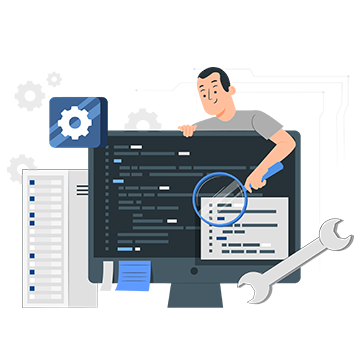 Functional Testing
Our QA testing services get advanced level functional testing, including unit testing, interface testing, system testing, regression testing, BETA testing, and more to prevent functionality defects and unexpected product behavior, thus enhancing a bug-free user experience.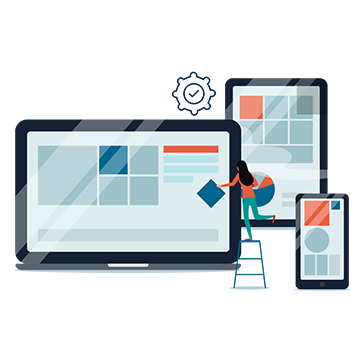 Compatibility Testing
Our Software compatibility testing is designed to perform compatibility checks on the applicant system to ensure the software smoothly runs on different databases, browsers, versions, and third-party applications.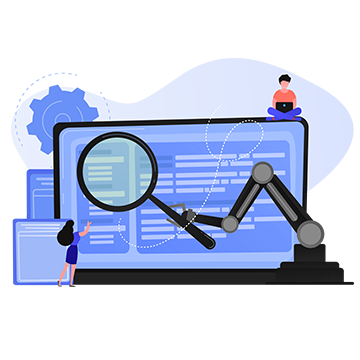 Automation Testing
We lay out a clear automation testing roadmap using tools like Ranorex, Coded UI, Selenium, Etc., that perfectly align with your system requirements. Our full-cycle automated testing enhances your business productivity and service quality. Get QA and testing services now.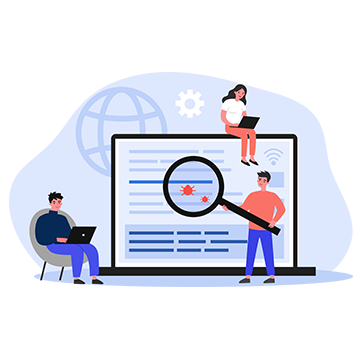 End-to-end Testing
The application flow is tested from start to end to detect dependencies and ensure the responsiveness between various components & systems. We look for reliability, security breaches, feature flaws, UI designs, source code authorizations, and more with our quality assurance testing services.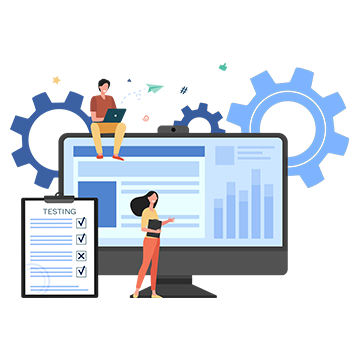 Test Consulting
Our testing and Quality Assurance consultants follow the best approach and test strategies by leveraging cutting-edge tools & technologies. We let you know the proper testing protocol required on your systems to keep them free from manual errors, bugs, and incompatibilities.
How we work: Software testing flow
Having expertise in multiple testing tools, we provide an array of QA testing services. Our consultants understand your working environment thoroughly and provide our quality assurance testers with the required inputs before developing a working strategy that suits your business needs ideally.
READY TO TAKE YOUR BUSINESS TO THE NEXT LEVEL?
At Infomaze, our QA testers are committed to delivering high-quality QA services that keep your application running smoothly and free from bugs, malware, and inconsistencies.
Schedule a Meeting Now
Our Expertise in Quality Assurance Testing
Infomaze offers highly stringent quality assurance services across multiple industries. Domain experts perform end-to-end QA analysis with a structured project management system. Our process audits are designed to improve work efficiency and optimize the business workflow.
Automobile

Automobile

The automobile is a rapidly evolving industry, and staying updated with the latest technologies is vital to stay relevant in the digital market. Our QA experts have helped many prospects in the automobile industry by implementing the proper testing solutions.

Energy and Utilities

Energy and Utilities

Due to its fast-depleting nature, the focus on various energy and utilities has increased in the past decade. To manage the remaining resource of the energy and utility sector, businesses are moving toward IT solutions to acquire the best testing solutions for their tools and software.

Insurance

Insurance

Insurance companies have faced losses due to some uncertainties, but there is an ever-increasing demand for providing better service to its customers. Our trained testers will provide insurance companies with the best software testing services to ensure their software works flawlessly and reliably.

Banking and Financial

Banking and Financial

Banking plays a vital role in the economy of any country, so the software and tools they use must be high on performance and well tested. Our QA engineers have experience in the financial sector and provide the best software testing services for prospects.

Healthcare

Healthcare

We have abundant experience in providing effective operational healthcare solutions by executing multiple QA tests on their systems to give easy access to patients to schedule appointments with doctors and more.

Retail

Retail

Our team of skilled and experienced QA testers understand the requirements of the retail industry and choose the right tool and technology to test their applications to give a competive edge to your customers with smooth UI and UX.

Telecom

Telecom

The internet has changed the way of telecom sector operates through video, voice, and data. There is an increasing demand for innovative and bug-free software, and our QA engineers will provide result-driven software testing services for telecom software.

Manufacturing

Manufacturing

Manufacturing is a highly competitive business sector where product quality is essential in deciding whether the business is thriving. Our software testers use the latest software-tested tools and technologies to aid manufacturers in creating state-of-the-art products.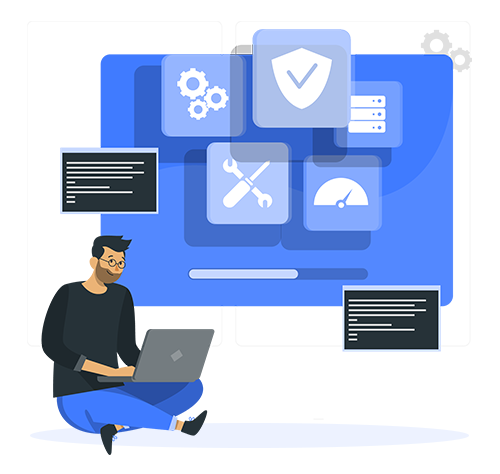 Why choose Infomaze for
Quality Assurance services?
We have offered reliable quality assurance software testing services for over 20+ years that help clients acquire an edge over competitors and exceed their expectations.

Our QA experts are masters in the testing domain and trained to quickly adapt to the latest technological changes and leverage the most advanced tools to deliver top-notch results.

Our testing experts can help you release state-of-the-art software products by leveraging the latest advanced testing tools and technologies.

We assist our client's complex issues and requirements with a solution-based approach and provide flawless and impeccable software development.

Our QA and testing services are not just limited to bug fixing, but we also specialize in defining business processes and their implementation, auditing, and training.

While developing a software product, our QA experts analyze and test everything from the end user's perspective to deliver user-oriented solutions.

Our experienced testers run multiple tests on various scenarios to identify inconsistencies, errors, and redundancies in the early stages of the development cycle to deliver efficient and error-free solutions.

We focus on improving user experience across all platforms, implementing best practices to mitigate risks or additional costs, and helping clients achieve high ROI.

As an ISO certifies company, we have delivered robust, flexible, successful live projects for various industry verticals at competitive prices without any defects or bugs.
Salvatore

Project Manager
"Infomaze is the best technology partner any business could ask for, they go above and beyond to satisfy my business needs and they will do research and develop anything you need. I will never switch to any other company, may your success be our success! P.S. Gaj is the best."
Bryce

Project Manager
"Vic and the team at Infomaze are absolutely awesome to work with. Their price was fair and their professionalism is top notch. They spent more time waiting on me than I did them, and they were patient and courteous every step of the way. I would definitely recommend hiring them , and I will continue to use them for my future projects"
Jonathan

Project Manager
"I was very happy with the promises made and, more importantly, delivered. Quality code. Neat and organized. Ace assisted with the last tweaks to ensure I was a happy client. I would be happy to work with them again on my next project."
Gerhard

Project Manager
"The project thus far was not complicated and we are continuing to the next phase. My experience with Vik to date: Very good service – friendly and helpful with" high level of technical understanding and competence. Listens to what I want, makes suggestions where appropriate and delivers very quickly.