ElectronJS Custom Desktop App Development Services
Our dedicated ElectronJS developers used tested and proven software methodologies to reduce unwanted costs, risks, and complexity to offer tailored solutions for their unique needs to deliver highly customized desktop apps with Electron that allow smooth management of microservices and management.

ElectronJS Cross Platform Development Services
Cross platform development is a viable strategy to minimize market expenses and time while providing a contextual user experience. It allows uniformity between platforms to streamline recognition and collaboration across multiple platforms between its users and your brand.

ElectronJS API Integration Services Development
Electron for desktop apps with API integration is a great alternative to expand product features that connect applications, third-party apps, software, and websites through standard or custom APIs leveraging the highest potential of the applications.

ElectronJS Migration and Upgradation Service
Avoid technical, non-technical, and performance issues with Electron desktop app development services by employing validated and tested techniques that help our clients migrate and upgrade their software applications while minimizing risks and speeding up the implementation process without data loss.

ElectronJS Custom App UI/UX Development
Our ElectronJS UI/UX development service creates interactive and eye-catching interfaces with Electron Chromium ensuring app design's uniformity across multiple OS, offering a simple yet immersive browsing experience and driving them to interact with your app for a prolonged time.

ElectronJS Custom Plugins Development for NPMs
Design customized functionalities and features within the final desktop apps with Electron without altering its frontend UI and backend data and by integrating custom plugins in the NPM packages.

ElectronJS Support and Maintenance
Our Electron JS development service provides clients with support and maintenance for your desktop apps at different levels tailored to their applications' requirements. We conduct regular security and health checks to guarantee the seamless function of your application.
Infomaze's Affordable And
Flexible Hiring Modules
We are flexible in offering our solutions, developers, and services per your business requirements. Hire ElectronJS developers and choose a full-time, part-time, or on-demand plan that fulfills your project requirements.
Have an idea and need to accomplish it on a fixed cost basis? Think no more; our fixed-cost module will provide the exact quality solutions at an agreed cost. Check out our hiring modules for Electron developers for your unique project, and share your needs. We can lower your fixed cost and furnish top-notch solutions for your demands.
Hire Our ElectronJS Team Now

Fixed Cost Project Based
Engage us to work on your unique project on a fixed-cost basis. We require the project's requirements, and our qualified team can take it from there. Your projects are furnished on a milestone basis and undergo a QA test before delivering a well-written and tested solution.

Hire ElectronJS Developer
Hire an ElectronJS developer(s) or a team for your project requirements and employ us monthly or long-term. You can begin with a trial task and engage the team based on the outcomes. The price gets more competitive with the time of the engagement. Based on your unique project, we present the best reliable team with similar experience to deliver first-in-class results.

Hire Team on Demand
Often, you may not need a part-time or full-time team to work on a project for your ElectronJS project. This model lets you engage our team on-demand and takes care of immediate or critical needs. Our team of Electron developers for hire can commence immediately in an organized and strategic manner.
Project Management Process, our ElectronJS Developers follow:
Share Project Requirements
Call or drop us a line and share your innovative ideas to let us understand your exact project specifications.
01
Hire ElectronJS Programmers
Screen our talent pool and select from a list of our ElectronJS developer's profiles to work on your project.
02
Get the Project Completed
We will keep you in the loop during the development process from coding, designing, QA, and project management.
03
QA &
Testing
Once the project is complete, we will run detailed QA (Quality Assurance) tests on your apps for thriving implementation.
04
Hire Electron Developers to Build Custom Applications
for any Industry Sectors
Healthcare

Healthcare

IT technology in healthcare is complicated and head-scratching. Get seamless regulations-compliant Electron desktop app for efficient business workflow now.

Solar Industry

Solar Industry

Get appealing desktop apps with Electron to increase leads, and custom Electron applications will deliver higher customer satisfaction for your end-users.

Travel Agency

Travel Agency

With cloud-based electron JS desktop app, monitor and deliver quality services individually with employee and client portals.

Bank & Financials

Bank & Financials

Get ElectronJS-based solutions to deliver top-notch services for your clients and handle all your banking and financial services seamlessly.

Manufacturing

Manufacturing

Get ERP, CRM, and other ElectronJS integrations to suit your manufacturing process and automate your business workflow to increase productivity.

Real Estate

Real Estate

Get high-level data management for taxes, properties, and other impactful aspects and handle your business efficiently with Electron for desktop apps.

Education

Education

Get an Electron-based, highly organized document management application for desktop to stay organized in your administrative management.

eCommerce

eCommerce

Build competitively innovative eCommerce solutions for B2B or B2C consumers with the help of our Electron desktop app services.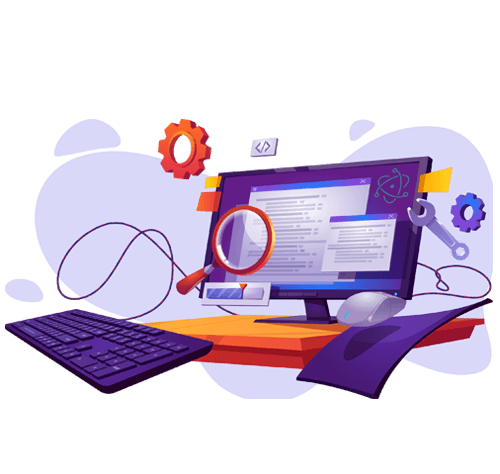 Why choose Infomaze for Electron Desktop App Development Services?
As an ElectronJS development company, we provide our clients with top-notch development services that harness the full potential of this robust open source framework.

Our ElectronJS developers have in-depth knowledge of the latest technologies to provide an avant-garde Electron desktop application with a user-friendly interface that matches your business needs.

Dedicated Electron developers stay updated with the framework to craft web and desktop apps that are performance drives and empower to achieve maximum ROI.

Our team comprises project managers, developers, UI/UX designers, and QA experts to build an Electron desktop app with the most significant focus on data security and UI/UX elements.

Get on-time support and regular updates for customizing and calibrating the Electron JS desktop app for effective and efficient performance.

We follow strict NDAs to protect your project ideas and data and offer complete confidentiality of information to safeguard the integrity and compliant services.

Partnering with Infomaze is the best choice because we follow an agile project management approach, enabling us to deliver on time with quality at cost-effective rates.

Infomaze is an ISO 9001:2015 and ISO/IEC 27001 accredited company, and we believe in the principles of delivering solutions of the finest quality that enhance your business productivity.
Let's Connect
Salvatore

Project Manager
"Infomaze is the best technology partner any business could ask for, they go above and beyond to satisfy my business needs and they will do research and develop anything you need. I will never switch to any other company, may your success be our success! P.S. Gaj is the best."
Bryce

Project Manager
"Vic and the team at Infomaze are absolutely awesome to work with. Their price was fair and their professionalism is top notch. They spent more time waiting on me than I did them, and they were patient and courteous every step of the way. I would definitely recommend hiring them , and I will continue to use them for my future projects"
Jonathan

Project Manager
"I was very happy with the promises made and, more importantly, delivered. Quality code. Neat and organized. Ace assisted with the last tweaks to ensure I was a happy client. I would be happy to work with them again on my next project."
Gerhard

Project Manager
"The project thus far was not complicated and we are continuing to the next phase. My experience with Vik to date: Very good service – friendly and helpful with" high level of technical understanding and competence. Listens to what I want, makes suggestions where appropriate and delivers very quickly.