How We Help Different Industry Sectors
Whether you run a heavy industry, light industry or service industry, be what may, our software development services help bring the necessary automation, efficiency and productivity in the business.
Book an Appointment!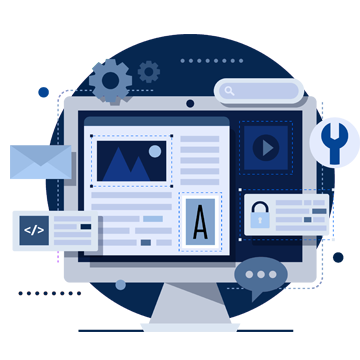 Web Development
Get industry-specific web applications from us with the best workflow, automation, backend-drive web applications. Scale-up your business with our reliable and future-proofed web application development services.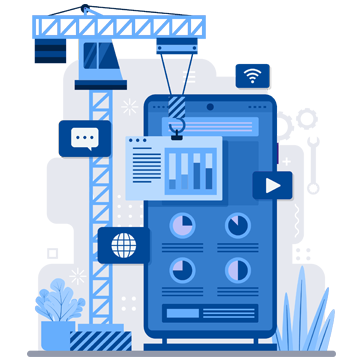 Mobile App Development
With expertise developing mobile applications using various tech-stacks for multiple industrial segments and categories, we have developed Native, cross-platform & hybrid apps with custom workflows & launched them on the app stores.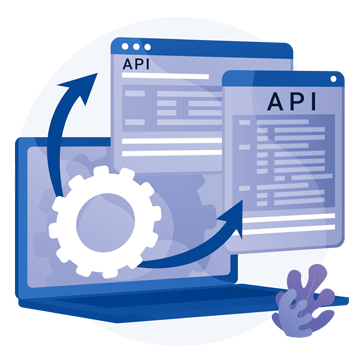 API Integration Services
Integrating applications to get a centralized platform or cost-effective business solutions, we provide REST, SOAP, OAuth based API integrations as experienced business solution specialists. Hire API developers now to get your project started.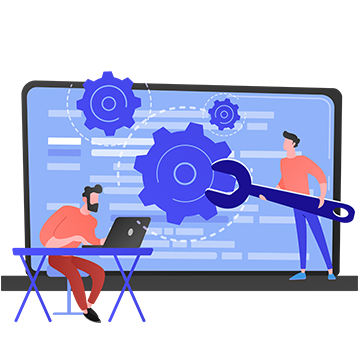 Zoho Customization
As Zoho Authorized Partner, the Zoho customization services we have provided and set up's that we have done to different industry sectors makes us more than capable of delivering effective, custom solutions in less turnaround time. Hire Zoho Developers now.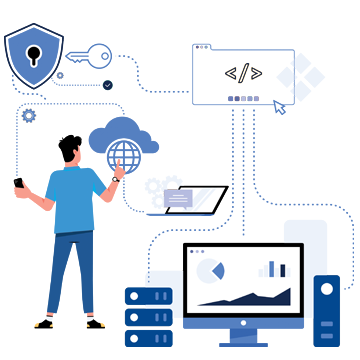 Application Migrations
Move your legacy applications to the cloud without having to worry about data loss or downtime; our application migration services are secure with zero data loss.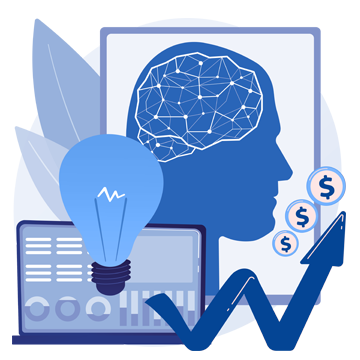 Dashboard Development & Business Intelligence
Get custom dashboards that convey your reports uniquely and make your data analysis quick with the help of our BI services. Draw valuable insights in no time and make crucial decisions for your business at the right time.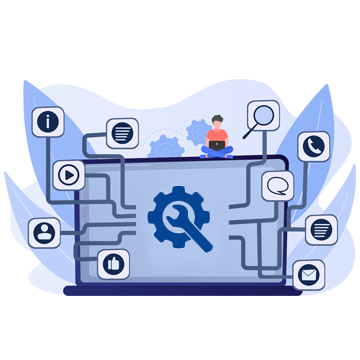 IoT
Eliminate communication gaps between devices and get intelligent application development, IoT gateway development and get top-notch communicative protocols and connectivity with the cloud for all your devices.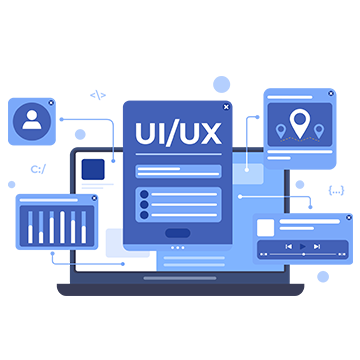 UI/UX Design
Get an enriched user experience with a technologically forward user interface that is user-friendly and creative for your application and stand out with a competitive edge.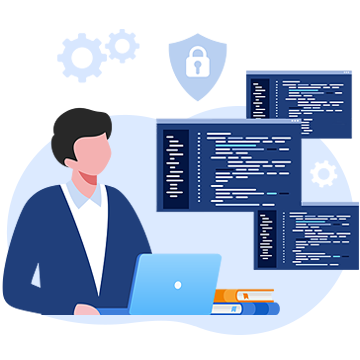 Hire Software Developers
From ReactJS, Vue.js, Angular, MEAN stack, MERN Stack and more across various technologies, choose the software developer you need for your project with our flexible weekly, monthly or on-demand plans.
Artificial Intelligence
Get data-driven AI solutions with NLP (Natural Language Processing), ML (Machine Learning), and high-quality enterprise operation analytics capabilities. Talk to us and tell us what you need, and we will get started right away.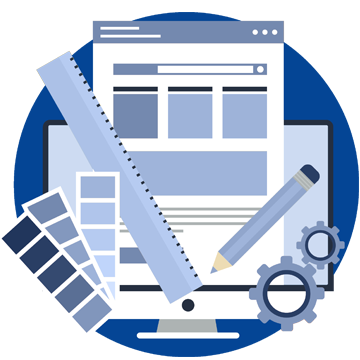 Open Source Customization
We are your one-stop-shop for your complete open source customization needs. Reduce your upfront cost, given that licensing, is free. From CMS and CRM to E-Commerce-get anything customized!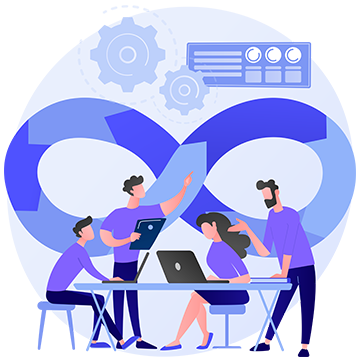 DevOps development
Shorten your development lifecycle with the help of our DevOps engineers, who not just eliminate silos between the Devs and the Ops unit but also enhance the quality of the software you develop. Hire our DevOps Engineers now.
Our Case Study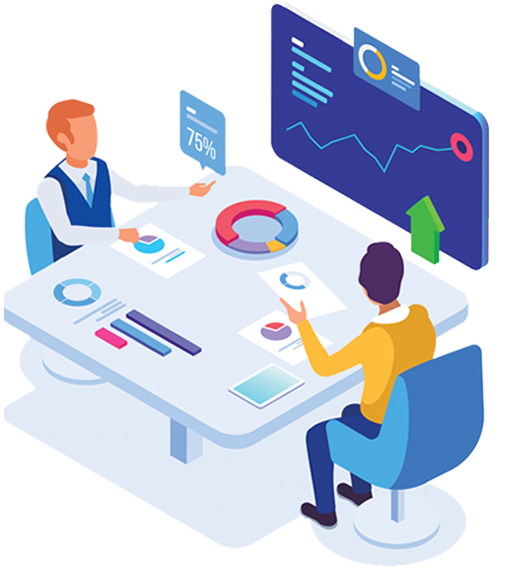 Reinventing Customer Loyalty Program with Zoho Subscription
As Zoho Authorized Partners, we are well equipped to handle Zoho customizations and integrations seamlessly. And, we provided automation in collecting, sorting, and recording redeemable customer points by linking their subscription forms on multiple WIX websites with Zoho Subscriptions by building a custom connector.
---
Industry Covered:

Subscription Services Industry: Linking your eCommerce subscription form on all websites with Zoho Subscription, you automate the collection, prioritization, customer redeemable points processing, and a faster response to your clients.

Expertise:

Our Technical expertise allowed us to integrate and customize the subscription forms on the client's website. We created secure admin and end-user customization and helped accelerate the subscription process for redeemable points.
Read more
Solutions Provided to Different Industry Sectors
How do we Deliver Exceptional Software Development Services?
We begin by discussing your application requirements in detail and subsequently move to the mapping and strategizing phase, including understanding your existing or required application environment and moving to or building the newer environment.
Evaluate Project and design
The Software Development Services for Different Industry Verticals
Healthcare
Our healthcare software development, including EDI, B2B/B2C marketplace, IoT based healthcare products, web-based telemedicine and pharmacy solutions and therapist scheduling, to name a few, have been successfully implemented.
Retail
As a custom software development company offering top-notch solutions, we have provided inventory and order management, payment and POS solutions, amongst others, for retail businesses to increase and maximize their ROI.
Insurance
With fintech software development services, we developed a 360-degree insuretech solution with insurance processing, CRM and lead-nurturing with automated follow-ups, payment processing and more.
Field Service
We have developed an in-house application for the field service industry specifically using our software development services and provided the customized solution with Scheduling, on-field mobile app, quote, CRM, recording and more.
Telecommunication
For one of the US telecom giants, we built an award-winning, patented solution to manage their complete order-prioritization, supply chain, and fulfilment with our telecom software development services.
Manufacturing
With predictive analytics and manufacturing intelligence, get SaaS-based solutions to manage your workforce, inventory, warehouse, product lifecycle and more to get an efficient manufacturing process.
Legal
Infomaze, with its software development services, has built a document management system and customized Zoho applications to manage & automate the client business administrative workflows.
eCommerce
Utilizing the competence we hold providing software development services and being expert partners with WooCommerce, Shopify and Magento, we have developed B2C, wholesale-dealers and B2B solutions.
Logistics
To increase the efficiency of blockchain management and warehouse distribution and increase supply chain visibility through technology-based logistics and transportation industry solutions, we provided our clients with logistics software development services.
Visa & Migration
Infomaze has worked with travel and visa processing agencies and provided travel software development that helps them in visa application, processing, CRM, document management, and syncing all the applications to one through API integration for a seamless business workflow.
Real Estate
From our experience and expertise in building Real estate software development, we have provided easy property management with the property tax assessment, sales comparison, property over the map, listing, elastic search-driven solutions to many of our clients.
Print & Packing
In-house development of our flagship product for signage & promotional companies, print brokers and print managers, or any other print industry, including Print MIS, Web to Print and other customizations, makes us the best bet providing the print management solutions.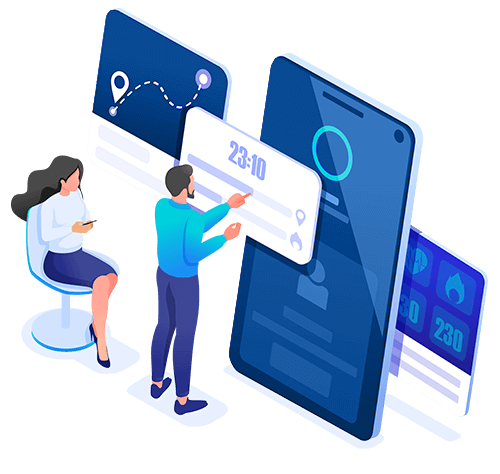 Why choose Infomaze for,
Software Development Services
for Your Industry Vertical?
Deep expertise, industry-focused approach with fast turnarounds.

Partners with cloud solution providers, including AWS, Microsoft Azure, and Google Cloud.

24/7 support and maintenance

100% data and IP protection being an ISO 9001:2015 and ISO 27001 certified company.

Effective automation, maximum efficiency and no downtime.

Strategic application development services with an organized migration approach.

Identify app dependencies and secure integrations and migrations conducted.

Free, no-obligation consultation services with opportunity for a trial project development.

First-class, SaaS, cloud-based solutions which precisely match your industry needs and help you stand out among your competitors.

Stringent NDAs signed

Salvatore

Project Manager
Infomaze is the best technology partner any business could ask for, they go above and beyond to satisfy my business needs and they will do research and develop anything you need. I will never switch to any other company, may your success be our success! P.S. Gaj is the best.

Bryce

Project Manager
Vic and the team at Infomaze are absolutely awesome to work with. Their price was fair and their professionalism is top notch. They spent more time waiting on me than I did them, and they were patient and courteous every step of the way. I would definitely recommend hiring them , and I will continue to use them for my future projects

Jonathan

Project Manager
I was very happy with the promises made and, more importantly, delivered. Quality code. Neat and organized. Ace assisted with the last tweaks to ensure I was a happy client. I would be happy to work with them again on my next project.

Gerhard

Project Manager
The project thus far was not complicated and we are continuing to the next phase. My experience with Vik to date: Very good service – friendly and helpful with" high level of technical understanding and competence. Listens to what I want, makes suggestions where appropriate and delivers very quickly.