CMS website and Zoho forms integration -A Case Study
The client: on the lookout for a CMS website development company
The customer, a visa specialist, came to us searching for an efficient service provider to develop CMS website design and development. Infomaze helped them by providing a CMS website with all the features to meet their business criteria.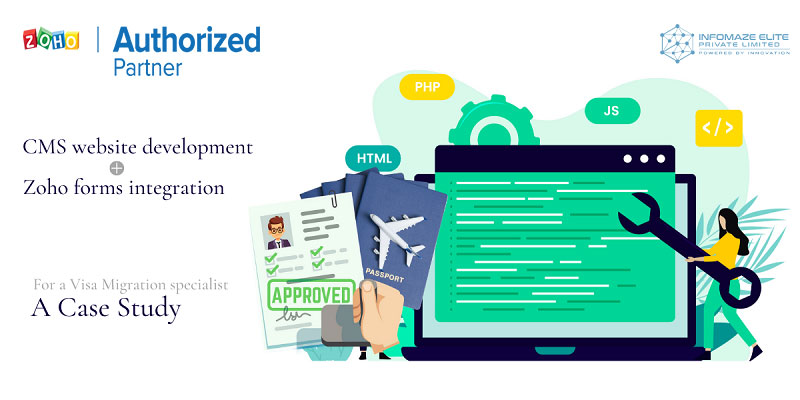 The Challenge: An outdated CMS website
The customer had an outdated CMS which was not fully-automated and required manual effort to sort and store the collected data. This process was prone to errors which our client could not afford being the migration agency specialists and required 100% accuracy in their data entry process.
The Requirement: A new CMS design with Zoho forms integration
The client needed a completely new design, a user-friendly interface, and a first-class user experience in place of their existing CMS system. This upgrade in their CMS website would provide their customers with easy access to all the required information relevant to a Visa application process.
Also, the customer wanted online forms on the website where their clients could enter relevant information including the visa applicant's details, sponsor details, the kind of visa applied for, from partner visa, gay immigration visa, prospective marriage visa, parent visa, citizenship visa, and much more, to a means of providing health and certificate details while applying for the visa.
While the client also wanted automation in sorting and storing all kinds of data mentioned above, leaving no room for errors and completely negating the extra human resources hours.
The client also wanted admin features that would provide selective access to adding deals while prioritizing prospects, issuing agreements, requesting initial deposits, and custom questionaries.
The solution: Zoho CMS website development and Zoho CRM integration with Zoho online forms.
Being a Zoho Creator certified developer and solution provider, using the talented, experienced developers that we possess at Infomaze, we provided an excellent solution for our client.
For a smooth, streamlined process of entering the data required for applying for a visa by our client's customers, we provided Zoho forms integration with the client CMS website.
We provided Zoho CRM integration with the Zoho forms for automating the process of creating leads record, sort and store more such relevant data.
The Result: A successful implementation of Zoho CRM integration with Zoho forms on the newly built Zoho CMS website
We created an engaging, easily browsable Zoho CMS website that provided thorough information regarding the visa application process.
The Zoho form integration with the CMS website developed allowed a secure means for our client's customers to enter all the information required for applying for a visa.
The Zoho CRM integration with the Zoho online forms helped our client keep a better track of all their significant prospects, add deals and issue agreements, request questionaries, and initial deposits on a single platform, with just a few easy clicks.
And with the particular admin login feature, the client could choose whom to provide access and always keep track of who had access to the data at all times.
The CMS website developed, and the Zoho forms set up by Infomaze, a Zoho authorized partner, for our client provided a remarkable platform to pursue their migration agency business.
The successful implementation rendered an increase in their ROI, a scale-up in their overall performance, and a 100% satisfaction in our client with our Zoho CMS development services and the Zoho CRM solution.
---