Zoho Creator Consulting
The Zoho Creator Consultants at Infomaze are competent and understand every requirement before coming up with solutions that meet your business needs.
Zoho Creator Development
Our Zoho development team are exceptionally proficient with Deluge and can create simplistic yet unique Zoho Creator web and mobile applications that take your business to the next level. With Zoho Creator's latest update, you get Zoho solutions with an excellent user experience.

Zoho Creator Integration
Be it Zoho Creator app-CRM integration or any other custom integration you require; our developers can handle any Zoho app Creator integration using APIs built in-house by our team.

Migration to Zoho Creator App
You already have data on your legacy app and want the same on the newly created Zoho Creator app. Well, not to worry, as our developers take care of the migration to the Zoho Creator app securely and with NO data loss.

Zoho Creator Implementation
Our team manages the successful implementation of the Zoho Creator applications built at Infomaze and makes sure you get a seamless business workflow.

Zoho Creator Training
With Zoho Creator application development, our developers also help you by training you to handle the apps whenever required to ensure you get 100% benefit and ROI.

Zoho Creator Support and maintenance
At Infomaze, we provide round-the-clock support and maintenance, available free of cost or at minimum cost regularly or as and when required. You get 24x7 maintenance and support services.
Infomaze's Affordable And
Flexible Hiring Modules
We are flexible in offering our Zoho Creator solutions with the help of our Zoho Creator certified developers and solution providers as per your business needs.
Hire Zoho Creator developers and choose a full-time, part-time module that meets your project needs. Have a spectacular idea and bring it to life on a fixed cost basis? Fret not; our fixed cost module delivers high-quality solutions at an agreed cost.
Check out our hiring modules for Zoho Creator certified developers solutions providers for your project, and share your requirements. We can reduce your fixed cost and deliver the best quality & solution for your needs.
Hire Our Team Now

Fixed Cost Project Based
Engage us to work on your Zoho Creator project on a fixed-cost basis. Once we have the project requirements, our team will take them from there. Projects are delivered on a milestone basis and undergo a rigorous testing process before providing a well-written and tested solution.

Hire Zoho Creator Solution Provider
Hire a Zoho Creator certified developers solutions provider for your project needs and engage us weekly, monthly, or long-term. You can start with a trial task and hire the team based on the results. The cost gets more competitive with the duration of the engagement. We recommend the best team with similar experience to deliver top-notch results based on the project.

Hire Team on Demand
Often you may not require a full-time or a part-time team to work on a task or project for your Zoho Creator application. This model lets you engage our team on demand and takes care of any immediate or urgent needs. Our team of Zoho Creator developers for hire can start immediately, strategically and in an organized manner.
The Process Our Zoho Creator Developers and Solution Providers Follow
Share Project Requirements
Our Zoho Creator Consultants are above par and come up with a solution that suits your business needs precisely.
01
Hire Our Developer
Our Zoho creator certified developers undertake custom app development within the agreed-upon time, considering your inputs.
02
Get the Project Completed
From repeated QA and testing to implementation, as Zoho Creator Partners, we are 100% with you all along the way.
03
QA &
Testing
Once the project is complete, we will run meticulous QA (Quality Assurance) tests on your Zoho solution for a successful implementation.
04
Hire Zoho Creator Certified Developers and Solution Providers
for Various Industry Verticals
eCommerce

eCommerce

Hiring our Zoho solution providers ensures you get the best UI/UX for your Zoho Creator eCommerce platform development.

Legal

Legal

Don't lose crucial data amongst data dumps! Get organized data assortment with a custom, secure Zoho Creator app and run your law firm efficiently.

Photography

Photography

Get a Zoho Creator app customized to run your photography business with ease, from client to portfolio management and more.

Foodservice

Foodservice

Our Zoho Creator developers' customized foodservice business app will maximize client satisfaction for your end-users.

Telecommnication

Telecommnication

Get Zoho for telecommunication and get a customized Zoho Creator app that matches your business requirements precisely.

Construction

Construction

Effectively manage your construction business with a custom Zoho Creator app that takes care of contracts, assets and workflow management.

Consulting

Consulting

Automate your consulting business with the Zoho Creator app that our Zoho solution providers develop and run your business with all crucial info at your fingertips.

Field Services

Field Services

Manage high-level data concerning taxes, properties and your business efficiently with mobile-friendly field service Zoho Creator apps.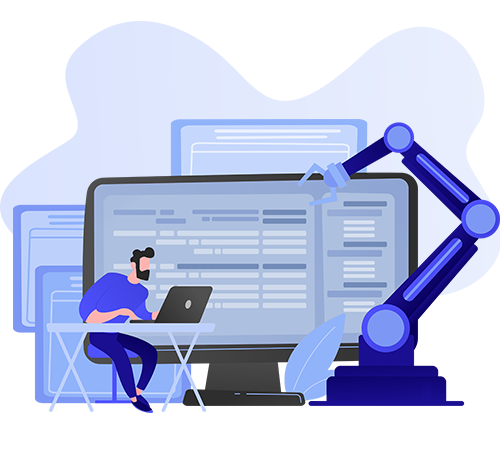 Why choose Infomaze's Zoho Creator Developers and Solution Providers?
Cost-effective Zoho Creator app development

Proficient team ensuring competitive turnaround times.

100% client satisfaction guaranteed

Signed NDA and an ISO 9001:2015 and ISO/IEC 27001 accredited company.
The Zoho development team at Infomaze has worked on and delivered many Zoho Creator applications, including quote & sales management applications, to mention a few.
Our Zoho creator certified developers and solution providers have provided Zoho development services, including CRM integration with Zoho Creator applications and worked with Zoho website builder and custom app development.
Our Zoho Creators are highly capable of crossing any barriers that might come in the way while developing an application and making sure you get a fully functional app that works seamlessly and effectually. From the start of the project to its completion, we maintain complete transparency and provide 24*7 support and maintenance.
Get a free trial
Salvatore

Project Manager
"Infomaze is the best technology partner any business could ask for, they go above and beyond to satisfy my business needs and they will do research and develop anything you need. I will never switch to any other company, may your success be our success! P.S. Gaj is the best."
Bryce

Project Manager
"Vic and the team at Infomaze are absolutely awesome to work with. Their price was fair and their professionalism is top notch. They spent more time waiting on me than I did them, and they were patient and courteous every step of the way. I would definitely recommend hiring them , and I will continue to use them for my future projects"
Jonathan

Project Manager
"I was very happy with the promises made and, more importantly, delivered. Quality code. Neat and organized. Ace assisted with the last tweaks to ensure I was a happy client. I would be happy to work with them again on my next project."
Gerhard

Project Manager
"The project thus far was not complicated and we are continuing to the next phase. My experience with Vik to date: Very good service – friendly and helpful with" high level of technical understanding and competence. Listens to what I want, makes suggestions where appropriate and delivers very quickly.