Zoho Application Development
At Infomaze, we offer comprehensive Zoho mobile application development services using the low-code platform to help businesses monetise and grow through the custom apps we build.

Zoho Web Development
Our certified Zoho web developers follow industry best standards to create innovative, scalable, and secure Zoho web applications using the online website builder.

Zoho CRM Customisations
Our professionals developers for hire provide Zoho CRM solution customisations for businesses of all sizes and types, including Zoho integrations, allowing you to operate from one platform.

Zoho Creator App Development
Hire expert Zoho Creator developers from us for rapidly built modern and deliverable custom applications that perfectly fit your unique business logic and workflow processes.

Zoho Marketplace Apps
We create custom Zoho extensions and apps that can be listed on the Zoho marketplace so that customers can directly purchase and install them.

Zoho Third-party API Integration
We understand that your business requires more than one application and tool to grow. Hire Zoho programmers to integrate all of your Zoho applications or third-party application to reap the benefits of managing your business from one integrated solution.

Ecommerce Platforms
Get custom eCommerce solutions built that suit your business aesthetic and boost your eCommerce operations. With our eCommerce platform customisations such as order fulfilment tools, support and ticketing tools, among others, you get a wholesome e-commerce solution.

Analytics Software
Make the best use of your business data in terms of cost, accurate decisions, customer experience, and maximising profits by hiring Zoho programmers to customise your AI-powered Zoho Analytics solutions with custom KPIs and dashboards.

Marketing Automation Software
Get a complete overview of your marketing campaigns and achieve the best ROI from every campaign you run with Zoho MarketingHub customisations that we provide.

Accounting Software Integrations
As certified Zoho partners, we have built solutions that seamlessly integrate with eCommerce platforms & accounting software using APIs built by our team and customise Zoho Books to meet your business needs.
Infomaze's Affordable and
Flexible Hiring Modules
We are flexible in offering our Zoho development services, solutions, and developers for hire as per your business needs. Hire expert Zoho developers and choose a full-time, part-time plan that meets your project requirements.
Hire expert Zoho developers and choose a full-time, part-time plan that meets your project requirements
Do you have an idea and want to work on a fixed cost basis? Fret not; our fixed cost module will deliver the high-quality solutions promised at an agreed cost. Check out our hiring modules for Zoho certified developers for your project, and share your requirements. We can reduce your fixed cost and deliver the best quality solutions for your business needs.
Hire Our Team Now

Fixed Cost Project Based
Engage us to work on your Zoho project on a fixed-cost basis. What we need is the project requirement, and our team can take it from there. Projects are delivered on a milestone basis and undergo a testing process before providing a well-written and tested solution.

Hire Zoho Programmers
Hire a Zoho developer or a team for your project needs and engage us weekly, monthly, or long-term. You can start with a trial task and hire the team based on the results. The cost gets more competitive with the duration of the engagement. Based on the project, we recommend the best team with similar experience to deliver top-notch results.

Hire Team on Demand
Often you may not require a full-time or a part-time team to work on a task or project for your Zoho development. This model lets you engage our team on demand and takes care of any immediate or urgent needs. Our team of Zoho developers for hire can start immediately in a strategic and organised manner.
The Zoho Project Management Process, our Developers, follow:
Share Project Requirements
Give us a call or drop us a line and share your creative business ideas to let us understand your exact specifications.
01
Hire Zoho Developer
Screen our talent pool and choose from a list of our expert Zoho developers for hire to work on your unique project.
02
Get the Project Completed
We will keep you in the loop during the entire development process from designing, coding, project management, and QA.
03
QA & Testing
Once the project is complete, we will run meticulous QA (Quality Assurance) tests on your solution for successful implementation and provide aftersales support.
04
Hire Zoho Developers with Expertise Working in Various Industrial Projects:
eCommerce

eCommerce

Hire Zoho developers from Infomaze to get the best Zoho integrations, Zoho customisations along with Zoho eCommerce platform development.

Foodservice

Foodservice

Get maximum customer satisfaction in your foodservice business by personalising Zoho CRM and other Zoho solutions. Hire Zoho Developers NOW!

Consulting

Consulting

Have all the necessary info at your fingertips and operate your consulting business from one Zoho platform. Hire certified developers to work on your project now.

Photography

Photography

Manage your photography business seamlessly with the help of our Zoho developers for hire and customisations in your Zoho solution.

Construction

Construction

From asset management, contracts and workflow, handle your construction business with ease. Hire Zoho developers and bring in the Zoho ecosystem in your industry.

Legal

Legal

Handle all of your data dumps, clients' confidentiality intact with Zoho solutions, and efficiently run your law firm's workflow.

Telecommunication

Telecommunication

Hire Zoho developers who have experience working on Zoho for telecommunication and get customisations as per your business requirements.

Solar

Solar

Automate your customer relationship and record management and get the maximum benefits in your solar industry business. Hire Zoho developers now.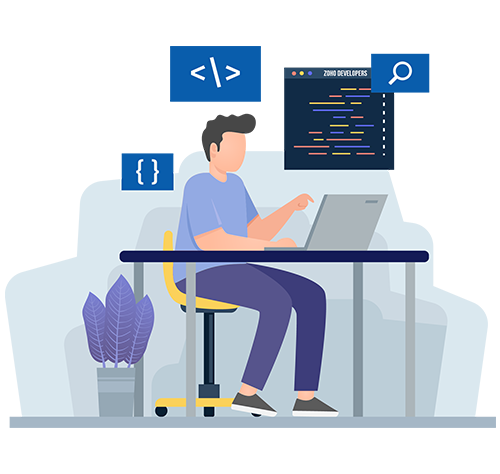 Why choose Infomaze
for Zoho Development?
Here are a few more Reasons that you may be Interested in Knowing:
Our talented Zoho development team has the technical capability to develop projects of any level, regardless of their complexity.

Overall, you can better allocate resources, reduce human errors, have more profound insights, and better collaboration.

We possess high-level experience gained from working for many companies getting their business applications built at an affordable price.

Our Zoho Developers have undergone rigorous training, including test projects, and have developed many successful live projects.

We don't ask you to pay and offer a free session based on which we can provide you with the best Zoho developer for hire for your project.

No matter your requirements, Zoho-certified developers at Infomaze can customise them to fit your business's best needs. Our work is something clients trust time and again.

Opting for an experienced company is the best approach, as the Zoho Customization Services are carried out professionally and on time.

The Zoho development team at Infomaze makes the most out of the latest Zoho features for all the custom business solutions we create or customise.

PHP solutions for different Industry verticals provided.
Discuss Engagement Module
Salvatore

Project Manager
"Infomaze is the best technology partner any business could ask for, they go above and beyond to satisfy my business needs and they will do research and develop anything you need. I will never switch to any other company, may your success be our success! P.S. Gaj is the best."
Bryce

Project Manager
"Vic and the team at Infomaze are absolutely awesome to work with. Their price was fair and their professionalism is top notch. They spent more time waiting on me than I did them, and they were patient and courteous every step of the way. I would definitely recommend hiring them , and I will continue to use them for my future projects"
Jonathan

Project Manager
"I was very happy with the promises made and, more importantly, delivered. Quality code. Neat and organized. Ace assisted with the last tweaks to ensure I was a happy client. I would be happy to work with them again on my next project."
Gerhard

Project Manager
"The project thus far was not complicated and we are continuing to the next phase. My experience with Vik to date: Very good service – friendly and helpful with" high level of technical understanding and competence. Listens to what I want, makes suggestions where appropriate and delivers very quickly.