CRM Solution
The PrintPLANR print MIS solution has an advanced Customer Relationship Management (CRM) solution. The solution catalogs all your customers, leads, and suppliers' data and does all the CRM operations, making a separate CRM system unnecessary.

Estimating Management System
This module gives you the best print estimating software solution to generate accurate quotes with pre-set templates for your prospective customers by factoring in all the relevant data, including services to be rendered, inventory supplies used,

Electronic Job Cards Creation
With print MIS solution's print job-management system module, you can create and link job cards to your print job workflow. And keep track of the time spent by your staff on the job and the job's progress at any stage of the workflow to manage your expenses and resources efficiently.

Accounting and Invoicing Automation
Whether providing fixed pro forma or ex-post-facto editable pdf ready invoice templates for your customers or scheduling payments to your vendors/suppliers, we link our print-MIS solutions to third-party accounting software, including QuickBooks, XERO, and Freshbooks. You also get to maintain a record of the same in an automated manner.

Purchase Order and Bill Management
Print-MIS is the best purchase order management system that provides easy sorting of all your vendor and supplier bills to purchase orders to maintain a record of all the above.

Warehouse Management
The MIS print warehouse management system handles it all efficiently, whether storing the stock maintenance history, managing all your external and internal warehouses, and all the deliveries to the door.
Order Approval System
The module for the print-order approval system provides a systematic approach to approve/reject your print orders, be it for your B2B or B2C customers and helps prevent wasted prints.

Reporting and Dashboard
Our print MIS system dashboards provide quickly visualizable reports for every field involved in your print job management system to help you get actionable insights.

Customization
The print MIS solution is a highly customized product suitable for the printing industry and can accommodate further customized on-demand to precisely suit your business requirements.

Integrations
The PrintPLANR MIS solution integrates with multiple third-party solutions, including advanced CRM, accounting, payment gateways, marketing campaigns or an existing application that you already use. Just make your request, and we will make it happen.
How do I get access to Your Print Management Information System?
The option to choose the modules that comes with the Print MIS is entirely in your hands and is quite simple. You choose, and depending on your choice of modules, the final subscription fee ultimately becomes flexible and reasonable.
You can start with a single user, and depending on your print business requirement; you can increase/decrease the number of users you want.
With 24x7 support for the print management information system, we ensure you get the maximum benefit from incorporating Print MIS in your business. Check out how you can begin your journey with us and reach out to us with your requirement.
Hire Our Team Now

Book a FREE Demo
Is your interest piqued, and do you want to see PrintPLANR Print MIS in action? All you have to do is opt for a NO-obligation FREE demo that shows you how integral the solution can be in boosting and automating your print business.

Try PrintPLANR Print MIS
You get to opt for a 14-day free trial, and our energetic team will help you set up with no credit card information required. We neither ask for any prior commitment when you sign-up for a free trial.

Set-Up Print MIS
Whether you are an Offset Printers, Digital Printers, Signage or promotional printer, we help you set up the customized Print MIS solution with the chosen number of users and provide the solution on a monthly subscription basis.
Process Followed in Setting up our PrintPLANR Print MIS System
The process of getting the print MIS system set up in your print business is quite simple, and our friendly experts help you with a demo, free trial and more before the actual setup to ensure you are familiar with the solution.
Happy with the Information so far?
Do you want a Print Management Solution similar to this, or do you have a similar project on your mind? Get in touch with us with no obligation to discuss with our IT consultancy team to get started with your requirement.
Contact Us
Customized Printing Industry Print MIS Solutions
Printing Companies

Printing Companies

As it is meant for offset, digital, and all types of printing companies, the feature-rich Print MIS solution starts with a basic version with a few users, and as your business grows, you can upgrade to the advanced version of the Print MIS.

Signage Companies

Signage Companies

Signage manufacturers and point of sales solutions for fabric, large format and flatbed equipment, you get a complete workflow management solution that works for all sizes of Sign companies.

Promotional Companies

Promotional Companies

The solution comes with a product manager, warehouse manager, order and fulfilment manager modules that help any in-house manufacturers, distributors or wholesalers get the best management solution.

Print Brokers Companies

Print Brokers Companies

As print brokers, dealing with your customers' requirements and managing them has never been easier with our automated, customized print MIS software for print brokers that provides price comparison, savings for your customers and more.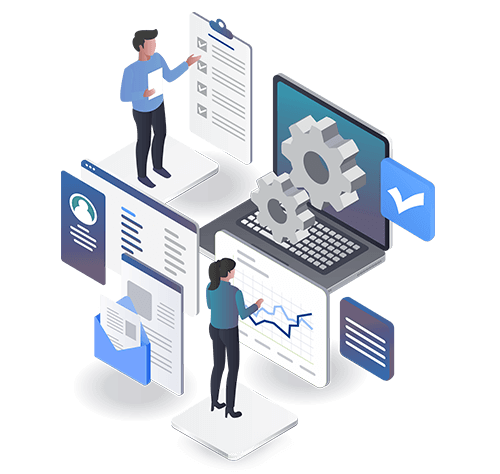 What Separates Infomaze's Print Management Software from Others?
There are many reasons why PrintPLANR – The Print Management Information System is one of the best cloud-based solutions.

Our team here at Infomaze has worked hard to keep up with the latest technology features and have continually evolved the solution to benefit the customers.

The first step of cloud migration covers mapping out a cloud migration strategy and identifying the business reasons and use cases for migrating. We study the environment that surrounds the application and carefully plan each step.

The solution is developed using Microsoft .NET Core and uses enterprise-level database solutions to provide the best user experience.

It has everything a printing, signage or promotional company would ask for to manage their workflow. Topped with Web2Print (Ordering Platform for the customer), it offers a 360-degree solution for your business.

We are proud of the kind of support we provide to our customers by going that extra mile to help you align with the software. Our support isn't limited, and we offer an around-the-clock help system through emails, chat, and online webinars.

The solution is offered as SaaS (Software as a Service), which means you pay a monthly subscription that covers the cost of the cloud-based software and its hosting, premium support with regular backups and updates as per your package.
Get a free trial
Salvatore

Project Manager
"Infomaze is the best technology partner any business could ask for, they go above and beyond to satisfy my business needs and they will do research and develop anything you need. I will never switch to any other company, may your success be our success! P.S. Gaj is the best."
Bryce

Project Manager
"Vic and the team at Infomaze are absolutely awesome to work with. Their price was fair and their professionalism is top notch. They spent more time waiting on me than I did them, and they were patient and courteous every step of the way. I would definitely recommend hiring them , and I will continue to use them for my future projects"
Jonathan

Project Manager
"I was very happy with the promises made and, more importantly, delivered. Quality code. Neat and organized. Ace assisted with the last tweaks to ensure I was a happy client. I would be happy to work with them again on my next project."
Gerhard

Project Manager
"The project thus far was not complicated and we are continuing to the next phase. My experience with Vik to date: Very good service – friendly and helpful with" high level of technical understanding and competence. Listens to what I want, makes suggestions where appropriate and delivers very quickly.