Full Stack Web Development
We develop scalable, future-proof, dynamic, cross-platform, business-ready web apps using the latest, best-suited back-end and front-end technologies. We offer custom designing or convert Photoshop designs to front-end code in almost no time.

Full Stack Application Development
With full-stack mobile app development expertise, our full-stack developers build native, cross-platform or hybrid mobile applications that are high-performing and feature-rich. We create iOS Native, Android Native, React Native, Ionic, Flutter, Xamarian and PWA-based mobile applications.

Full Stack Software Development
Our full-stack software engineers build affordable, highly-tested flawless applications that fit your business needs and provide a smooth user experience using .Net, Python and JAVA technologies.

Full Stack Front End Development
Our full-stack developers carry wide-ranging expertise on all the front-end technologies from HTML, CSS, JavaScript, MEAN stack, Bootstrap, to Angular. Maintaining the code quality, object-oriented CSS principles, we create high-quality design and front-end development.

Full Stack Back End Development
Using PHP, Python, JavaScript, Node.JS, Ruby on Rails, Laravel, Asp.Net Core, among other back-end programming languages, we provide custom back-end full-stack development services that are reliable and secure.

Full Stack PHP Development
We build PHP websites and web apps for various operating systems, including Linux and Windows. Using the MVC design patterns and OOPS concepts and integrating them with jQuery, XML, XHTML, third-party web services through RESTful APIs.

Full Stack JavaScript Development
Our full-stack developers have proficiency in JavaScript. Using its versatility and rich functionality, they build efficient web applications, interactive web pages and enterprise-level software applications, eCommerce platforms, mobile apps, server-side apps, and more.

Full Stack MEAN Development
Leveraging the stack consisting of MongoDB, ExpressJS, Angular and Node.JS, our full-stack MEAN developers for hire deliver high-quality solutions, including mobile and web apps, e-commerce and CMS development to various SMEs to large enterprises.

Full Stack MERN Development
With the MERN stack development services we provide, exploiting the ReactJS component, you get dynamic and interactive application UI/UX. Hire full-stack developers for MERN Stack App Development for any industry vertical, including healthcare, media and entertainment, education and e-learning, to name a few.

Full Stack MEVN Development
Using VueJS as the client-side framework, NodeJS and ExpressJS as the server-side framework and our expertise in handling document-oriented, SQL database - MongoDB, our full-stack MEVN developers create powerful web applications.

Full Stack ROR Development
Using the Ruby on Rails (RoR) framework and SQLite, our full-stack developers create high-speed, lightweight, database-driven, bug-free applications based on the MVC architecture.

Full Stack LAMP Development
With the tech-stack combination; Linux, Apache, MySQL, PHP/Perl/Python, our full-stack LAMP developers provide scalable and robust solutions. Talk to our experts and get our full-stack LAMP development services now.

API Development and Integration
Our full-stack developers are competent in providing API integration services to connect third-party payment gateways, shipping tracking apps, IoT devices, B2B Integrations and SaaS platforms to your applications.

Database Management
With experience serving and delivering real-time clientele for database customisation following the data flow diagram (DFD) rules, migration, testing, and more, the full-stack developer's team at Infomaze can process data integration tasks 10x faster within the shortest time frame.
Infomaze's Affordable and
Flexible Hiring Modules
We are flexible in offering our services, solutions, and developers as per your business needs. Hire full-stack developers and choose a full-time, part-time plan that meets your project needs.
Have an idea and need to work on a fixed cost basis? Fret not; our fixed cost module will deliver the exact quality solutions at an agreed cost.
Check out our hiring modules for full-stack developers for your project, and share your requirements. We can reduce your fixed cost and deliver the best quality & solution for your needs.
Hire Our Team Now

Fixed Cost Project Based
Engage us to work on your project on a fixed-cost basis. What we need is the project requirement, and our team can take it from there. Projects are delivered on a milestone basis and undergo a testing process before providing a well-written and tested solution.

Hire Full Stack Developers
Hire a full-stack developer or a team for your project needs and engage us weekly, monthly, or long-term. You can start with a trial task and hire the team based on the results. The cost gets more competitive with the duration of the engagement. Based on the project, we recommend the best team with similar experience to deliver top-notch results.

Hire Team on Demand
Often you may not require a full-time or a part-time team to work on a task or project for your full-stack application development. This model lets you engage our team on demand and takes care of any immediate or urgent needs. Our team of full-stack developers for hire can start immediately in a strategic and organised manner.
The Full-Stack Project Management process our Developers follow:
Share Project Requirements
Give us a call or drop us a line and share your requirements, and our team will come up with a working strategy and help you choose the right technology stack for your project.
01
Hire Full Stack Programmer
Screen our talent pool and choose from a list of our full-stack developers' profiles to work on your unique project. Once hired, you can directly communicate with the team/developer hired.
02
Get the Project Completed
We will keep you in the loop during the entire development process from designing, coding, project management, and QA. Our full-stack developers work in an agile way and deliver with less turnaround time.
03
QA & Testing
Once the project is complete, we will run meticulous QA (Quality Assurance) tests on your solution for a successful implementation. We also provide training and aftersales support and maintenance if required.
04
Industries our Full Stack Developers for Hire have worked:
Education

Education

Get different data assets integrated, customised LMS developed, and more by hiring full-stack developers from Infomaze.

Entertainment

Entertainment

Get an attractive user interface, API-aided integrations, and customisations in your web and mobile entertainment app with the help of our full-stack development services.

Law Firm

Law Firm

Manage everyday data dump in your law firm and manage all your services with custom applications developed from us.

Bank & Financial

Bank & Financial

Get the best agile financial software development services for providing seamless financial assistance for your clients by hiring our full-stack developers.

Solar Industry

Solar Industry

Get the complete workflow automated with custom full-stack development and integrate all your data assets into one app.

Travel Agency

Travel Agency

Streamline your travel agency services through an integrated cloud environment; customised web-based applications developed from our full-stack developers.

Real Estate

Real Estate

Hire full-stack developers to link your CRM, Database, and other data resources with your custom app with high-quality, secure services for your clients.

Healthcare

Healthcare

Get HIPPAA compliant, secure integrations and custom workflow management systems, including ERP, CRM, DMS. Hire full-stack developers now.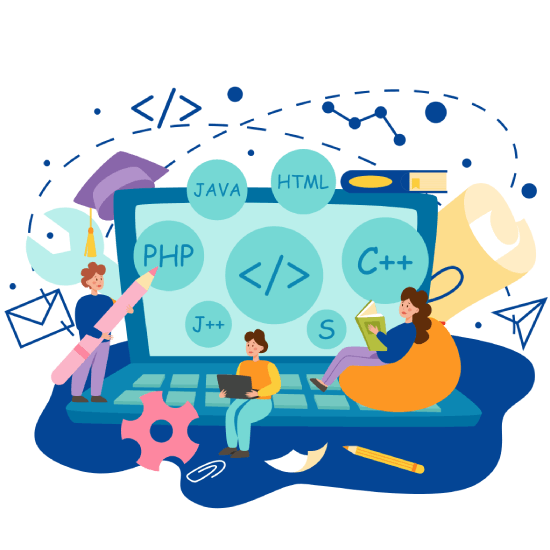 Why choose Infomaze for
Full Stack Development?
Offer a new approach to web and mobile app development and follow industry best practices to deliver timely, accurate and top-quality solutions.

As an award-winning full-stack development company, we have so far worked on projects with high-level complexities for SMEs and large enterprises.

A high client retention rate with 100% customer satisfaction for every project we deliver through our full-stack development services.

No matter your requirements, our developers at Infomaze, with their expertise in front-end, back-end and database technologies and tools, can customise them to fit your business best.

Our dedicated full stack developers have built hundreds of solutions in 20+ countries with experience delivering unique solutions since 2002.

From idea validation to its execution, for scalable, feature-rich mobile, web or desktop apps, our full-stack developers for hire will take care of it all.

On-time delivery, organised DevOps structure with immense agility, and feedback implementation in almost no time.
Discuss Engagement Module
Technical skills you can obtain by hiring our Full Stack Developers
Disclaimer: All rights belong to the owner. No Copyright or Trademark Infringement Intended.
Salvatore

Project Manager
"Infomaze is the best technology partner any business could ask for, they go above and beyond to satisfy my business needs and they will do research and develop anything you need. I will never switch to any other company, may your success be our success! P.S. Gaj is the best."
Bryce

Project Manager
"Vic and the team at Infomaze are absolutely awesome to work with. Their price was fair and their professionalism is top notch. They spent more time waiting on me than I did them, and they were patient and courteous every step of the way. I would definitely recommend hiring them , and I will continue to use them for my future projects"
Jonathan

Project Manager
"I was very happy with the promises made and, more importantly, delivered. Quality code. Neat and organized. Ace assisted with the last tweaks to ensure I was a happy client. I would be happy to work with them again on my next project."
Gerhard

Project Manager
"The project thus far was not complicated and we are continuing to the next phase. My experience with Vik to date: Very good service – friendly and helpful with" high level of technical understanding and competence. Listens to what I want, makes suggestions where appropriate and delivers very quickly.