Zoho Creator Application Development for a Law Firm – A Case Study
Introduction
Infomaze built a custom Zoho Creator app for a law firm based out of the USA that settles debt and credit problems. They strategize and plan their client's debt issues to build a good credit score and defend and fight debt lawsuits for them. They've searched the market for a robust, easy-to-manage application to manage their workflow processes for quite some time and finally zeroed in on Infomaze as their Zoho implementation partner.
The customer was looking to build an application to store data, create PDF files, generate reports along with an easy to use interface to import data from spreadsheets or from other formats into the app to make main reports. Infomaze built a Zoho Creator application for the law agency's users as well as the admin. Having used the app for quite some time now, they're considering further enhancements and integrations within the app.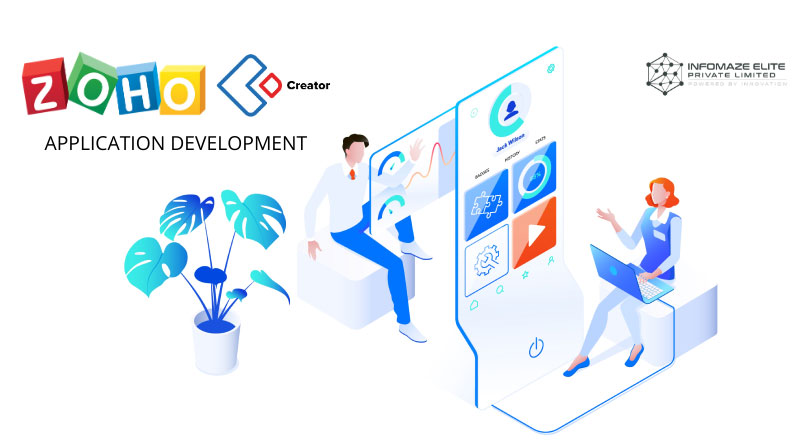 The challenge
Being a law firm that specializes in solving debt and credit issues is relatively different from any other business. They sue debt collectors and credit bureaus when they violate consumer rights. Since they follow a strict process before taking a client on board, the intake process covers multiple steps, and the firm has to maintain accurate documents and records during each phase. 
Manually managing everything became a huge challenge for them. The company was spending a significant amount of its time on maintaining records and tracking the intake process. As soon as they purchased the Zoho subscription, setting up the application and customizing it for their exact specifications as required. Because our client didn't have the time to go through the learning curve, they were on the lookout for a certified Zoho implementation partner with extensive experience and knowledge.
Get a free trial for Zoho Creator
The solution we offered
Our Zoho Creator specialists create business apps with the latest technologies that are highly professional and future-ready. Infomaze built a powerful Zoho Creator application for the law firm, through which they maintained all their customer records, including bank name, total credits, last payments, and mortgage loan information. Whereas, the Admin, on the other hand, could generate a full report based on the client's credit/debit history from the backend. 
The expert Zoho consultants from Infomaze not only implemented the Zoho Creator app but also customized it to address the firm's unique needs. Once we developed the application, Infomaze also offered them other Zoho solutions, therefore automating their campaigns.
The complete synchronization of their processes not only ensured a smooth transition of getting clients on board but also auto-generated follow-ups and emails. The Zoho Creator application built by us was completely error-free and ruled out any and all possibilities for faults.
We further customized the app to incorporate more features, to make everything super simple in real-time. We created custom workflows with automated business processes that linked up with apps they already use and integrated with third-party apps like Paypal, Zapier, and Google Drive. Our skilled developers seamlessly connected their apps to build a unified solution to allow easy access to data.
Features incorporated: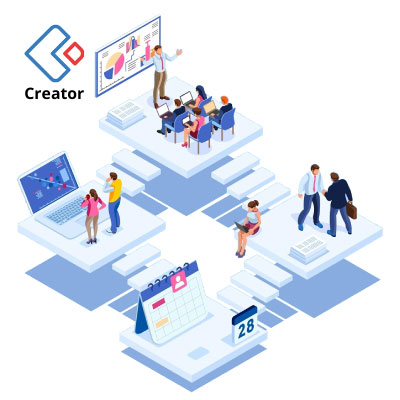 Workflow builder
Mobile app
Integration and API
User and admin portal
Multi-language support
Custom reports and interactive dashboards
Database management
Order management
Workflow management
Are you looking for a similar service? Get in touch with our team for inundated support.
Results that speak volumes
Hi Vic and Gaj: Thanks for the update. First I want to thank you and Gaj for your assistance on the project. Great Job it came out better than I expected. Thanks again,
Robert, US (Debt Law Firm Zoho Creator)

10%
Growth month over month


With the guidance and support of our certified Zoho developers, the app development went as smoothly as the client had expected. Building the application took no more than a few weeks and the results were phenomenal as the law firm realized measurable savings with an enhanced end-user experience. 
Thanks to the Zoho Creator app we built, the client is now able to better allocate their resources and noted that they will continue to contact Infomaze for all their future software development needs.
Infomaze – An Authorized Zoho Creator Application Development Partner
We have worked on numerous Zoho Creator application development solutions that integrate with various third-party systems, including e-commerce platforms, analytics software, online databases, accounting software, etc., using APIs built by our team. Added to this, we undertake high-security precautions to safeguard your data, eliminate all security concerns and up-time worries along with back-ups and updates.
Our Zoho developers can customize fields & actions, and enable location-based data inputs to create compelling mobile apps for iOS and Android across all devices.
As soon as you're on board, our Zoho Creator support team will be in touch with you throughout the development process. Feel free to reach out to our certified Zoho developers who carry extensive experience and skills spanning various industry verticals. Just hit the button below to talk to our Zoho consultants.
Do you have a similar requirement and need assistance? Call us to set up a free demo, and our Zoho certified development team will gather your requirements and propose a suitable solution.


---