Zoho CRM API Integration with ING Bank – A Case Study
The customer and their requirements
Infomaze integrated Zoho CRM with ING bank for one of our clients based out of the USA to help scale their operations as they needed an application that acquires customers, leads and a data management tool to automate the whole business process.
They required an option to upload contracts and documents so that everything is at hand as and when it is needed, in a way to centralize all of the documentation on a single location.
This wouldn't be possible if it weren't for the integration because customers wouldn't exactly know where their money is being invested. Checking in your account, and making well-informed decisions through reports are very important factors.
This includes providing the customer with data about their financial resources, balances, and where all their money is going.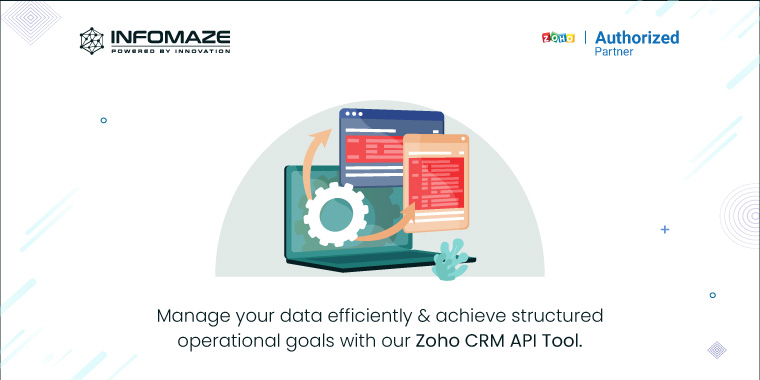 The challenges faced
The company did not want to go the traditional way of acquiring information from its customers using excel spreadsheets and written notes. They needed an application that acquires customers and leads since the whole business will run mostly on the app.
They were looking for a CRM system, particularly Zoho CRM, as a data management tool to automate their entire business processes.
An internal application that should reflect everything placed in it to the CRM.
The CRM will be used as a back-end for data storage.
An automated system to send out regular emails, workflows, and deadlines.
A way to constantly engage with the customers to keep them with the business flow.
A ticketing system for an enhanced customer experience.
The solution offered by Infomaze
Our client's primary focus was to have all their data entered into the Zoho CRM. Our expert
Zoho CRM consultants
at Infomaze integrated
Zoho CRM's API with ING Bank
and provided the following features:
Zoho CRM as a data management tool.
Transfer data collected from their application to Zoho CRM. The CRM will fetch information and create the records.
Other business processes are also integrated into the CRM. Aside from data storage, it also sends prompts for form submission and completion reminders and assigning of internal tasks to help move forward.
A form builder within the mobile application. Leads can now be turned into potentials customers if they are able to fill out the forms.
Continuous follow-up reminders until the said task is completed.
A ticketing system to assign tasks to a team or team member, which can be picked up and responded to within the agreed SLA.
A blueprint implementer that creates a trail for all the records to get completed. It will enforce the user to go through a series of steps and actions.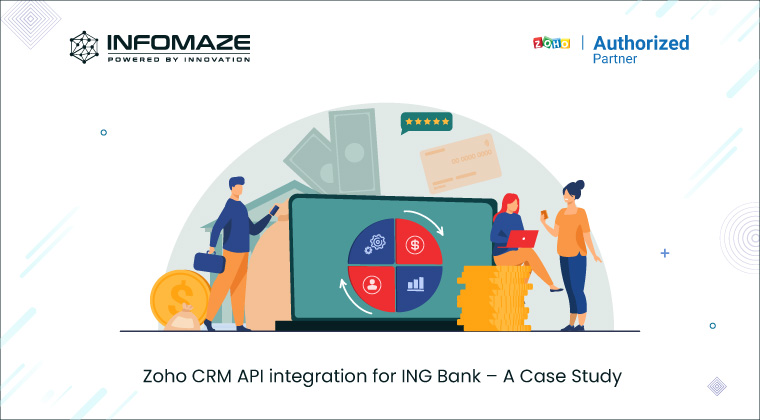 Results and ROI
Although our client's business hasn't fully launched yet, the Zoho CRM API integration with ING bank has already been tested and showed the following results:
Easier tracking of records upon input into the application.
Accessible data within the Zoho CRM interface.
Manual records aren't needed for desk assistance.
Quicker response rates to customer needs.
Gives out prompt reminders to customers who haven't finished filling up the forms yet.
Utilizes data provided to convert them into leads and possible clients in the future.
No more manual inputs as everything that needs to be filled out are already within the system.
Integration of CRM with third-party mobile applications using API is possible.
Why choose Infomaze for Zoho CRM API integration?
Infomaze has been in the IT industry for over 19 years and has provided solutions, IT consultancy, and other IT related services, including API Integration services to a global clientele. Based out of India, Infomaze also offers a wide range of unbeatable offshore services to any location.
Our Zoho customization services include Zoho implementation, Zoho data migration, Zoho implementation, Zoho app development, Zoho consulting, Zoho admin services, and more. As a Zoho authorized partner, we offer holistic solutions to streamline and automate business processes from finance, human resources, sales & marketing, custom solutions, etc. Added to this, we have extensive experience in the implementation and management of numerous client engagements.
---