API Integration Services
Hire API programmer who is proficient in delivering quality products built with continuous integration using tools like SoapUI, Sandbox, Jmeter, Dredd, Etc.

Cloud Based API Development
Help your business and firms fly to their maximum potential by hiring API development specialists who are highly skilled in developing cloud-based APIs.

API For Mobile Application
Hire API developers from Infomaze who will develop secure and efficient APIs for your mobile applications irrespective of their OS.

API Configuration and Management
Our dedicated API coders can manage the operation efficiently through API configuration management to ensure you get the maximum benefit.

Personalized API Consultation
Hire API development specialists who have the expertise in providing API consulting services covering server support, containerization, server security, orchestration, virtualization & more.

API Automation
Hire web API developer who automates the complete delivery cycle and ensures deployments and rollbacks with high productivity & low risks.

Enterprise Solutions
Hire API developers from Infomaze who build scalable, reliable, and secure APIs for large-scale enterprise and small-scale enterprise applications.

API Testing Services
Hire API programmer who will provide API testing services so that your API-based applications function smoothly and efficiently.
Hire our Flexible Engagement Module
at Affordable Rates
Our skilled development team of API developers has already proven their abilities, not just in theory but in practice, including integration, development, publishing, documentation, and continuous maintenance of APIs.
Infomaze is a trusted and reliable API service provider with a faster turnaround time. Our API programmers offer business-centric API development services to global clients, building scalable and performance-oriented real-time web apps and helping increase their ROI.
Hire API Development Specialists

Project basis
Hire API programmer on a project basis and let our team know your project requirements. Projects are supplied on a milestone basis and undergo testing phases before providing a working software.

Agile Methodology
Our experienced API developers follow the agile process throughout the API development cycle and will be available on-demand to take care of any immediate or urgent needs to complete the project.

Hire Part/Long Term
Hire API development specialists to work on your project for part or a long time with our flexible engagement modules. We suggest the finest team with similar experience to deliver top-notch results based on the job.
The Process our API Developers Follow:
Project
Requirements
Do you have an application that you want to integrate with third-party applications to automate your business? If yes, reach out to us.
01
Hire
API Developer
Screen our talented pool of API development specialists and choose from a list of our API developer's profiles to work on your unique project.
02
Project
Completion
We complete the project requirements with zero-data loss to ensure data security and smoothly operate uni-directional or bi-directional data exchange.
03
QA &
Testing
Once the project is complete, we will run detailed QA (Quality Assurance) tests on your application to ensure the API functionality is error-free.
04
Our API Developers have hands-on Experience in Developing Applications for the following Industry Verticals
Retail

Retail

Hire API developers to create your website using the API widgets to build a tool that will authorize store owners to control storefronts and experience richer shopping for buyers or sellers.

Education

Education

We use the digital learning API so that your client can enjoy a wealth of learning new experiences by tracking that data and quickly surfacing the content.

Transportation

Transportation

Hire API development specialists to integrate and connect all logistics and transportation management apps to give an all-in-one app experience.

Healthcare

Healthcare

We help manage healthcare providers' and patients' information with secure integrations and a custom workflow management system with our API development services.

Financial

Financial

Hire API programmer to get the best agile API development service for providing robust and user-friendly financial assistance to your clients.

Tourism

Tourism

Streamline your travel agency services through an integrated API development and get customized websites or apps by hiring API development specialists.

Entertainment

Entertainment

Hire web API developer to create an attractive user interface, API aided integrations and customizations in your web and mobile entertainment app.

Solar energy

Solar energy

We can efficiently handle the installation and execution of your solar power plant business with our software maintenance services.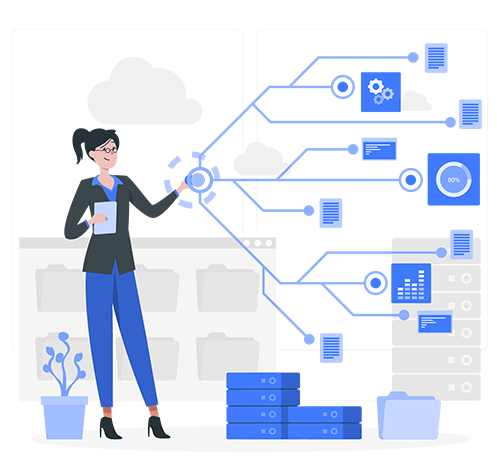 Why Should You Hire
API Developers From Infomaze
Being an ISO 9001:2015 certified & ISO 27001 accredited company, we take quality and privacy seriously. We sign NDAs and follow them strictly.

Our talented API development team bridges the digital divide with extensive domain expertise by creating cost-effective business solutions following best industry practices.

We possess high-level experience working for multiple companies to get your business applications built at a fair price.

No matter your requirements, our API developers can customize them to fit your business's best needs with proper planning, accuracy and increased precision.

Our API development team utilize the latest API features following the agile methodology to reduce turnaround time.

Hire our API developers with global network & expertise. They stand out in their ability to provide you with innovative and scalable solutions.

With round-the-clock support, the system works cohesively with various solutions, and clients can proactively maximize the performance of their operation.

According to the client's preferences, our employees have expertise working in different time zones to deliver state-of-the-art business solutions.
Get a free trial
Salvatore

Project Manager
"Infomaze is the best technology partner any business could ask for, they go above and beyond to satisfy my business needs and they will do research and develop anything you need. I will never switch to any other company, may your success be our success! P.S. Gaj is the best."
Bryce

Project Manager
"Vic and the team at Infomaze are absolutely awesome to work with. Their price was fair and their professionalism is top notch. They spent more time waiting on me than I did them, and they were patient and courteous every step of the way. I would definitely recommend hiring them , and I will continue to use them for my future projects"
Jonathan

Project Manager
"I was very happy with the promises made and, more importantly, delivered. Quality code. Neat and organized. Ace assisted with the last tweaks to ensure I was a happy client. I would be happy to work with them again on my next project."
Gerhard

Project Manager
"The project thus far was not complicated and we are continuing to the next phase. My experience with Vik to date: Very good service – friendly and helpful with" high level of technical understanding and competence. Listens to what I want, makes suggestions where appropriate and delivers very quickly.