Why is IT Help Desk Staffing Organisation Important?
The IT help desk staffing model requires a lot of thought as it decides how efficiently your IT help desk services will fair. There are a few IT help desk staffing models, and as an IT help desk company, we have listed them and individually addressed each in detail.
Having an IT staffing model is vital to have in an IT Help Desk outsourcing company. It directly affects the customer satisfaction achieved, the ROI gained, and the overall performance efficiency. Hence it is highly significant to give a detailed thought while designing the IT help desk staffing model.
The organisation of an IT help desk staffing has been found to reduce cost per call, and when done right, it helps you grow, and your clients.
How do these IT Help Desk Staffing Models Matter?
As an IT Help Desk services provider, here are the things that get influenced through the IT help desk staffing model that you should keep a check on:
How soon do you resolve the issues,
How efficiently do you do it?
How do you escalate the issues to the next level?
How soon do you attend the next call in the line?
The budgeting of your IT help desk services
How smoothly do the operations flow?
So, one's aim should be to achieve all of the above factors to win as an IT help desk outsourcing company.
Which are the Help Desk Staffing Models that you can put to use?
The help desk staffing model has majorly four kinds of staffing levels. Each of these models is discussed briefly, and the methodology used is discussed. We conclude by suggesting the best-suited help desk staffing model for IT help desk industries.
The staffing levels are strategically separated based on the call flow designs, which define the IT help desk – staffing models.
Depending on the medium of communication, be it phone calls, emails, or any other type, the main goal is to provide the clients with a great customer experience and effective solutions.
Following staffing models are used to resolve the issues methodologically:
Gatekeeper Model
Call Sorting Model
Tiered Structure – Specialist Model
Tiered Structure – Generalist Model
Let us go through each of the above IT help desk staffing models.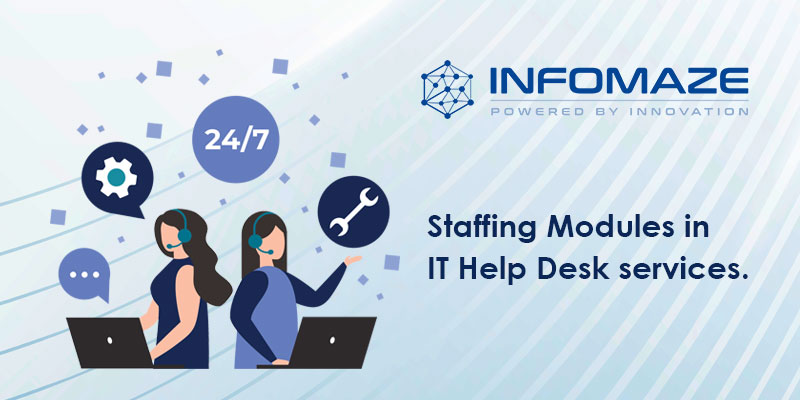 Gatekeeper Model:
This model works on a fundamental call group and is referred to as dispatch group or dispatch frontline, among other names. Here, all the clients seeking help desk solutions use a single contact line to reach out to initially. And, the screener then moves it forward to the individuals or groups.
Call Sorting Model:
The model is similar to the gatekeeper method only in the screening process. Instead of an actual person involved, an automated and guided questionnaire directs the client to a specialist. This kind of call flow is followed when the call volume is higher.
Tiered Structure – Specialist Model
In this model, the methodology followed is a tire specialised structure where a select group with prior knowledge attends the calls and tries to resolve the issues. When it is beyond their capabilities, it is forwarded to the next level.
Tiered Structure – Generalist Model
Instead of a desktop specialists group as is in the specialist model, a general dispatch group is used in this staffing model. With usually a three-tier system, once the issues are not resolved, it is escalated and transferred to the second, third-level, in that particular order. Each tier level has a pre-defined function set.
All of these help desk staffing models aim to help in providing IT help desk services efficiently. However, the models differ in their efficiencies, and the most used (and our recommendation as well) help desk staffing model is the tiered structure – generalist model. As in this model, 45-65% of all calls are resolved in the tier 1 level, and only the most challenging issues are dealt with by the tier 2 and tier 3 help desk analysts.
All help desk analysts in any of the above help desk staffing models strive to achieve customer satisfaction, improvement of quality and efficiencies with their technical proficiency, training and support, troubleshooting and proactive prevention skills, and a complaint management system.
Why Infomaze prefers the Tiered Structure - Generalist Model?
To dig in deeper, the reason for us to choose the tiered structure – generalist model is that it is client-oriented, assuring them that their issues are being dealt with and providing a better customer experience.
The tier structure is based on standard authoritative enforcements for routing priorities. It saves time, and workforce energy, meaning the strategic call flow is uninterrupted as it works on a set methodology.
With a high resolving rate, the customers get the solutions almost in no time, which increases the reputation of any IT help desk service provider and helps retain repeat customers.
The tier structure – help desk staffing model – benefits are not limited to the abovementioned criteria. Still, have Questions? We are happy to help.
---