12 Advantages of Outsourcing IT Help Desk Services
If you are thinking of outsourcing your IT help desk and debating if doing so is a good idea for your company; We are here to answer all of your IT help desk support questions.
As one of the top IT help desk outsourcing companies, we follow industry best practices while providing Outsourced IT Help Desk Services and have attained 100% customer satisfaction.
With the years of experience providing IT help desk support and our expertise, and how effectively it has impacted our customers business growth, we decided to list some of the benefits of outsourcing IT help desk services.
The benefits of outsourcing IT Support services our customers could enjoy can be generalised and applied universally. Although before we jump into the topic, it is essential to understand the different IT service desk (ITSD) levels.
Levels of IT Help Desk Services you Should know:
12 Outsourcing Benefits of IT Help Desk Support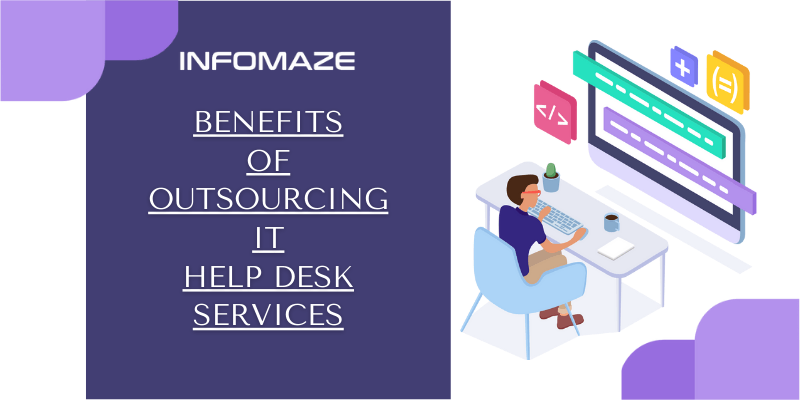 Dodge downtime:
When you run a company where you cannot afford downtime due to IT concerns, outsourcing IT help desk services helps prevent downtime and the losses it would have incurred.
Enrich user experience:
With outsourced IT help desk services, you have a team ready to care for any issues your employees or clients might have. The quality of your employees' work and the client satisfaction you get increase proportionally with good IT desk support.
Increase engagement:
As your client's quality of service gets better with constant support from outsourcing IT help desk solutions, your overall engagement rate increases, as does your business.
Improve efficiency:
When your employees work is not interrupted by long-term technical issues and is resolved almost in no time with dedicated IT help desk support, the overall performance of your company increases.
Accelerate adoption of new technology:
When implementing new technology in your office, let it not affect your successful adoption by outsourcing ITSD to a company with prior knowledge of the technology that can take care of any concerns at tier 1 level itself.
Stay ready when you scale your business:
When scaling your business, you need not spend extravagantly on maintaining your team. Outsourcing IT help desk services can help you successfully undertake the expansion.
Cost reduction and cost savings:
You reduce your admin costs by outsourcing your IT help desk services instead of hiring an in-house team to resolve your IT concerns. You also increase your cost savings due to the prevention of downtime and high-performance rate, to name a few reasons.
Decrease your response time:
With outsourced IT help desk services, you can decrease your response time while providing IT support for your clients and increase positive reviews and higher customer satisfaction.
Efficient business management:
When you do not have to resolve your IT concerns in-house, as you have a team ready to fix any issues through IT help desk outsourcing, you get to manage your core business processes and proactively take steps that help you grow.
Get 24X7 support:
You already have a team that takes care of your IT support services, and you are happy with them. But, you are finding it challenging to provide 24X7 support during national or international holidays? Then IT help desk outsourcing with the 24×7 backing will take care of the problem.
Stay prepared at all times:
Are you releasing an upgrade or releasing a new product and need a team ready on demand? Well, outsourcing IT help desk services on-demand helps you stay prepared at all times and take care of all your client needs.
Augment team and double the profitability:
Don't let your in-house team burn out through high work pressure. Augment IT support with outsourced IT help desk services to improve your in-house work efficiency and your overall response time and profit margin.
Are you still sceptical and have multiple questions regarding the benefits of outsourcing IT help desk services? Providing Tier 1 and Tier 2 outsourced IT help desk services successfully for years now, our consultants are competent and more than happy to help you.
---