How Outsourcing IT Help Desk Services Drive your Business Growth
Outsourcing IT help desk services has immediate advantages that seem good enough reason for continuing it for a short time. Although long-term outsourcing of IT help desk services seems like a massive investment and seemingly an unworthy one, although it may prove to drives your business growth, and here we discuss how in detail.
It all comes down to planning the outsourcing to guarantee an improvement in ROI and gradually an increased profit margin
So, not hiring an IT help desk support team when you have a high customer demand can be harmful and the other way around, too, hiring an IT help desk when you have no customer demand. Hence considering the below-given options on a conditional basis and only applying the most suited to your company will help you draw the best results.
How do Outsourcing IT Help Desk Services drive Business Growth?
Keeping your business vision in mind and the long-term goals that you want to achieve, it is essential that you consider outsourcing your IT help desk services and, as a consequence, enjoy the following benefits:
When you outsource IT help desk services and help your employees have a better work-life balance, your company's employee attrition rate reduces drastically and saves you from recruiting new employees.
This work-life balance helps your employees prioritise you over your competitors and increase employee loyalty in your business and attain a cost reduction on your hiring spend at the same time.
With proactive and preventive maintenance, you never have to face an unexpected issue that would drain your workforce strength and energy and ultimately avoid a crisis due to downtime.
With the 24×7 outsourced IT help desk services, where the IT help desk provider takes care of the IT help desk 24×7 for your clients and yourself, you get high customer satisfaction and support outside working hours.
High customer satisfaction, no downtime or unexpected issues, all of which helps you sustain client loyalty in your customers and gradually increase the count of your loyal customers.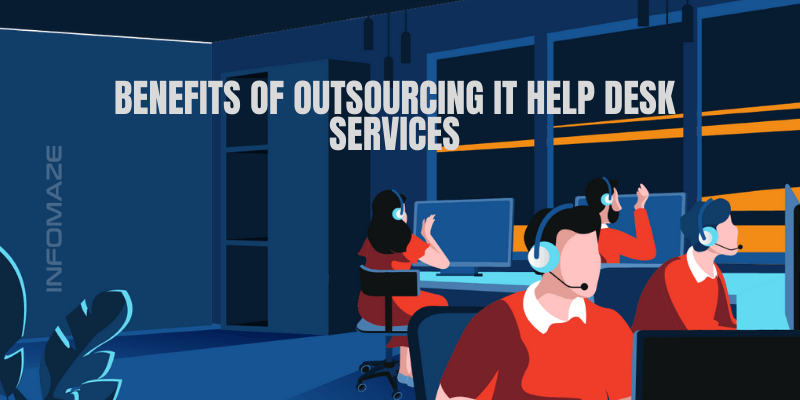 Every small business decision that you make has an impact on your entire business health. Think of it as a domino/ripple effect.
Every minor profitable decision you make has a more significant ripple effect together and brings crucial growth to your business. The more time you have at your fingertips to make critical business decisions, the more growth in your business you will reach.
Hence, outsourcing your IT help desk services helps you provide more time you need to make core business decisions.
And similarly, having to worry about the IT help desk services and not having enough time to make business decisions has a domino effect and affects your business growth negatively.
When you outsource IT help desk services to an efficient provider, your ticket resolution rate is improved. You get reduced repeat calls for unresolved answers and increased productive engagement, which helps you save throughout the business life cycle, increasing overall cost savings when you outsource IT help desk services.
With anytime access for your clients to resolve their issues through a dedicated outsourced IT help desk, your in-house team is not put under work stress. Hence, the quality of work from the in-house team does not deteriorate while the quality of work produced is heightened. Cumulatively, helping your in-house team to increase their productivity.
Therefore when you strategically plan your IT help desk services and outsource them to an efficient IT help desk service provider, you not only gain short-term advantages but the ones that last longer.
If you want to understand how to decide on a software outsourcing company, here is a guide that might help you. At the same time, we also provide a comprehensive list of things you should look for in an outsourced IT help desk company before reaching out to them.
How can Infomaze help you with IT Help Desk Outsourcing?
As outsourcing IT help desk company, we provide IT proactive monitoring with tier 1 and tier 2 services and ensure no issue surprisingly springs at our clients.
Being ISO 9001:2015 and ISO/IEC 27001 certified, we only provide high-quality IT help desk services that match the industry standards.
24x7x365 days uninterrupted IT help desk services that guarantee you provide continuous IT support for your clients and your employees.
We make sure you receive all the long-term benefits of outsourcing IT help desks services from us with flexible engagement modules and a dedicated, friendly IT help desk support team.
---