Software Outsourcing to India
Why outsourcing to the quintessential
offshore development company is essential?
The top software development outsourcing globally has been to India since 2019. The surge will only increase in the coming years. offshore software outsourcing to India brings many advantages, which will be discussed below in detail.
But, before you take the dive and choose an outsourcing center, it is always essential to have clarity about the kind of outsourcing programming that you require before hiring an offshore software development company.
With the world choosing to outsource to India, how would you rest assured that the outsourcing company can handle the project, especially when the options available are so overwhelming?
We have a comprehensive list that helps you select the software outsourcing company in India. Choosing the right outsourcing company is highly significant as making the wrong choice will end up a costly error.
To help you navigate through the Do's and Don't's of software development outsourcing, here we have created a comprehensive list to keep in check all the crucial factors to consider.
The four vital things to consider when you are Software Outsourcing:
We will go through the above list in detail, one after the other, to better understand.
The company's experience in handling similar projects

Why is it essential that we know they have worked on similar projects?

It is mainly crucial because it will help your project move faster as the company will have experience dealing with the pain points that you might come across from solving it for a similar project. As a result, the development time is shortened, and the software's faster deployment can be achieved while you are sure about the quality.

Client testimony mirrors the quality of service that you can expect

Just going with the company's assurances is not wise, or blindly handing over your project to a software outsourcing company or an offshore development company seems like a fool's errand. But, referring to the track record of consistently positive reviews from existing clients who have received the services can help you cruise through the decision quickly. It gives you a sneak-peak into the kind of service that you can procure, how friendly the company is, so on and so forth.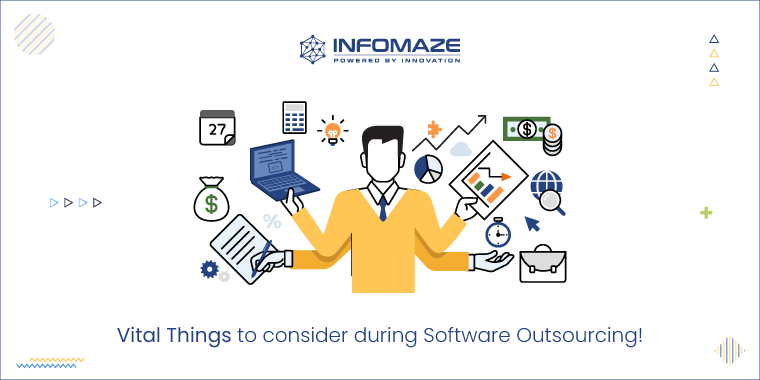 Clarity while communicating: To make sure your requirements are understood.

Often, software outsourcing to India doesn't have language barriers, and communication is never an issue. But, chiefly, a good service provider offers valuable inputs while discussing your project and lays down a sturdy plan of action, ensuring a hassle-free software development process. Hence, the service provider must understand your entire project needs before hiring offshore developers for custom software outsourcing.

A Technologically updated team, keeping up with the trends.

The software development team should be aware of the latest technological trends and stick to the most useful, economical, and project-friendly software solution. Not doing so increases the development costs and time, as skipping and overcoming the barriers and interruptions in the project becomes difficult. One way to make sure the outsource programming company chosen is efficient is by checking how simple and effective solutions they bring to the table at affordable prices.

If the above are factors to consider during software outsourcing, here are a few reasons why you should give software outsourcing a chance.
Benefits of offshore software outsourcing
Why Infomaze for your software outsourcing?
From the above-listed things to be considered while outsourcing to the benefits obtained, Infomaze stands apart with the added advantages of hassle-free project completion in almost to no time. Simultaneously, you get a solution that precisely suits your business needs and an experience that seems effortless.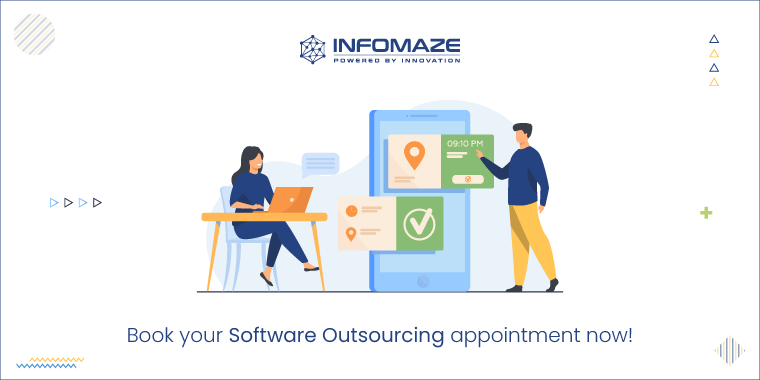 Here are the reasons why we stand out:
Experience
With 19+ years of experience developing unique solutions that have helped our clients automate their business processes and grow, increase their ROI, we exactly know how to drive your project towards completion while meeting your requirements dot-to-dot.
Expertise
Our developers are technologically savvy and remain so by keeping up with the latest trends and technologies. The 100+ projects worked on and delivered successfully; we also have learned from real-life experience, solving unexpected problems efficiently.
Security
Our solutions are highly secure and come with the proper certification, be it an SSL or any other digital security certification, and go through extensive cycles of vulnerability testing.
Strict NDA followed
We sign non-disclosure agreements with our clients that take care of protecting your data and restrict unauthorized access from anyone other than the team working on your project.
SaaS Model
We provide SaaS solutions that are cost-effective and only require you to access the internet to utilize it. With cloud computing, we provide end-to-end solutions that ease your everyday business process.
Agile Methodology
With the agile methodology that we follow, we make sure you are always in the loop and maintain transparency so that you are always aware of the project's progress and your feedback is incorporated. We assure you get quick deliveries and exploit the full benefits of agile development.
Quality Solutions
We provide high-quality solutions, and there is no room for compromise. We don't deliver half-baked solutions while we promise to exceed your expectations. Having a customer retention rate of more than 80% is a testimony to the quality solutions we continuously provide.
Customer support
We provide after-sales support for free unless major upgrades or customizations are required. You get holistic, end-to-end support from planning, strategizing to its implementation.
Uphold customer satisfaction
Last but, our favorite, we prioritize customer satisfaction more than anything. All of the reasons mentioned above aim to achieve this one goal; A high level of customer satisfaction making you want to come back to us for your next project. We are happy only when you are happy.
---