CallHippo Integration with Zoho – A Case Study
The Summary:
The client, an enterprise insurance company, wanted to improve their agents' performance efficiency and came to us, a Zoho Authorized partner, to integrate their VOIP service with Zoho and provide customized triggers. Understanding the client's requirements, we provided easy CallHippo integration with Zoho in almost no time with the configurations to personalize the automated workflow.
The Client: Seeking effective CallHippo Integration with Zoho
The client used the business telephony solution, CallHippo, to interact with their customers and prospects. Being an enterprise insurance firm, the client wanted to improve their overall reach and the productivity of their insurance agents to meet their customer demands better.
The Challenge: Finding a suitable Zoho Certified Partner for the fastest turnaround
The client had been using Zoho and CallHippo separately without linking them and had to go through multiple data entries & to deal with the consequences of wrong data entries, repeated data entries and mediocre performance in their insurance agents due to the unnecessary time spent on updating the information on both the platforms.
The Requirement: CallHippo Telephony Integration with Zoho
The client wanted a Zoho Certified Partner who would work on the integration project at a breakneck speed as they wanted no more wastages in their resources.
A virtual phone system, CallHippo integration with Zoho, specifically Zoho CRM with custom configurations.
Custom triggers to ensure an insurance workflow automation in Zoho Desk; for example, any missed call on CallHippo triggers the creation of a ticket on Zoho Desk and in Zoho CRM with any calls from a prospect getting stored automatically with lead prioritization.
The Solution: Zoho Telephony Integration with CallHippo with a fast turnaround
The client came to us with the challenge they were facing, wanting the telephony integration with Zoho in almost no time. As we have worked on many cloud telephony solutions before, the virtual phone system integration was an easy challenge for us.
With our Zoho Integration services, we provided CallHippo Integration with Zoho with seamless and secure data exchange between the applications.
To ensure a 100% satisfactory business telephony solution, we created custom triggers that enabled automation in storing the leads in Zoho CRM with lead prioritization and automation in creating tickets on Zoho Desk when an agent missed a client call.
We also enabled an easily visualizable custom reporting dashboard through configurations for the managers and stakeholders to monitor the overall workflow and the insurance agent performances through the data obtained in Zoho CRM.
The Result: A successful Implementation of CallHippo Integration with Zoho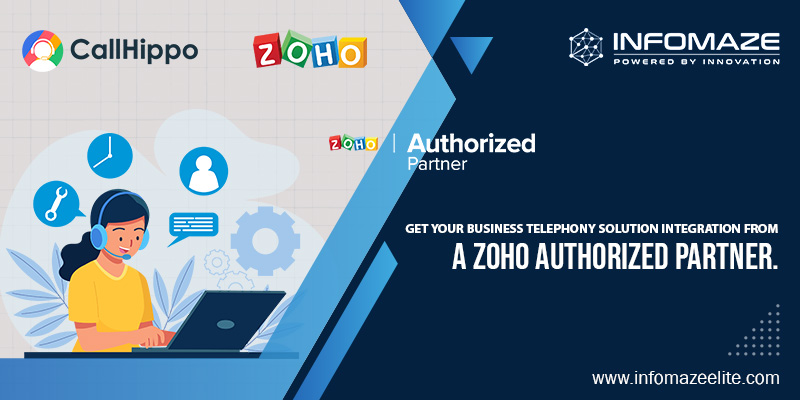 As a result of our experience, Zoho developers who have worked on multiple business telephony solutions, the client received the fast turnaround they wanted and were 100% happy with the Zoho integration services we provided.
As part of our telephony integration with Zoho provided, we ensured the successful implementation of the custom triggers created and the smooth data exchange between the applications.
The Zoho telephony integration with CallHippo helped the client to eliminate double data entry, wrong data entry, or even missed data entry.
Due to the custom triggers created via cloud telephony solutions, the client could prioritize leads, achieve faster lead conversions, and never miss a lead through the tickets created for every missed call on Zoho Desk.
More than increasing just their overall performance, ROI, and scaling up their business, a client wishes for 100% client satisfaction from their end-users. Infomaze, through Zoho customization services, helped the client meet all the above criteria.
Do you need a Cloud Telephony Solution?
Get more than you ask for: An IT support services and solutions provider for life when you come to us. Talk to our expert Zoho developers for hire for Your next Zoho project or reach out for IT support services and solutions of any kind for any industry vertical; And we will help you with it.
---