Keypay Integration with Zoho Books and Zoho People for Infra Hub – A Case Study
Introduction
Infomaze helped Infra Hub a leading Australian company that provides a SaaS-based payroll management solution to leverage the full potential of Keypay (payroll management software) by integrating it with Zoho Books and Zoho People. Since Zoho does not offer a full-featured payroll system to the Australian, UK, and New Zealand markets. The Zoho integration helped our client use Zoho Books without having to do a manual double-entry on Keypay and therefore bridged the gap between Zoho Books, Zoho People, and Keypay.
They were basically looking for a centralized payroll management extension that met all their requirements while also not burning a hole in their pocket. Here's a detailed account of how we identified, addressed the pain points of the client, and offered an effective solution.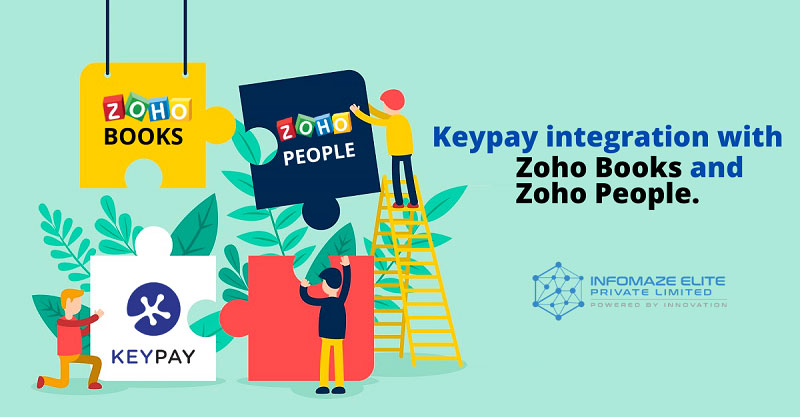 The Problem
Before contacting Infomaze, the company was manually handling employee database on spreadsheets, word docs, and three-ring binders. They had biometric attendance that didn't work at all and needed a robust system that could seamlessly handle employee records, attendance, leave requests, pay runs, and at the same time, keep up with their growing organizational needs.
Their next major pain point was that Zoho offers limited features to the Australian market and hence needed a unified system that could integrate Zoho Books, Zoho People, and Keypay into one single solution. They were inclining towards a cloud-based system because defining workflows and other processes were becoming complicated due to the increasing number of headcount.
Basic functions such as leave management, attendance, time-off, approvals, expense reimbursements, sending reminders to employees, timesheets, etc., lacked efficiency. This resulted in clutter and multiple versions of the same record. The HR team was spending a significant amount of time on employee data entry, and other HR activities were neglected.
Emails were being exchanged back and forth between the HR and employee for approval, leading to extra work as the HR had to calculate leave balances by checking the emails manually. Added to this, they were looking for an employee portal as for the staff members to submit leaves and create timesheets.
Solution offered
As a Zoho authorized partner, after analyzing their requirements, we came up with a unique payroll management software that integrated Zoho Books and Zoho People with Keypay for efficient employee management within their organization.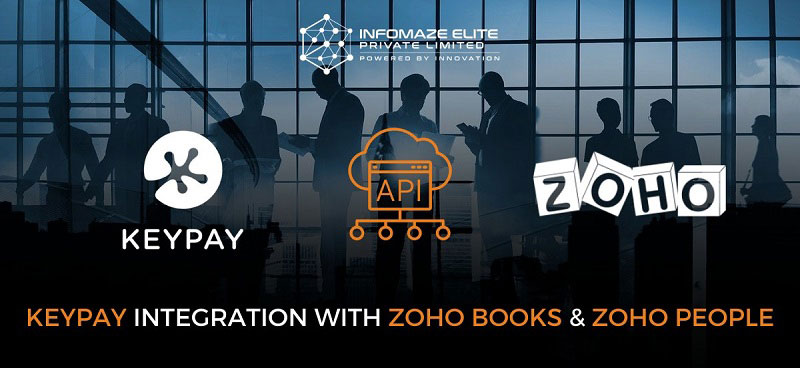 Key Features offered in the solution:
Synchronization of Zoho People modules with Keypay, including employees, location, leaves, timesheet, expenses, and more. The client could also connect journal data from Keypay software with Zoho Books by selecting the organization and journal account.
Announcements module to promptly communicate important updates with the staff members.
Time tracker feature to accurately record how much time each employee has been spending on their respective projects.
Performance module to set goals and provide feedback on the employees' behavior and efficiency.
An employee portal for the staff to submit leave, view shifts, and create timesheets.
View all records along with explanations for sync failures and other errors.
Easily customize the field mapping of Employees, Leaves, Time-sheet, and Expenses Module.
The security feature looks after all the security aspects and encrypts the organization's sensitive information to the highest degree.
How it helped
The Zoho integration helped streamline our client's entire payroll processes, and they were able to make use of several features, including employee self-service portal, leave management, employee database, instant notifications, approvals, live feeds, reports, etc. The payroll solution allowed them to automate regular HR activities and eliminated manual data entry, therefore saving up a lot of time and money.
Now the HR can instantly draw reports as and when required, and the staff can directly apply for a leave through the employee portal. All the approvals and other information are loaded in real-time without having to send across emails. With the Zoho Books integration, they can now manage their invoices through one place without having to run to the finance department every now and then.
Read more about the solution here:
Future Plans
The company dramatically realized reduced operational costs, 100% transparency, and increased efficiency within their HR processes. The client noted that the payroll management system was simply outstanding and will continue to consult us for all their future software development requirements.
Our Happy Client
Do you have a similar requirement? If yes, please contact us and our expert Zoho team build a solution that fits your unique business requirements.
---