Should you invest in Offshore Software Development?
Are you a start-up or a small-medium-sized business? Are you a large enterprise serving customers for many years and need an upgrade?
Do you often consider getting offshore software built according to your preferences instead of doing it locally for your business? The reasons for this may be many, but you are definitely on the right track in turning to offshore software development. It is a great idea to choose a company with patented solutions so you know that the offshore development service you receive is unique, and thus you cannot find it anywhere else.
Why Should You Choose an Offshore Software Development Center for Your Software Project?
You will get the best of both worlds by choosing an ODC (Offshore Development Center) for your software project! In simple words, you will be able to finish projects with fast turnaround, higher productivity, reduced costs, and low risk.
ODCs usually have in-house technical experts to help you find innovative solutions to all your technical issues. Moreover, they have abundant experience in the latest coding languages and development frameworks.
By hiring offshore software development services, you delegate parts or all of your software development functions to a remote or offshore team. Offshore software development services can be quite beneficial to your business as it:
Access to a larger talent pool of developers and testers.
Saves time on project completion.
Reduces development cost with fast delivery time.
Increases productivity of business workflow.
There are various offshore outsourcing models for software development. The three major outsourcing models are:
Offshore Outsourcing Model
Outsourcing your software project to a different country or a city with the benefits of lower labor costs but skilled expertise is called offshore outsourcing, and the company providing service is called an offshore software development center.
Businesses use a strategic practice to reduce costs by hiring software development partners or third-party teams for their software development needs.
More affordable labor costs
Availability of skilled business professionals
Freedom to focus on core business activities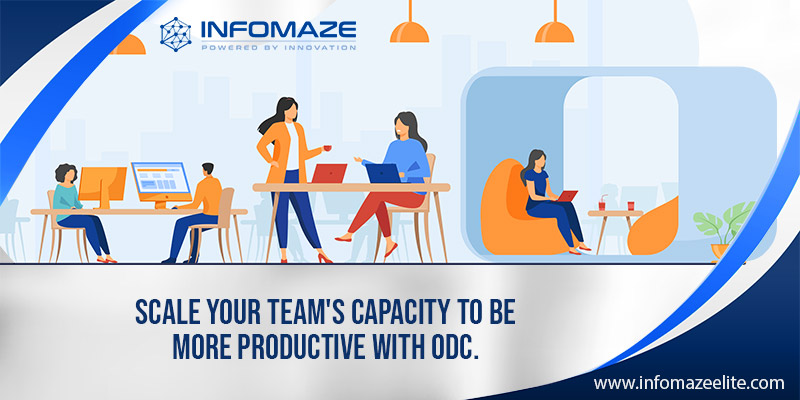 Nearshore Outsourcing Model
Outsourcing your software project from a nearby or neighboring area is called nearshore outsourcing. Here, businesses tie-up with offshore software development teams or third-party software development partners. You can get cultural proximity and a convenient location, which comes with outsourcing benefits.
Nearer geographical proximity
Fewer labor costs
Larger talent pool within your bordering culture
Outsourcing your software development with a blended approach of on-site and offshore developers is called hybrid outsourcing. The hybrid offshore software development services model provides flexibility and control over your enterprise.
A hybrid approach is a very optimized model that comes with the benefits of different types of outsourcing models.
Affordable labor cost
Increased effectiveness of tasks
Scale up or down resources on-demand
Significant factors to look for in the offshore development services provider:
Consider reasonable pricing but never fall for claims that are too good to be true. They probably are. Also, look for countries that impose lower tax rates.
Located in a developing and promising country. Developed countries are great, but the prices are higher by default, for apparent reasons.
Free consultation session and option to interview developer or team before hiring them.
100% committed team that consists of knowledgeable members.
Efficient services that smartly use the time zone differences to best advantage.
Efficient communication and regular updates to the client about their project's progress.
Efficient payment plans and easy modes of payment.
NDA is most important with the rising competition – opt for one that does sign.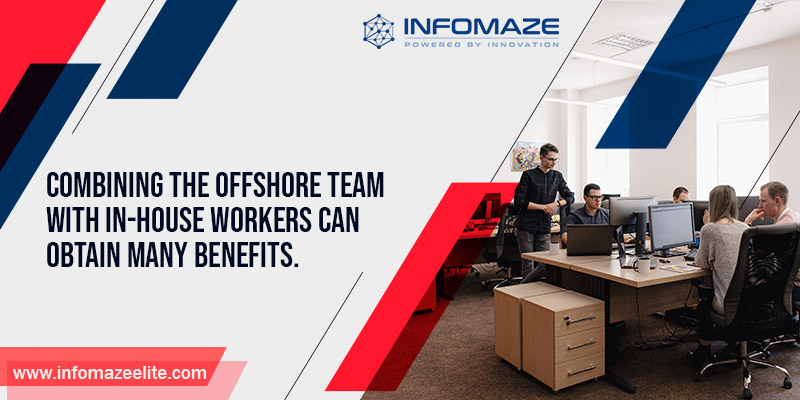 Advantages of an offshore software development company
Outsourcing comes with risks and returns. On one side, there are tremendous risks, but on the other side, it comes with so many advantages that it overcomes the risks and obstacles.
Save time spent on the development process.
Get amenities by collaborating with an offshore software development company.
Reduced costs of software development.
Get more efficiency due to a large pool of talented testers and developers.
Globalization brings you experienced developers of different cultures, bringing different standpoints.
Manage extreme demands and requirements by outsourcing various projects simultaneously to the different offshore software development centers.
You get the space to focus on your other core business responsibilities, values, and functions.
Infomaze is the best offshore software development company in India that offers you all the benefits mentioned above and much more. We have happy clients that are in various industries across the globe. We are amongst the top outsourced centers in the country.
Infomaze has a carefully planned-out structure for project offshore development services, including delivery. Each project's cost is wholly based on the number of modules the client has chosen, making our software solutions affordable for all business sizes and high on demand.
The quality provided is unmatchable and best-in-class, which has given us valuable clients who have been with us for many years. Know more about us and ask for a free consultation from experts to join hands with India's offshore software development services provider.
---