Zoho Bigin, The new CRM system in town
What is Zoho Bigin? And, how is it different from Zoho CRM?
Zoho Bigin is the new Customer pipeline management software from Zoho, specifically designed to suit the SME's with just the right amount of features that are required to run the business seamlessly, without the hassle of maintaining data on spreadsheets and preventing losses incurred from errors in manual data-entry or damage of data stored on legacy systems. 
Zoho has thoughtfully excluded features present in the Zoho CRM that are unnecessary for small business CRM software, making it one of the best CRM for small businesses. Zoho Bigin is also quite reasonable compared to Zoho CRM, making it an affordable CRM system for small businesses and a worthy expenditure for the SME's.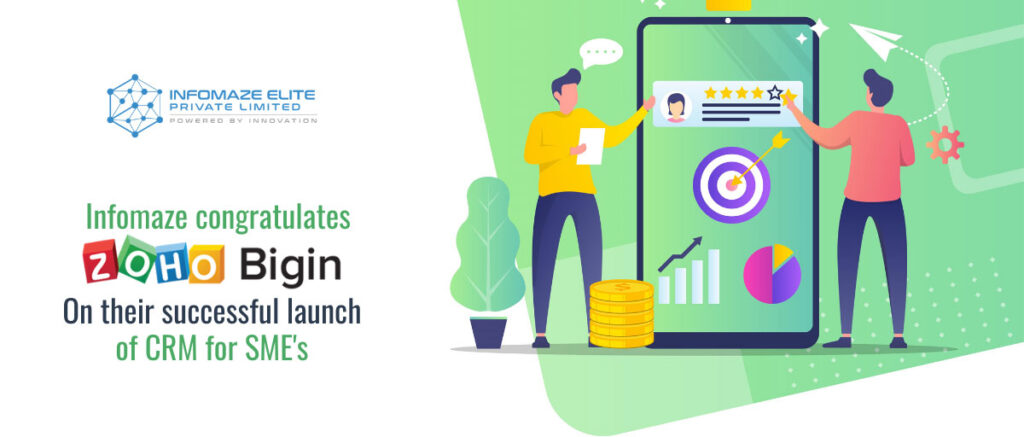 Zoho Bigin CRM solutions for small business have a long list of remarkable features
The Zoho CRM pipeline-centric software has a simple user-interface and is mobile-friendly; you can access all the features on your phone just as you can on your desktop. Also, the Zoho flow integrations allow you to connect to any apps that you want to turn your business workflow uninterrupted. 
As described earlier, this Zoho CRM for small business is a pipeline-based tool, which offers a clear view of all your prospects and lets you customize it easily with its drag and drop option. Zoho Bigin also allows multiple-pipeline design views making the management of the events and tasks more accessible and coordinated among teammates while closing a deal.
With this CRM system for small businesses, you don't have to worry about maintaining a call record with your prospects, as it is automatically synced in with its telephony feature. Also, never miss a chance to turn your lead into a prospect using the unique Webforms that Zoho Bigin provides. Managing Emails is hassle-free as you can link your email account with Zoho Bigin and stay on top while maintaining an excellent relationship with your contacts by following your contacts on Twitter from your CRM system.

Manage and automate repetitive workflows and your inventory, get reminders with the 'signal' feature that provides alerts for all the critical updates and dedicate all your precious time saved to increase your sales. Zoho Bigin allows easy tracking and measuring your performance and gain from sales and lets you make informed business decisions by providing you the insights you need.
Data management is something you will never have to worry about as Zoho Bigin automates importing and exporting of data from your spreadsheets and provides cataloging of activities performed chronologically. The pipeline management software lets you choose who gets to see a particular data with its selective login access. You can rest assured as Bigin follows all the data protection laws from the EU, making your business GDPR compliant.
On the whole, Zoho Bigin brings you a platform that saves you from all the extra workforce hours spent on tasks and improves your overall performance in your business and an increase in your ROI. Its customizable features help you tune this CRM system for small businesses to fit your unique business needs. Still unclear or unsure what Zoho Bigin is or wondering how it might help your business? Don't worry; we at Infomaze can help you with that. Reach out to us, and we will take it from there.
---