Why Should Companies from the US Hire Offshore Developers from India?
For many businesses, software development is a complicated and challenging process for an extended time. A company needs dedicated software developers to deliver efficient solutions to build a new product.
Suppose you need to take your business online. In that case, it's vital to hire offshore developers to scale your business to the next level with a significant investment of resources and knowledge that eventually will gain ROI.
Your in-house developers might not be enough for various software development projects. Dedicated offshore developers are the go-to for many businesses that provide prospects with quality services, fast turnaround time, and cost-effective solutions.
Offshore programmers bring significant benefits to the business in the U.S. Finding a reliable company with skilled developers local at reasonable prices for your project can be challenging.
Regardless, hire offshore developers in India to undertake all your unique projects effectively per your business requirements. Let's learn more about the benefits of offshore developers and why and when USA companies should hire an offshore development team for their project?
Why Should you Hire an Offshore Development Team outside the U.S.?
Partnering with an offshore development center is an efficient approach where offshore company IT developers will work on your unique projects, and offshore programmers' tasks include product, website, mobile, or software development.
Along with low labor cost, an offshore development team has more benefits to offer, including
Pool of Talented Developers

An average company might know that its takes weeks and months to find and hire a team of developers with various skill sets to match your project requirements.

There is always demand for skilled developers, but finding them in your locale is challenging. But don't restrict yourself by location. Now you can hire offshore developers from India and access to first in class development services at your fingertips.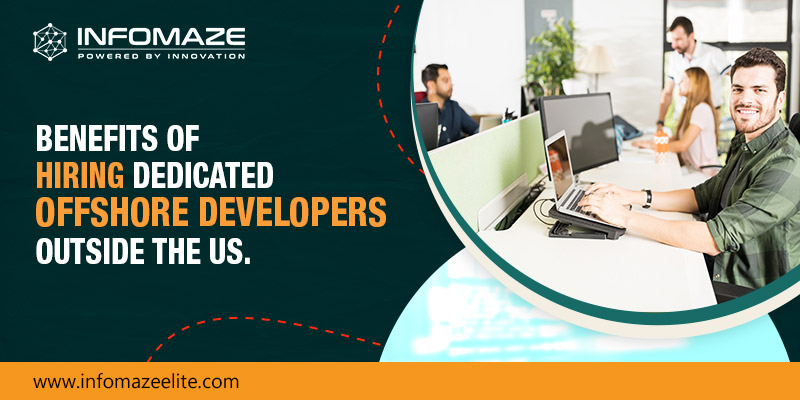 Cost-effective Services

Hiring developers in large countries like the U.K. and the U.S. can be costly if you need world-class talent. The development cost includes workspace, amenities, equipment, employee benefits, and much more, which make an in-house team very expensive.

But if you opt for an offshore development center (ODC) and hire offshore developers from India can cost significantly less since the cost of living is less, and you can get the same talented developers. They provide top-notch solutions at lower prices.

Scale your Business with New Strategies

When you open an IT company, you instantly think about scaling your business with marketing and engagement strategies. Still, in reality, an in-house team will only increase your budget in the long run without any developments.

So, hire an offshore development team outside the U.S. and scale your business as per your needs. Dedicated offshore developers will aid you in using the latest technologies, improving your engagement and marketing methods, and being competitive in the market, to name a few.

Access to all the Trendiest and Latest Technologies

If you are a startup or a small business, it's challenging to access the newest technologies and services because of their cost. So, hiring an offshore development center would be the best shot.

As an offshore service provider, we can invest more in the latest technologies to learn the trendiest software skills to improve business productivity. So, hire offshore developers in India to access high-quality services, procedures, structured strategies, documentation, and update systems when necessary.

Opportunity for New Projects and Incentives

Do you have a tight schedule to complete the tasks within the time frame? With in-house teams, achieving the deadline would not be challenging and complicated because it requires technology, resources, office space, and budgets for your unique projects.

By hiring an offshore development team, you can instantly start with the projects with fully set up skilled and experienced developers with a project manager. Hiring dedicated offshore developers outside the U.S. will help cut costs and deliver top-notch solutions with a fast turnaround time.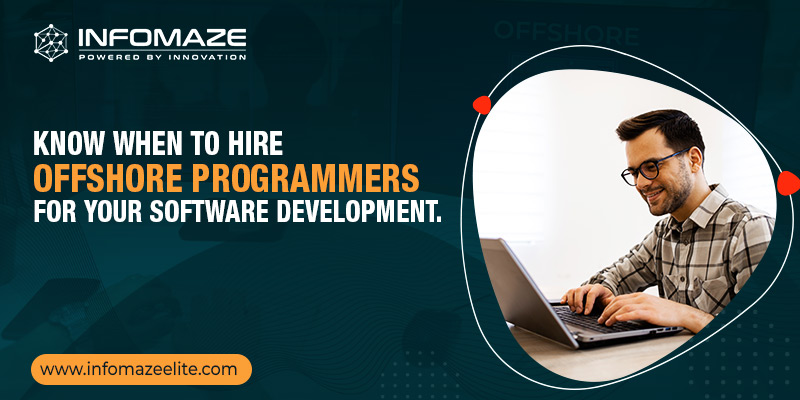 Know When to Hire an Offshore Development Team for your Project
When you need to reduce the liabilities of resources for working and managing tasks
When you are on a tight budget and unable to hire in-house developers
When you need to scale your business by following various growth strategies such as the implementation of cutting-edge technology, cost reduction, and many more
When you need to achieve the targeted time to market by releasing new software or products within a short period
When there is a drop in team productivity eventually can also cause a drop in profits
When you fail to find in-house developers with the required skills, technology, and experience to complete the project
When you have to build short-term projects with a particular niche with utmost flexibility
When you are looking to mitigate risk to diversify your business risks and avoid critical business halts
When you want to use cutting-edge technology with several tools, tech platforms, and methodologies that transform business growth rapidly
Hiring an offshore development team from India allows you to business scaling, improve productivity, access skilled developers, and save costs. It also helps to eradicate the hurdles and challenges of working and managing in-house teams.
If you think your business or startup in the United States and need to hire dedicated offshore developers from India, then contact Infomaze, a leading offshore development company with experienced and talented remote developers who serve clients across the globe as per your business requirements, regardless of your industry.
---