5 Reasons Why Companies take to Offshore Outsourcing
One primary reason companies prefer offshore outsourcing is lower labor costs. An offshore development center is reliable when it understands why companies have chosen it for offshore outsourcing services.
Companies seeking offshore outsourcing projects always hire an offshore development team in India for many benefits, including excellent quality services at an affordable labor cost.
Why do Businesses Opt for Offshore Outsourcing Services?
If you are planning to offshore software outsourcing, it might be various reasons to shift job functions to a third party and focus on the core of your business. Depending upon your actual requirements and business context, you get abundant opportunities to obtain a more significant competitive edge and improve your market reach and returns. Some motives are listed down below.
Advantages of lower foreign costs and reducing and controlling operating costs.
An offshore outsourcing service will aid in sharing the risks.
Take benefit of external resources to complete the preferred task.
Focus on the core activities of your business.
Overcome the lack of resources and increase the efficiency of time-consuming.
Release inner resources for new objectives and goals.
How to Execute A Thriving Offshore IT Outsourcing Operation
Value adding and strategy activities are significant elements behind offshore software outsourcing services. Cost reduction has been the primary cause of offshore outsourcing services in the past decade. But as an offshore outsourcing software development company, they focus more on partners that help them grow independently.
The companies that outsource and the offshore outsourcing software development company should work coherently to succeed. Let's consider the critical points for executing a successful operation.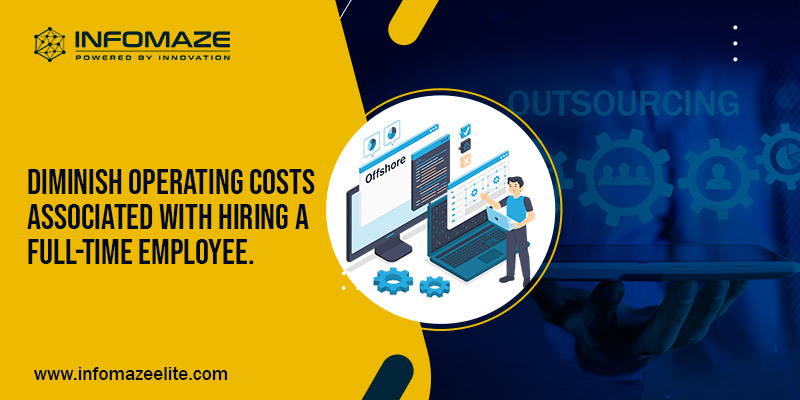 Set clear objectives and goals for both the business and the outsourcing company.
Well-organized agreements and sub-contracts with the agents.
Give more importance to any potential point of the issue among the workforce.
Strategic and tactical plan and vision.
Depending upon your project needs, ensure your financial justifications are long-term or short-term.
Continuous involvement and constant support from senior leadership to deliver preferred service.
Carefully select suitable vendors for your business needs.
Always have constant communication with collaborators.
Responsible and good management of work culture for long-term relationships between firms.
Benefits of Offshore Software Outsourcing Service
Hiring a full-time employee with no experience has no benefit, reducing operating costs by partnering with a reliable outsourcing company.
Keeping up with the latest trends to run your business can be time-consuming and expensive.
Focus on your business growth along with freeing up internal resources.
Spend the time and money training potential employees whose functions bring revenue for your business.
An offshore outsourcing software development company can aid you with the trendiest technology that will benefit your organization.
Provide seamless resources to overcome IT issues, which will increase job satisfaction and employee morale.
Offshore IT outsourcing experts can handle IT issues more efficiently and effectively with a quick turnaround time.
There will be no hassle on the software or hardware devices that negatively affect business productivity.
Top Reasons Why Companies Opt for Offshore Outsourcing
There is no need to upgrade your current infrastructure or invest in new infrastructure. Offshore software development center provides a complete infrastructure for all the work it will outsource to a company.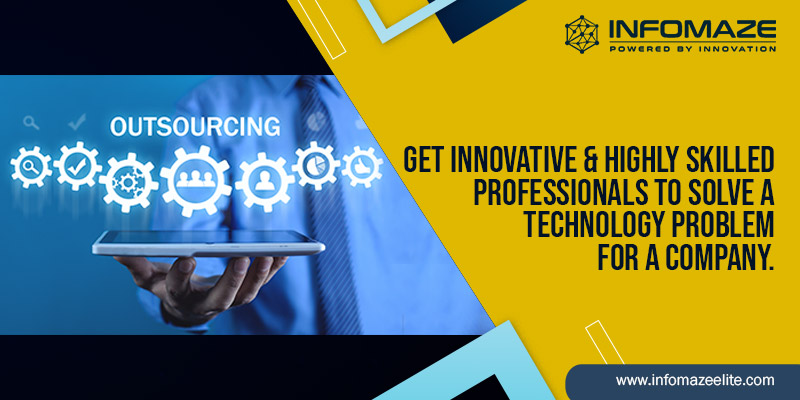 Hiring a separate IT team with developers, testers, and other qualified people is not required. Offshore development center provides client companies with a readily available team that includes qualified developers and testers to deliver their projects efficiently.
Opting for a reliable offshore software development center helps avoid unforeseen costs. Such centers provide transparent costing for you to plan your budget accordingly. Avoid unforeseen costs as the service provider will be responsible for all reasonable costs.
A dedicated support team will always guide you in case of any queries throughout your project. With proper communication, you will also learn a lot regarding project management, which will help you choose the right offshore outsourcing provider for your next project.
Expertise results from work by qualified professionals and their experience. Infomaze's primary expertise lies in web and mobile development projects. Latest technical advances such as IoT and BI are incorporated to create unique solutions to gain your clients' attention.
The offshore software development center has delivered a wide range of 350+ projects to a host of clients from various industries, including:

Field Service Providers
Printers and Print Brokers
International Clothing Brands
Educational Institutions
Healthcare Specialists and more
Infomaze hosts highly qualified and experienced developers, testers, and designers to deliver high-quality IT services, including development.
So far, the company has delivered over 450 solutions on the web and mobile to a clientele that spreads worldwide. Costing is transparent, so you know what you are paying! To add up, you will receive regular reports of a project update.
The professional offshore IT outsourcing team at Infomaze is well-versed in English; thus, communication will never be a barrier. Your requirements are well understood and analyzed, resulting in tailor-made development services.
---