United States Companies: Tips to Hire MERN Developers from Overseas
With innovative business ideas and complex problems to be solved, more and more businesses in the US are introducing automated softwares and user friendly applications.
Companies like Madison Square Garden, Dow Jones, Walmart, Pfizer and Wells Fargo are even hiring IT professionals from overseas to aid with their digital presence.
The ecosystem of modern web development is currently dominated by JavaScript and Node.js. Hence, it is advisable to hire full-time developers who are already trained in these technologies.
If you are contemplating to hire MERN Stack developers for your business, you should know why and where to hire them. This blog is here to help you out with that.
Why choose MERN Stack Development?
MERN Stack not only offers better productivity, ease of use, flexibility, time efficiency and cost efficiency, but also a very specific set of benefits:
Switches quickly and easily between Client and Server sides.
Uses one unified programming script called Javascript instead of a confusing combination of different languages.
All the programs are in JSON format, making it easier to benefit from Search Engine Optimisation, as JSON is highly compatible with SEO.
Cloud Compatibility of MERN stack provides easy scalability and accessibility.
Can be deployed directly on the server.
Almost all Industrial Sectors need Web Applications, Mobile Applications and Content Management Systems to not only make services and user interfaces easier for customers, but also to organise and manage their supply chain, product and inventory data.
Retail and Ecommerce, Healthcare, Travel and Tourism, Education and E-Learning, Logistics and Transport, Media and Entertainment, Food and Beverage, you name it. Almost all industries can use the help of MERN Stack Developers.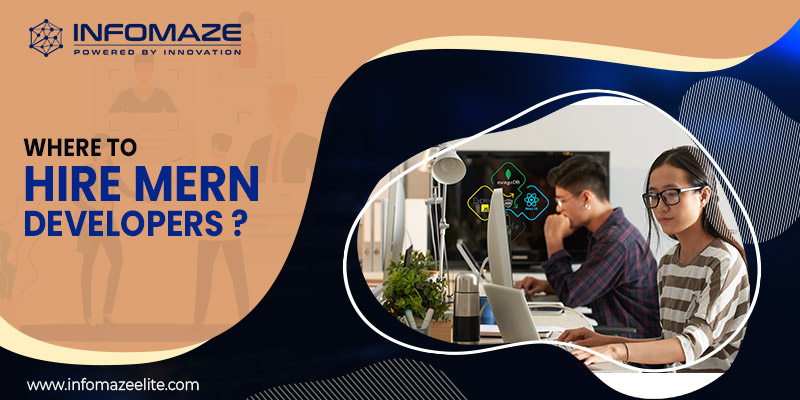 Where to hire MERN Developers?
There are many different ways to hire MERN Stack Developers. The simplest way is to create an in-house development team. This method is advantageous in a way where you get complete attention to your project from the team.
You can even monitor step by step development of the stack with necessary adjustments that can be made at any time. But this method is not only expensive, but also time consuming, as the developers of the team need to be recruited individually.
The second method would be to hire freelancers. Freelance MERN Stack developers in the US charge per hour and can be found on networking websites like LinkedIn and Upwork.
But it is important to test the skills of the freelancer beforehand, rely on past testimonials and also make sure that there isn't too much workload on one person.
When it comes to higher requirements and more volumes of coding, for lack of compromise in quality, the most efficient way is to get your stack outsourced to MERN Stack Development Companies.
These companies have years of experience in Stack development and have experts with perfect team management, in order to deliver quick and clean code.
Benefits of hiring MERN Stack Developers from Overseas
Many companies in the USA are working with outsourcing MERN (Mongo Angular React Node JS) development services to teams of expert developers. The development industry has been evolving rapidly during the last couple years, and it all started when outsourcing from overseas was allowed.
Countries like Japan, South Korea, Singapore, India and China, are all well known for their IT Establishments. It is wise to hire overseas developers if you are scrunched on time and especially need a bang for your buck.
With clear specifications and instructions regarding the kind of software you need for your project, Mern Stack Developers from anywhere in the world can deliver finished products for you. Since the product is just code that can be mailed over the internet, there are no shipping charges either.
Apart from these, there are other benefits of Hiring MERN Stack developers as well.
If you're a US company looking to hire MERN developers from overseas, then you should know that there are many advantages associated with this approach:
Access to a larger pool of candidates who can solve problems in ways that may be different or unfamiliar to your existing team members.
Access to a wider range of skill sets.
The ability to tap into specific expertise that may not otherwise be available locally within any given time frame.
The ability for remote teams (especially those located overseas) to collaborate together on projects seamlessly without any geographical constraints.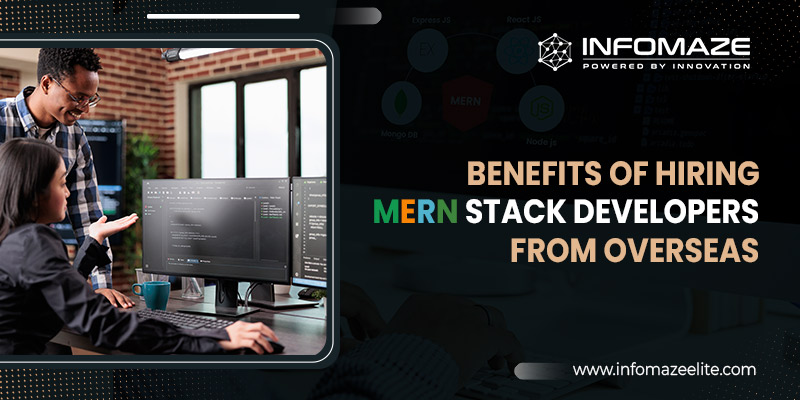 Hire Qualified Mern Developers
If you are looking to hire MERN Stack Developers from India, we recommend Infomaze, which is located in Mysore, a booming IT hub of Karnataka, India. Our programmers aim for highly dynamic and interactive User Interfaces, that are built with agile methodology while also aligning with your business needs.
With a Fixed Cost Project Based model to ensure fairness in pricing, Infomaze offers flexible services with full time and part time plans to deliver the best quality and solution to your needs.
Choosing the right developers to hire is as hard as choosing the right company to work with. Therefore, it is of utmost significance to hire highly proficient engineers, who need to understand and connect with your expectations. Infomaze is here for you to take care of all your needs and fulfill all your hiring requirements.
---