Hiring an Offshore Team vs. Inhouse Team – Benefits, Challenges
Technology trends come with the evolving digital marketplace and ultimately, require optimized software development processes for business growth. Many such firms are constantly looking for multiple ways to streamline their software development operations.
In such processes, the significant aspect is deciding whether to build an in-house team or hire an offshore development team.
Let us know more about in-house and offshore teams and learn how they can help you choose the best option that suits your business needs.
Offshore Development Team and its Benefits of Hiring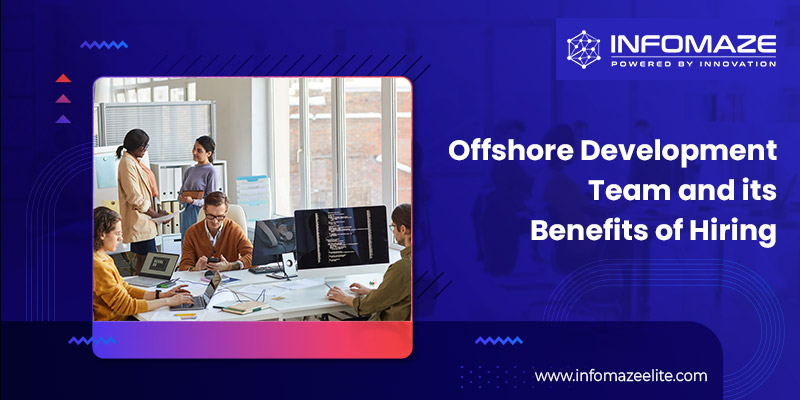 An offshore development team is a group of professionals based in a different geographical location or country. They work remotely with your firm to execute specific tasks or projects. Offshore teams can be formed by contracting with offshore software development service providers or through offshore development centers.
Below list is the benefits of hiring an Offshore Development Team:
Because labor prices in some countries are much lower than in wealthy countries, offshore development teams are frequently more cost-effective. This cost advantage can free up resources for other business objectives.
You have access to a large talent pool with various skill sets by outsourcing to offshore development centers. You can quickly identify and employ developers who have the necessary knowledge for your project.
Offshore software development services allow you to scale your workforce up or down based on project needs. This scalability enables you to efficiently respond to changing company needs.
Because offshore software engineers sometimes work in multiple time zones, your team can operate around the clock. This can result in speedier project completion and a shorter time to market for your items.
Challenges of Hiring an Offshore Development Team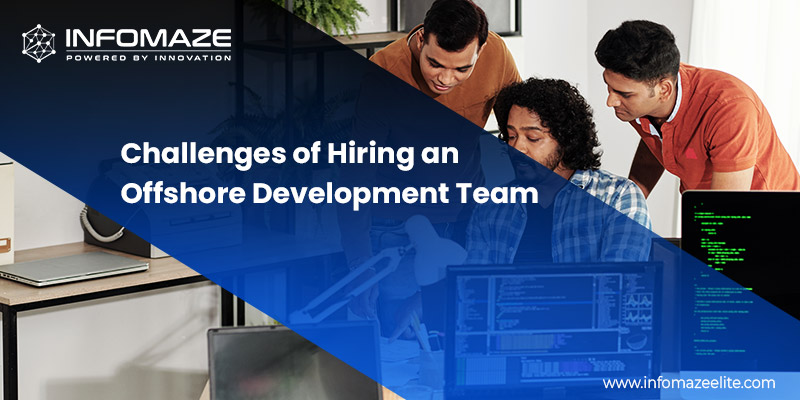 Language difficulties and time zone differences can make communication difficult. To overcome these obstacles, effective communication tools and methods are required.
Sharing sensitive information with a remote team may generate security issues. To prevent these dangers, it is critical to implement strong security measures and work with trustworthy offshore partners.
Cultural awareness and competent project management help bridge the gap between the cultural differences that create a huge impact on teamwork and comprehension of objectives.
A full-time in-house team consists of employees and managers who work for the business. They work in the firm's physical office space, according to the company's goals. However; hiring an In-house team comes with unneglectable challenges as follows,
Challenges of Hiring an In-house Team
Putting together and sustaining an in-house development team can be costly. Salaries, perks, office space, equipment, and training will all require budgeting, which might put a strain on your resources.
Recruiting and recruiting skilled developers might take time. Project time frames might be pushed back by the process of identifying, interviewing, and on-boarding new team members.
Your talent pool is constrained to the developers in your geographic area. Finding specialist talents can be difficult, especially if you live in a location with a scarcity of IT talent.
Making the Best Decision for Your Company
The decision between an in-house team and an offshore development team is heavily influenced by your individual business requirements, budget limits, and project requirements.
Here are some things to think about to help you make the best decision:
Project Difficulty :

Due to increased control and alignment with your business, an in-house team may be a better option for extremely sensitive, complicated, or long-term projects.

Risk Tolerance :

Assess your risk tolerance and your ability to adapt to various hurdles, such as time zone changes and cultural nuances.

Availability of Resources :

Examine your local talent pool and the availability of specific abilities. If you lack the necessary capabilities in-house, an offshore team can help.

Cost Restriction :

If cost-effectiveness is critical and you have a short- to medium-term project, offshore development services may be the best option.

Time Sensitivity :

Offshore workers can operate around the clock, potentially speeding up project completion.
Offshore development services may be the way to go if cost-effectiveness and access to a larger talent pool are major concerns.

Offshore teams can provide the scalability and speed required for projects with changing resource needs or tight deadlines.
Bringing the Best of Both Worlds Together with Infomaze
Most of the companies opt for hybrid strategies, that is integrating in-house and offshore development teams. This method enables the company to retain control over key processes and increase cost-efficiency and scalability by the staff.
In-house or an offshore development team, each has its own pros and cons. It would help if you decided based on your company's requirements, considering the priorities, goals, and budget limits for your projects. However, However, Infomaze stands out of the crowd in facilitating the best Offshore development team that yields your overall productivity and growth.
Infomaze, a software development company that has a record of excellence and innovation, plays a significant role in empowering businesses through its emerging software outsourcing services.
Standing on the radar of innovation, our team of dedicated experts always ships to an innovation journey that brings businesses to the fore of digital transformation.
Contact us and unlock the new potential in this tech-conquered world.
---