United States Companies: Things to Know While Hiring A Full-stack Developer
Full-stack developers are integral to the growth of any US-based business that has an online presence. From developing websites and applications from scratch to improving user experience and database management, developers can help you at all stages of your business.
Since they specialize in a variety of skills and abilities, it is crucial to be familiar with the different services they offer, and what you can expect from them especially when you are planning to hire full stack developer in US.
As one of the leaders in the IT space, India has an abundance of developers and professionals who can help you build your business in US, without overspending. In this blog, we will help you understand what services full-stack developers offer, how to find the right one for your needs, and how to hire full stack developer in United states.
Why should you Hire a Full-stack Developer for your Company?
Before we get into everything you need to know about hiring a full-stack developer, let's first understand what they do and how it would benefit your company.
A full-stack developer is someone who is skilled in both front-end and back-end development. This means that they can build websites and applications from start to finish, including design, coding, testing, and deploying. Front-end developers are concerned with the system users interact with, essentially UI/UX, while back-end developers are responsible for making sure the internal parts are working properly. A full-stack developer is well-versed in both the front-end and back-end, allowing for a more cohesive end product. In addition to this, these developers also manage hosting the website on a server.
A full-stack developer is also knowledgeable in database management and can create and manage user accounts, making them indispensable for companies that deal with user data and interactions. Since they also know how to work with databases, they can help keep your data safe and organized. And finally, they're skilled in user experience design, which can make your website or app more user-friendly.
So, in essence, hiring a dedicated full-stack developer can help you improve your website's usability and performance.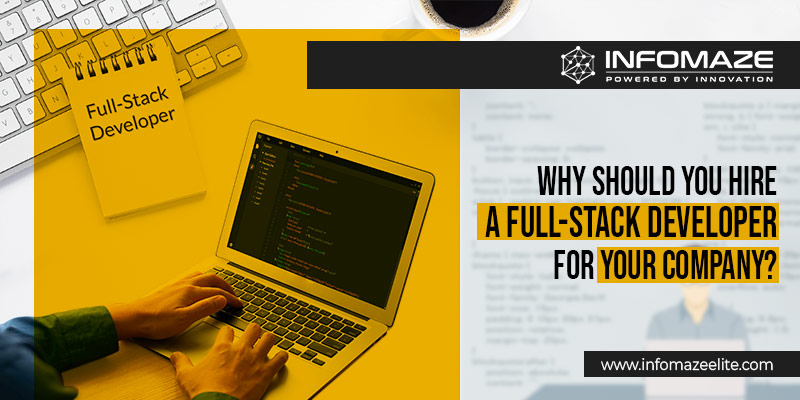 When is the right time to Hire a Full-stack Developer?
While full-stack developers are a great asset to any business that wants to develop an online presence, there are some situations where hiring one is of utmost necessity. Some of these situations are:-
If you're building a website or app from scratch, a full-stack developer is a great option because they can guide you from start to finish. Since they are well-versed with the entire process, they can help coordinate the team.
Full-stack developers are essentially like an all-in-one solution, and are more cost-effective than hiring separate developers for different technologies.
Full-stack developers have all the technological know-how you need to smoothly run your website or app. They make great technical partners as they can help oversee the project and make sure the process is as efficient as possible.
If your business is starting out, you are probably looking for a robust and quick build. A full-stack developer helps you save money and is proficient in creating an MVP in a short amount of time.
The top skills to consider while Hiring a Full-stack Developer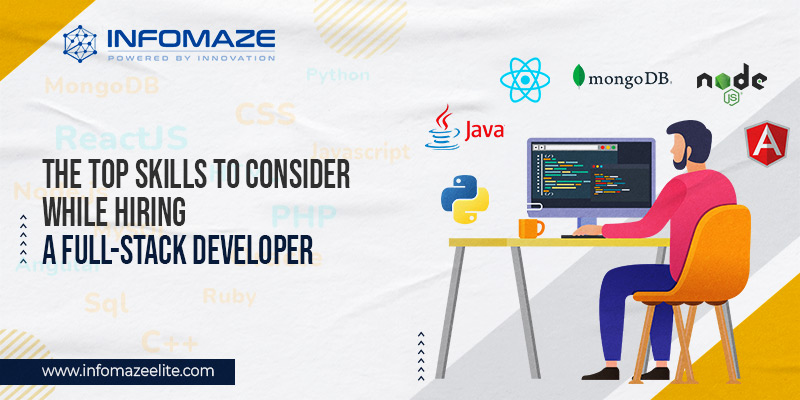 Technical Skills of a Hired Developer for a Startup
If you are looking for full-stack developers for hire, there are some things to keep in mind. Depending on your requirements and business, there are a variety of skills you might need to consider while hiring a full stack developer in the US.
First, you need to be aware of the developer's abilities. They need to be experts in both front-end and back-end development, as well as in databases and web hosting. Additionally, you should look for someone who is skilled in working with clients and has a good track record of delivering projects. They also need to be skilled in user experience design, so that the website or app is easy to use. Some technical skills to keep in mind while hiring a dedicated full stack developer are:-
Proficient in client-based scripts (AJAX)
Well-versed with web fundamentals (HTML, CSS and JavaScript)
Ability to work with libraries (Backbone.js, Knockout.js, jQuery, and Ember.js.)
Ability to design the schema of a database
Adept at working with server-side technologies (Apache, J2EE and Nginx)
Have knowledge of server-side languages (Python, Ruby, PHP, and Perl)
It's imperative to find a developer who can help your business grow in the ways you need, so be sure to ask the right questions during the hiring process. Apart from just the technical skills, it's crucial to see if the developer can visualize the bigger picture for the business, and what exactly needs to be done in order to achieve those goals.
How to Hire Developers for your Startup?
Decide what you wish to achieve and the product you need to build.
Define your requirements for a developer with experience, skills, and whether they can handle work alone or with a team.
Pick developers to work in your time zone or in different time zones. Determine the employment model and choose full-time, part-time, hourly, or on-demand.
Post jobs on various channels and review the terms and conditions before hiring a developer.
Take interviews and evaluate the developer's previous work, responsiveness, and communication skills.
Get started and assign the project work with regular meetings to ensure streamlined communication.
How to hire the right full-stack Developer?
When hiring a full-stack developer in the United States, you have a variety of options to choose from. To pick out the one that is right for your business and your needs, you should do a thorough assessment.
You can look at the potential developers' past work or give them an assignment to test their skills. Apart from that, you should also test their front-end, back-end and hosting skills. Look for a developer who is familiar with your business and the specific needs that you have. For example, if you want to make your website more user-friendly, find a developer who specializes in UI/UX.
The Best Place to Hire Full stack Developer from India
India is a huge market for developers, with 2.5 million graduates passing out every year. The country holds the position of a world leader in information technology because of its historic role as an IT powerhouse. Companies like Microsoft, Ford, and Google have trusted the expertise of Indian developers for decades. Small businesses also prefer these Indian developers because of their exceptional work and cost-efficient services.
If you're looking to hire full stack developers for your projects, Infomaze houses excellent resources. We have immense experience in building websites and mobile applications and are trusted by top companies. We have a portfolio of highly experienced professionals who specialize in a variety of different skills.
Infomaze allows you to connect with top developers and find the right fit for your company while ensuring that you stay within your budget and get your money's worth.
---