Mailparser Integration with Zoho CRM and Zoho Books
When it comes to procuring data from emails, our experts at Infomaze understand the effort and time a company's workforce expands on manual data entry. As this process is not error-proof, it may lead to a huge loss for the company in the end. At Infomaze we propose a simple solution that provides workflow automation for any company by integrating Mailparser, a software that extracts, archives, retains, and routes data automatically from your emails to Zoho Books and Zoho CRM databases.
With our skilled developers at work, while employing our integration services including email parser integration with Zoho Books which provides easy accrual accounting management such as account payable, account receivable and departmental accounting, Infomaze always provides you with the best. 
While our developers also integrate Zoho CRM with Mailparsing, which helps achieve efficient customer relationship management by providing different modules for leads, contacts, and accounting to choose from, strengthens the company's customer relationship management.
Contact us for more such simple and time-saving solution that offers many other improved resource utilization in your workforce. Our dedicated developers are available 24/7 for consulting and provide you with answers to any queries that you may have.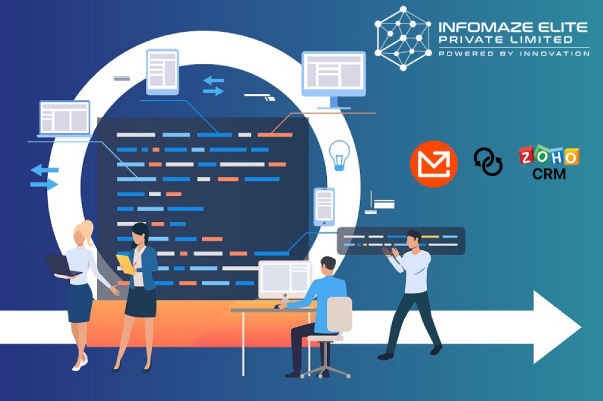 Why integrate your Mailparser to Zoho Books and Zoho CRM?
Mailparsing reduces the workforce energy and time required to import applicable data from emails by negating manual data entry and thereby also reducing error rates. But, that alone is not sufficient to obtain an effective business solution. Integrating Mailparser with the right application does wonders and choosing Zoho CRM integration and the Zoho accounting software with your email parser software results in, effectual tackling of leads, contacts, and accounting data.
With Zoho Books and Zoho CRM integration along with Mailparser, our team at Infomaze will create modules that uniquely suits your business needs. Our experienced developer's set-up triggers with pre-established actions including creating or updating a new lead, prospect, and contact details, or providing conditioned responses to customer requests as soon as a new email arrives.
To make sure you never miss out on a lead, our developers use custom parser rules to extract the relevant lead or prospects information from an email even when it is embedded in a PDF or an Excel attachment.
Our developers using the native Zoho API Webhook Integration, integrate Mailparser with Zoho CRM and Zoho Books in such a way that once Mailparser structures the contacts, leads, and the prospect data into appropriate fields, it is exported to the Zoho accounting software or to Zoho CRM in real-time. So, you never have to lose precious time over sorting and syncing your data to another data source, or for productive invoice management.
As integration between Zoho CRM and Zoho Books with Mailparser does not include any coding, our professional developers get the job done in a very time-efficient manner.
Why choose Infomaze for integrating Mailparser with Zoho CRM and Zoho Books?
Our team at Infomaze believes in providing simplistic, but impactful solutions for our clients and therefore we opt Mailparser integration with Zoho Books and Zoho CRM, with its ease-of-access to provide the best CRM business solution
Also, our knowledgeable developers are most helpful to provide you with answers for any queries if you are not sure how to go about your email parser integration, be it choosing the right module or a parser template. We guarantee that we stay with you throughout, before and after integration for any assistance that you may need.
Employ our
affordable integration services
to integrate your Mailparser with Zoho CRM and Zoho Books with our
team of reliable developers
.
---