What's New with Zoho Creator 6.0?
Zoho is yet again back with Another Exciting Update
Keeping track of your business and its various tasks can be challenging. That's why so many enterprise owners are looking for ways to facilitate the process. One such solution is called Zoho Creator.
It's good news for everyone planning to develop hassle-free applications on Zoho Creator. With the new Zoho Creator 6 or C6, the development process is simplified and uses the most advanced low-code tools, and Zoho creator's new features will help maximize benefits.
What's Changed from Zoho Creator 5 to Zoho Creator 6.0?
All the included changes in the newer Zoho creator 6 contribute to favorable variations in the upgraded version, which reduces the development time and simplifies the processes further.
The new Zoho creator update is more powerful and robust. Zoho Creator app development is quick and comes with efficient business automation processes, business intelligence & analytics, intelligent integrations, and many more.
Here are the Highlights of Zoho Creator 6.0:
The new Zoho Creator 6 now has an on-premises Zoho Creator app development option that lets you develop on-premises, reliable and flexible applications that Zoho creator update can host on your premises. Zoho Creator is a handy tool, and it has many new features that can help you get things done more efficiently.
App building is made super easy with code blocks to configure advanced workflows with a drag and drop option while building the app with the Zoho Creator 6 intuitive builder. The workflow configurations are secured using the visual representation of a business process on the visual blueprint builder of C6.
The C6 comes with the Zoho Creator Software Development Kit (SDK) for Android and iOS app development. The SDKs come with software libraries, including core libraries and UI libraries. The Core library lets you work with CRUD (create, read, update, delete), API wrapping & version upgrades, data modeling, metadata caching, and scaffolding. The UI library provides custom prebuilt UI components that help generate the app's UI.
With no need for back-end configurations and the highest security, get 600+ ready-to-connect apps to manage tasks in an innovative and accessible way. Zoho creator development can tweak the choice field UI of dropdown, radio, multi-select, and checkbox to include new messages that automatically get updated.
No more spending unsolicited time gaining insights from the existing raw data as the Zoho Creator 6.0 app development is empowered with a 360-degree view of your business aided by AI-powered business intelligence and analytics capabilities.
The overall process of end-to-end phases of the development cycle, testing, and deployment is made easy with Zoho Creator's lifecycle management features. You can publish the changes in the applications as versions with no data corruptions, validate and schedule publishing, view errors, trace bugs, test permissions and notify the interested parties of changes with skilled Zoho creator developers.
With the Zoho Creator's serverless function capability, build flawless applications that run on multiple programming languages other than or including Deluge. Zoho creator development involves high cloud environment compatibility and the prebuilt framework with a backend set with compilers, IDEs, and interpreters.
Hire Zoho creator developers to create intelligent applications with the newer Zoho Creator 6.0 development version with AI-based intelligent suggestions, the latest MI techniques, and no complex formula or code algorithms.
Zoho creator new features to create a great and efficient environment for application development with a central or unified data model for business transactions and automation.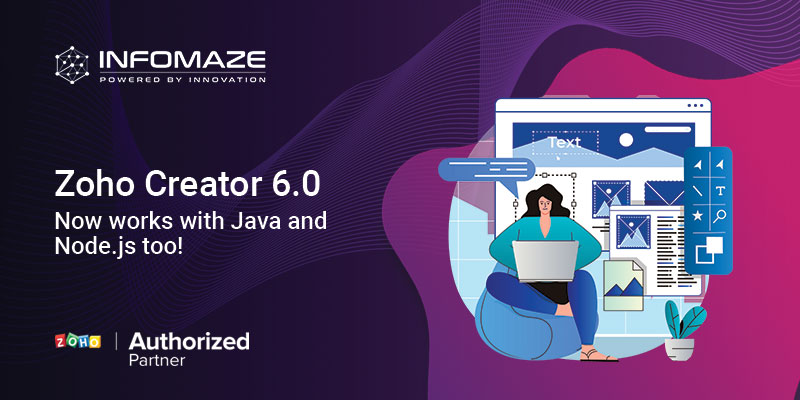 Why Should you Upgrade your Applications to zoho creator 6?
Migrating your C5 app to C6 is highly recommended as the settings and configurations from the older version may not function properly upon upgradation. Also, the time to deployment is reduced drastically and comes with more freedom with the language used for the application development with the Zoho creator update.
With the latest Zoho Creator 6.0, Zoho Creator app development, you can obtain application development that offers more incredible benefits and explicitly suits your business needs.
The new Zoho Creator 6.0 is built on artificial intelligence and machine learning to deliver a more innovative and effortless experience. You'll see it across different platform aspects, like the new intelligent search, smart reminders, and intelligent help.
Not sure how to Proceed with zoho creator 6.0?
If you're looking for a solution that can help you easily organize your tasks, meetings, emails, and projects, then Zoho Creator is worth the upgrade. It has many great features, and it's easy to use.
As Zoho Authorized Partners, our Zoho Creator developers for hire keep themselves up-to-date and are ready to help you with the Zoho Creator 6.0 application development or app migration from the older version, C5, to the newer version, C6, in almost no time, without affecting your everyday business.
---