Top reasons to hire Zoho certified developers from Infomaze
Hire the best Zoho developer experts from an experienced software development center to get the best Zoho customization services.
The reason for a business enterprise to choose Zoho customization services are many, be it SME or a large enterprise. Amongst which automation is the one that takes the forefront. 
Zoho is a versatile platform and allows multiple integrations and customizations to specifically suit your business to handle its Customer Relationship Management (CRM), web applications, content management system, etc.
But, having the right platform is not the only requirement; optimizing it to accommodate your business needs is explicitly significant, and this is where choosing the right experienced software development center for Zoho development services comes into consideration.
Criteria's that require you to hire Zoho certified developers
1. If you want to eliminate repetitive tasks including data entry from one data source to another, replying to business emails manually, all of which are inevitable and consume extra workforce hours in your day-to-day business, while at the same time is prone to errors and development of disinterest in employees, It is time you consider automating your workflow process.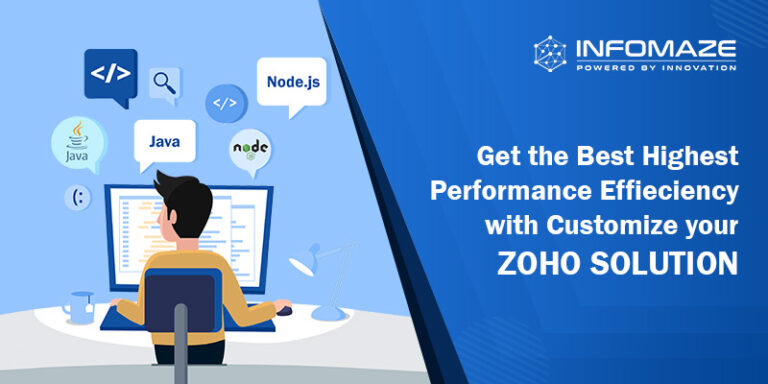 2. Every business requires a CRM, ERP, CMS, and other solutions that perfectly fit their business goals. And hence, getting the app customized helps in achieving outstanding performance and an increased ROI. The customizations require a professional to render their Zoho customization services, which dictates that you hire a Zoho development team to get the best deal out of all.
3. Do you require a third-party application to be integrated with your Zoho application, and a ready Zoho extension is not available in the Zoho marketplace? Hiring a certified Zoho developer a gets your job done seamlessly.
4. If you want a custom app developed and require the expertise in deluge script, then hiring Zoho Creator developers assures the quality of the solution you get in the end.  
5. Managing your accounting, payroll, and bills can be made simple. But, every accounting software has its limitations, be it restrictions in the unlimited usage of functionalities in the app due to location difference. At times like this, a Certified Zoho developer can help overcome all of these shortcomings.
Now that you've understood the criteria when you should be considering to hire Zoho certified developers, the next important thing is being able to hire right.
How to choose the right developer when you are planning to hire Zoho certified developers?
Expertise in handling real-life problems and having solved it for industries of different verticals and sizes gives the edge required to approach the problem in hand and address it uniquely.
Promising and delivering the solution at a break-neck speed helps you reap the benefits and achieve tremendous business growth. Looking at the customer retention rate and doing a bit of research on what their clients are saying is always recommended.
Why should you hire Zoho certified developers from Infomaze?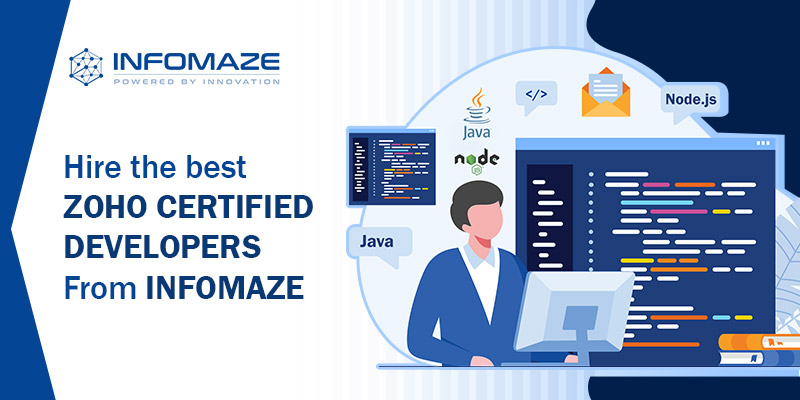 Our experienced Zoho developers have the expertise to provide Zoho customization services and create cost-effective and efficient solutions that increase your overall performance efficiency.
With the seamless end-to-end automation that we provide, reduce your turnaround time, and increase your ROI.
Apart from gaining all the above advantages, unlike a freelancer, our dedicated Zoho certified developers extend round the clock, free of cost support and maintenance, unless you have any significant customizations involved.
We also provide continuous monitoring services through our security and maintenance services that our sister company offers to keep a check on your applications' health and provide bug fixes before any real damage occurs.
Are you interested in hiring Zoho certified developer for your custom application development or obtain Zoho customization services?
---