Monitor workspace safety with Zoho BackToWork suite
The one solution to maintaining corporate wellness if you are planning to switch back to work at the office!
The beginning of the year forced all of us to adapt to a new work culture that required most companies to start working from home for almost all of their entire employee population. Now with time, many companies have slowly started going back to working from the office. But, maintaining occupational and health safety is essential more than ever during this time of crisis.
Zoho Corporation has brought a new solution to help companies of all sizes to systematically and gradually move back to working from the office with an effective solution powered by Zoho creator. The solution offers a wide range of options to organize, monitor, and maintain workforce safety and corporate wellness. What's more exciting? It is available for free to all small companies until the end of this year to stay ahead and grow in their business, against all the odds.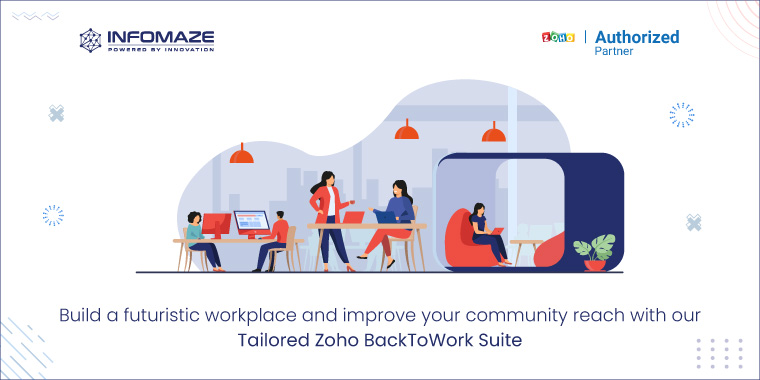 What is Zoho backtowork, and how is it useful in upholding workforce safety?
Zoho BackToWork is a cloud-based suite that can be readily put to use for tracking employee wellness, managing your company assets, and eliminating a communication gap between the stakeholders by providing a module to achieve the same, to name a few.
It is a solution that covers all aspects involved in working at the office, be it monitoring the whereabouts of your employees securely or making sure your company adheres to the compliance rules and guidelines. Do you have questions that need answering?
How to achieve a smooth transition from working through remote access services to working at the office?
It can be overwhelming for the HR department to make sure all the compliance guidelines are being followed, and the workforce security is maintained with no room for errors. As these errors might endanger health security, having a solution suite that monitors and allows corporate wellness becomes highly useful. Zoho BackToWork offers multiple solutions that take care of all the above concerns and provides a futuristic work environment.
The solution modules that Zoho BackToWork offers to maintain workforce safety
Admin control center module. This module gives the admin to control and prioritize which employee or asset gets access to the office premises after considering the status of the health of all your employees. The module helps set up approval hierarchies by providing an efficient dashboard view of the company preparedness to facilitate work on the premises. It also helps in connecting virtually to the rest of the employees for conducting meetings.
Wellness module. The module helps in distributing and collecting self-assessment of health and contact details of the employees through tracing forms that oblige approved standard industry surveys. This, in turn, allows the company to schedule and put a cap on the number of employees that can work at the office.
Safe entry module. Using this module, assess crowds of high-risk and low-risk using the details from the self-assessments. Allow timely scheduled access to prevent maximum exposure and monitor the entry requests, be it from your employees or visitors, and always remain aware of who enters and exits the office premises.
Employee self-service module. With this module, efficiently manage your companies maintenance needs, be it requests for different kinds of assets, including sanitizers and more, to other service requests at the office.
Communications module. Make sure your office memos, health safety guidelines, or general queries regarding the workforce security enforced environment reach through the web or mobile-friendly app to all your staff.
Volunteer module. Procure interested employee details who wish to give back to the community and be a part of adhering to the Corporate Social Responsibility (CSR) that every small to large enterprise entails.
Here's how Infomaze can help you gain more out of an already efficient suite
As Zoho authorized partners, we are always keen on understanding and updating ourselves with every new solution that Zoho corporation releases. Be it Remotely that was released to help companies manage work from home culture that all of us were forced to welcome into our lives, to the latest cloud-based BackToWork solution suite that was recently released to help companies get back to work at the office with a hurdle-less, smooth transformation.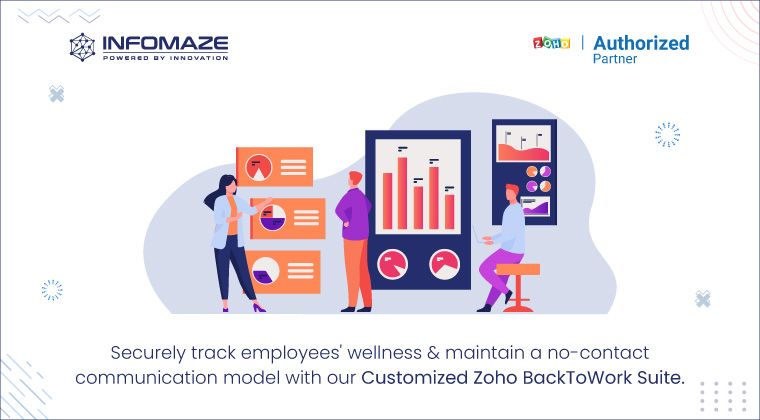 Our Zoho certified developers understand that all companies don't run the same way, and even the best of the best solution suits like BackToWork needs some amount of customization. And, hence to provide top-notch Zoho customization services, our developers sit with you or spend hours over a call and discuss elaborately to understand your company workflow and culture before coming up with a perfect solution to perfectly fit your company needs.
As Zoho Creator certified developers and solution providers, we only provide quality work in less turnaround time and make sure the solution offers an increased ROI after its successful implementation that we help your company cruise through. We also provide 24*7 support and maintenance as we understand the value of time and responding to your requirements at the earliest.
Are you planning to switch back to working from the office and worried about workforce safety?
Worry no more, and get Zoho BackToWork to assist you through the whole process. Let us remind you the solution suite is currently available for free of cost to help everyone in this time of crisis, just like our Zoho Creator consultation services.
---