How Custom API Integration Services Can Help in Business Success?
Drive Digital Transformation with Custom API Integration
Any solutions in the modern world are interdependent and require a constant data flow. API integration services (Application Programming Interfaces) ensure these data flows are functional, secure, reliable, and smooth.
Custom API integration helps connect different systems and enhance the solution with vital functions and features, including synchronization, payment processing, data validity verification, employee attendance tracking, user registration, data exchange, authentication, and interactive voice response.
Web services and custom API integration services are the most overlapping and common shared technical phrases people often get confused. Do you think there is a difference between them, or are they the same? Let's learn about APIs and how they can help the business.
What is an API and its Features?
An Application Programming Interface (API) is an interface used to determine the interaction between various software intermediates. API integration solutions are definitions and protocols that can enable one application to intercommunicate with another.
API is an information gateway that determines the calls and requests that allow services and software to intercommunicate so that customers can extend the overall functionality to varying degrees.
With custom API integration service, get customized, component-specific, and industry-standard tools to provide compatibility and interoperability.
API integration solutions allow modular programs by concealing information and data to enable users to operate interface implementation services independently.
During custom API integration development, API streamlines coding by providing only objects or actions and summarizing the underlying implementations per API integration developer requirements.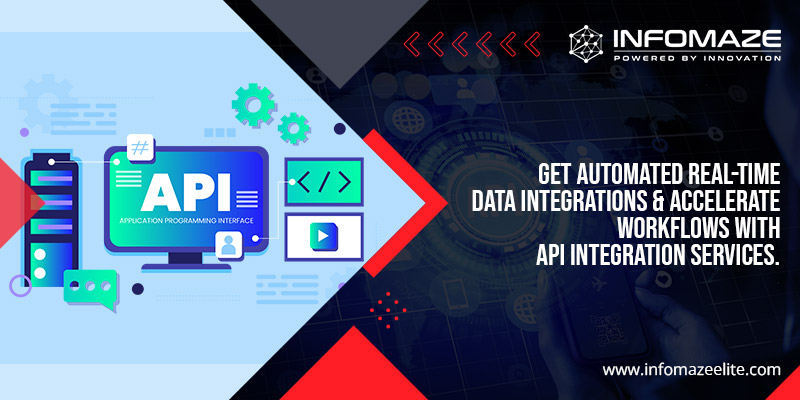 How Can Custom API Integration Services Aid Business?
If you go through the internet, you get a wide range of custom API integration services available in the market that can improve the interface and functionality of existing or new programs that can enhance business productivity and implementation.
It is vital for IT development companies to use the different API authentication methods, including oAuth, API Keys, JWT, SAML, and token, to name a few, to get secure API integration solutions for business success.
Cloud-based API offers a robust interface for developing remote solutions across storage systems and enterprise applications. It is a vital component of communication and connectivity. You can adopt effective and scalable custom API integration services for your enterprise as per your needs to access information across different platforms and devices anytime and anywhere.
You no longer have to invest in expensive systems and equipment by adopting cloud application migration services. You need to pay for what you use, and you can organize your budget by spending more in peak times and less when you do not need infrastructure and storage capacity.
Famous public cloud platforms like Google Cloud, Microsoft Azure, and AWS are incredibly scalable, efficient, and affordable. Application migration to the cloud is inexpensive to run on-premise applications when handled and maintained correctly.
Get an API integration developer to build secure custom API solutions to allow real-time data synchronization and eliminate redundancy. Custom API integration services can leverage various security levels based on the enterprise application development.
Infomaze has abundant experience providing API integration solutions and development services with various levels of security incorporated based on your application types.
Integrating the perfect software that suits your business requirements offers essential credibility to your business to reinforce connectivity. End users can only view the interface, but they will experience seamless transactions that add more quality experience and customer satisfaction.
Various industry verticals have adopted third-party API integration services in their business; for instance, Uber has integrated Google Maps into their app to provide users the destinations, routes, and estimated arrival times. You can yield a complete service platform using custom API integration solutions. Achieve better connectivity between apps and websites with API integration services to generate a new service or product.
API integration solutions and development services allow you to link software, websites, and third-party apps through custom or standard APIs. With competence and automation, suitable software can efficiently manage and handle activities, such as marketing, sales, inventory, and payroll processing. Automation reduces time, money, and effort to execute strategic work.
Various Custom API Integration Services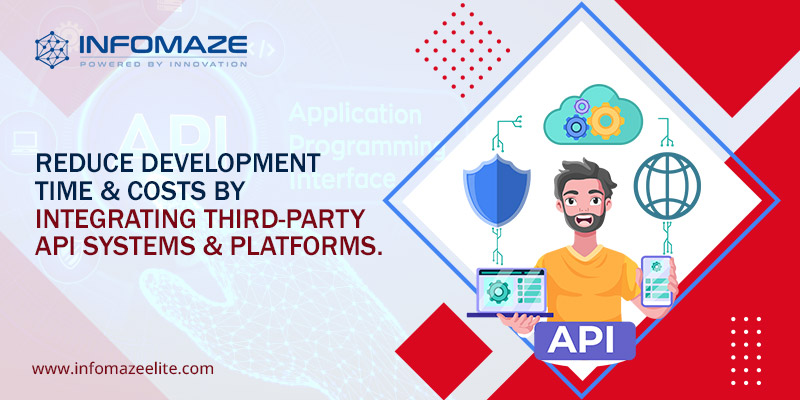 Get custom third-party API integration and development services to aid companies with connecting their apps, websites, and systems. Enhance your productivity and work efficiency by incorporating third-party integration services and unique features.
Using API integration services for your business can connect your websites and apps via a payment gateway. Popular payment gateways, including Stripe, Paypal, Amazon Pay, CCAvenue, Gpay, PayU, BillDesk, and Authorise.net, use custom API integration to ease the workflow.
API as a service lets you handle your custom API integrations and interact with third-party APIs. We use web API protocols like JSON, SOAP, REST, and HTTP/HTTPS for executing API-based micro-services. Get all your data sources incorporated and save employees time and energy with API as a service.
Increase the traffic on your websites with a rich selection of social media API integration. Build your social presence and audience reach to your content with potential customers and clients to increase your ROI.
If you have a product that needs to be tested and automated before a successful deployment development, then consider Infomaze's custom API development service, where our API integration developers' own experience in CI/CD process and automates testing, including unit, functional, load, UI, and performance testing to name a few.
Infomaze offers robust API development and third-party API integration services. We can flawlessly and securely implement a third-party API into your product or build a reliable custom API solution for you. Contact our API experts to get cost-effective API development for cloud platforms, websites, desktops, controllers, and mobile apps today!.
---