How Can You Benefit from Offshore .Net Development?
Embrace Digital Transformation With Infomaze's Offshore .NET development
The .NET application development can help you leap towards digital transformation. Using the .NET development platform, you can create fundamental applications powered by Big Data, Artificial Intelligence, Machine Learning, and the Internet of Things.
Before you hire an offshore .NET development team, define all your goals and requirements. Building a .NET software development project can be pretty demanding. In most cases, it's hard to develop a useful product without skilled specialists.
Our offshore Dot Net programmers are composed of diverse developers, including web engineers, mobile developers, front-end and back end teams, full-stack developers and more. We make sure our skills match your product requirements.
To sum it up, lots of effort, capital, and time go into innovative and creative software solutions for businesses who want to stand out from their competitors.
Regardless, there is much more than dedicated offshore .NET developers can bring to your project and your business in general.
Salient benefits from Hiring Offshore .NET development team
Here are the eight main benefits to appreciate when hiring an offshore .NET development team for your project.
Offshoring gives you access to a much broader selection of skilled talents. An average IT company spends around ten weeks or longer finding a team of developers that suits project requirements.
There is always a demand for specialised offshore Dot Net programmers, but finding local talent nearshore is complex. You can choose our pool of talents to work on your project efficiently.
By hiring Dot Net developers, you are no longer limited to any location. Our talented offshore Dot Net programmers are available remotely to flexibly take on an ongoing project.
Businesses always think about their process of how to scale their business to a large section of the community with customer satisfaction.
Our reliable in-house team will help you with the latest technologies you should invest in developing a reliable application, staying competitive, and improving marketing strategies.
Since we provide .NET development services, not just freelancers, our dedicated team helps increase the profit margin by delivering top-notch .NET applications.
Many tech giants outsource their projects to India because hiring local experts in the US or Singapore can be very costly, especially if you need a skilled developer.
Outsourcing your work to an offshore development center will reduce your indirect and direct expenses, such as software and hardware licenses, supervision, medical facilities, compensation, enrollment, electricity supplies Etc.
Choosing Infomaze to hire a dedicated .NET development team can cost significantly less. It does not mean that the developers are less talented, but you will be recruiting more skilled developers at cost-effective prices.
Hiring offshore .Net developers allows you to focus on core business exercises. Since management is always busy organising and managing business practices, they don't supervise certain project activities.
Companies always go back and forth between the core business functions with less workforce. So outsourcing your .NET project save the company's time and money.
With an in-house team of developers, you would always be up-to-date with the development cycle and complete your project within the deadline. So your management team can focus on other important missions concerning your business.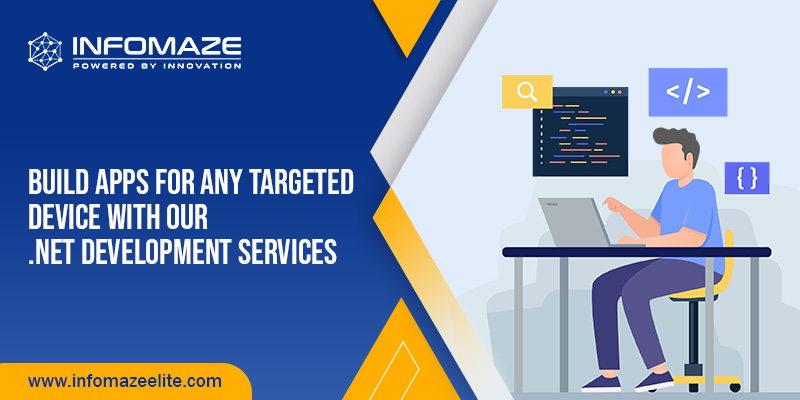 Any business don't want unexpected mishaps to happen while developing high-end projects. Offshore .NET developers use the latest version of the .NET application, which offers an incredible scope of dependability.
Another benefit you can avail yourself of from hiring an offshore .NET development team is extensively accessing the most skillful and experienced human resources along with excellent feasible technology.
Hire Dot Net developer to solve projects drawbacks and shortcomings in a hassle-free manner and get in touch anytime with our diversified team of .NET experts.
Infomaze is equipped with the latest technologies to deliver state-of-the-art solutions. Our Dot Net developers use convenient features and technologies to meet your project needs.
.NET technology is agnostic, or how they call it these days, language-independent. Using a wide range of frameworks allows you to meet your requirements and use them in multiple environments at reduced costs.
With the use of the latest technologies, you can also access documentation, high-quality procedures and structured strategies along with many new features of .NET.
Every business owner goal is to scale their business to great heights. And what is better than hiring a part-time or full-time .NET developer? Because Infomaze offers both depending on your project.
By hiring offshore .NET developers, you will save around 3x-5x of what you might spend while hiring a full-time onshore employee.
On the other hand, hiring offshore .NET developers can be done within a tight budget and for a specific time frame. Get the best quality of .NET development services by hiring experts and professionals.
If you determine your goal properly and achieve it as per project requirements, our reliable and experienced .NET development team will keep away from risks to build top-notch applications that suits your business.
With a talented pool of offshore .NET developers, there is always a low risk while developing your project. Also, we deliver projects along with tested application development practices.
Offshore .NET development services is an ideal choice for modern IT companies and businesses who are looking for profit margin and ROI. Gain productivity from proficient outsourced resources with cost-effective methods.
Get In Touch With Us Today
Overall, we can say that offshore outsourcing helps businesses to achieve objectives and benefits with ease at lower costs. Hiring offshore IT professionals for your tech tasks is the most efficient and reasonable way to get your project done.
Learn more about our services and flexible hiring modules to achieve high-quality .NET applications at an affordable cost. Talk to our friendly team to get free consultation services.
---