Beyond cost savings: The benefits of outsourcing software development to India
Organizations throughout the world are starting to explore outsourcing software development to India. The benefits of outsourcing software development services to India are numerous. They are delivered as a whole, ensuring the smooth operation of all the company's software components.
Naturally, a lot relies on your contract's clauses and services you decide to purchase. However, the total effect of outsourcing software development to India has been far higher than anyone could have predicted.
Software development has evolved into the core of contemporary corporate operations in a linked environment. Organizations now have the choice of outsourcing software development in an effort to stay up with the lightning-fast pace of technological innovations. India is a major player in technology alongside being one of the world's most popular outsourcing destinations.
Beyond it's affordable services, India provides a wide range of advantages that support its status as a top outsourcing location for software development. In the previous year, the IT outsourcing market was valued at USD 66.5 billion. There are many cross- functional industries in this vast environment.
Why outsource software development services to India?
Using an external agency's services for a specialized task that you don't want to or can't accomplish in-house is a straightforward definition of outsourcing. Taking this into account, outsourcing software development to India entails working with a company or independent developer headquartered in India to totally design, create, and test your software, website, or app. Engaging with external software development partners has become considerably more widespread as remote work has grown in popularity.
India is presently among the most often used countries for outsourcing software development. We will go through the top 6 advantages of outsourcing software development to India.
Pros of Outsourcing software development to India with Infomaze!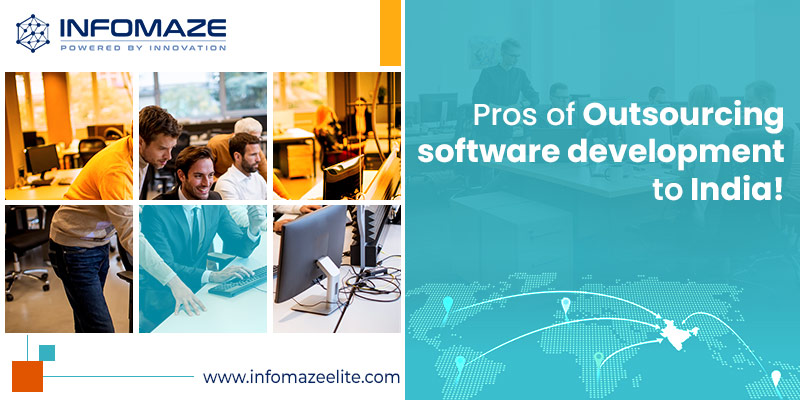 India has a sizable pool of highly qualified software engineers, developers, and IT specialists. A significant number of tech graduates are produced annually by the nation's strong educational system, assuring a steady flow of new talent. Additionally, a lot of Infomaze experts have advanced degrees and certificates from reputed universities throughout the world, which equips them to handle challenging software projects.
The extensive subject expertise that local specialists bring to the table is one the fundamental benefits of outsourcing software development to India. India has expertise in a variety of sectors, including e-commerce, healthcare, and banking. Infomaze developers are better able to comprehend the unique requirements of various industries thanks to their domain experience, which results in the development of specialized software solutions that support customers' corporate goals.
It's untrue that outsourcing stifles innovation because Indian software professionals are well known for their creativity and innovative ideas. They take a different approach to problems, generating an innovative culture that might bring new concepts to a company's initiatives. The introduction of fresh viewpoints that propel technical breakthroughs might result from working with Indian developers.
It is possible to shorten project schedules by taking advantage of the time zone divergence between India and Western nations. Indian programmers can carry on working on the project even after a corporation in the US or Europe has finished it's working day, thereby enabling 24 hour development. This offshore outsourcing software development company to India can greatly shorten the time it takes to advertise products and services and speed up the process of project completion.
Software development success depends on effective communication, and Infomaze experts are renowned for having outstanding communication abilities. English, which dominates worldwide commerce, is the language of choice for the majority of Indian developers. Between customers and developers, clear communication creates a bridge that promotes collaboration and guarantees that project needs are correctly satisfied.
Outsourcing decisions have traditionally been motivated by cost reductions, and Infomaze's affordable price is still a strong argument in favor of working with local developers. India's reduced cost of living translates into affordable software development services, enabling corporations to more effectively deploy resources and make investments in other crucial growth sectors. The software outsourcing companies in India have reduced their cost.
Outsourcing software development to India offers a wealth of benefits that go beyond that short term cost savings and may support a business's growth and innovation initiatives. Infomaze has made a name for itself as a major center for software development outsourcing services, thanks to the talented labor force, subject-matter knowledge, creative thinking, and dedication to quality. Businesses may gain a competitive advantage, shorten project lead times, and confidently negotiate the difficult terrain of contemporary technology by utilizing India's resources and talents.
Software outsourcing services to India may be the best option if you are seeking a dependable and affordable solution for your software development needs.
Infomaze provides you with the top outsourcing software development services in an affordable cost. Partner with us today and witness the efficient and effective growth of your business.
---