Why you Should Outsource React Development Services to Infomaze?
Do you know how many websites are using ReactJS? The answer is more than a million, growing more than ever by 1% annually. React was launched by Meta platforms in 2015, becoming developers' favorite platform because it allows writing code on a single code base and sharing it across different platforms like iOS and Andriod.
React is an open-source UI framework and one of the front-end market's bestsellers because React uses a JavaScript library and handles the front-end development of web and mobile applications without hassles. Various industry verticals use React Native, including Airbnb, Paypal, Discord, Skype, Uber Eats, Walmart, Salesforce, and many more.
Outsourcing React native development is a business like way to use the most framework features for high adaptability and is cherished by multi-million-user platforms.
Suppose you need to create a perfect environment for app-based solutions. Hire dedicated React JS developers from Infomaze with years of experience to develop and maintain cross-platform mobile and web applications with a native look and feel.
Let's go through the reasons for outsourcing ReactJS development services to Infomaze.
Vital Reasons to Outsource ReactJS Development Services to an Offshore Company
As we know, the IT industry is thriving and is on the rise to obtain more skilled developers yearly. When the market is competitive, the competition to have skilled developers in a business is intensified recently in many countries. So, businesses should not limit themselves by hiring local talent in their neighborhood.
In your region, if hiring React developers is expensive and if they are not well acquainted with your project requirements, then outsource React development services to Infomaze to access a wider pool of talents to create industry-standard and feature-rich web and mobile apps in a cost-effective and hassle-free manner.
If you want to build a sustainable team, it would be expensive and head-scratching. It would help if you considered several aspects of the hiring module in the long run, including the cost of hiring talents, providing resources, paying office rent, electricity, and internet considered to be higher.
Cost-effectiveness is vital when businesses outsource their software development process. Infomaze has skilled outsourced React native developers who can work on project basics which eventually deliver projects in a quick turnaround and reduces the overall cost of developing a project with in-house developers.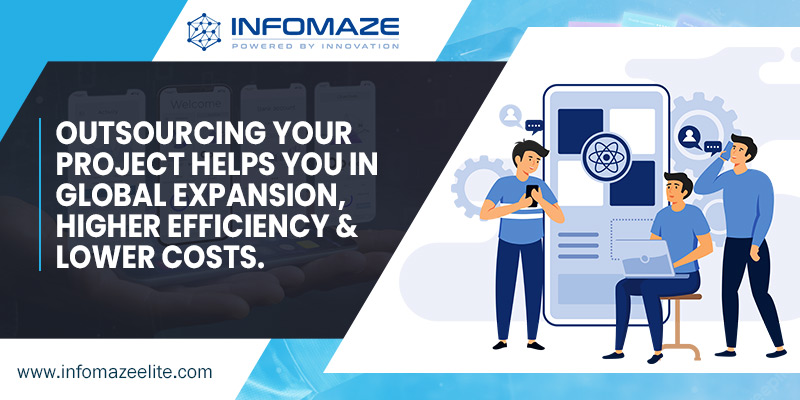 In case of a tight budget and deadline and you need to deploy the product faster, then you can be assured by an outsourcing company to develop projects faster by involving more hands. There will be no extra cost for hiring and onboarding new employees if there are urgent requirements to complete the project.
Hire dedicated React JS developers from Infomaze to speed up things significantly by developing web and mobile apps that are robust and scalable. You can launch your application, and our React JS developers will execute changes if there are urgent issues in no time.
As the business expands, you need to develop the opportunities for applications to grow. Another disadvantage of the in-house team is that the growth of the business takes a long time with new developers. And there is a high menace of overlooking the profitable growth of the business.
On the other hand, outsourcing your development service has a vital advantage over the pool of skilled developers who underwent harsh training while recruiting. The more available employees to work on a project helps scale the business process by solving challenges and utilizing opportunities.
As the famous line says, "Quality is King," so it's vital to have the best overall quality of the product, or the potential customers will discard it if unsatisfied. It is possible only when you hire ReactJS developers for your project, collating with reliable outsourcing companies like Infomaze.
The end product should mainly focus on the user experience, which generates higher revenue. Outsource React native developers who are experienced in developing multiple projects and follow the best industry standards and industrial practices.
A unique project needs a fresh set of eyes and fresh perspective from an outsourced team to find new methods to build UI for web and mobile applications. When you outsource React native development service, you gain access to well-versed developers with experience in the latest technologies and tools.
With in-house developers, the same people looking over the web or mobile project to find innovative methods will be unable to develop effective solutions. Instead, hire ReactJS developers from Infomaze to gain a new perspective on your project and deliver every requirement of your business hassle-free.
If you hire an in-house team of developers, you have to invest more in managing a team with various testers and designers having meetings daily, answering questions, and more which requires more effort and time. Such restlessness can reduce the overall business efficiency.
If you outsource React development services to a reliable company, developing a product is easy due to their organized and well-managed teams. You only need to consider the relationships of a B2B with the outsource company.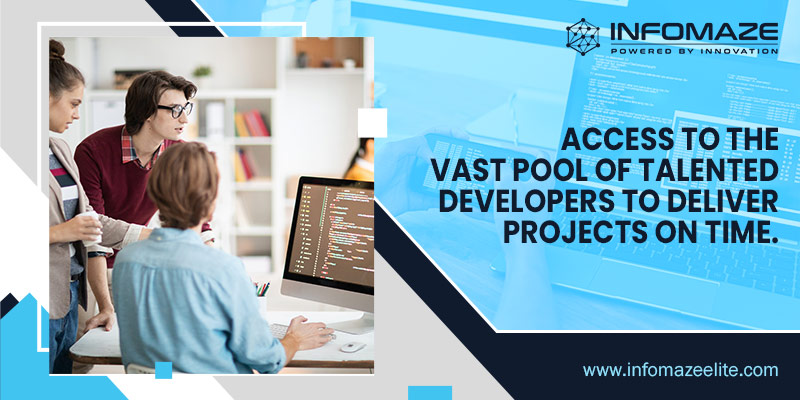 If your business hires React developers for permanent work or temporary, the administrative process demands more paperwork, including managing employee salaries, contracts, tax returns, and financial statements, which is head-scratching and time-consuming.
Outsourcing React native development services or hiring dedicated React developers reduces the hassles of paperwork and is time-consuming. Outsourcing React native developers for your business avoids setting up administrative work, and you can quickly develop projects with a fast turnaround.
Taxes are another essential aspect that many people ignore, and hiring React in-house developers for big projects includes hefty taxes. A business manager will have to face more stakes in paying taxes for employment and resources. Gain the benefits from the taxes payable for in-house employees by outsourcing your projects.
However, if you outsource your unique project to a reliable development company in India, you can save on taxes. The outsourcing company pays in-house staff salaries with taxes. Doing this, you save tremendous costs and get access to diverse talents, high-end tools, a competent workforce, and more.
Why do you want to have a heavy burden while maintaining in-house activities and development-related works? If you want a successful business running, outsource with a dedicated company that helps develop top-notch apps per your requirements.
Focus on your core business process by freeing up schedules and resources to lay the foundations for better ROI and sales. Stick to your business plan and outsource or hire dedicated React JS developers from Informaze to develop top-notch applications to thrive your business.
If you are scrutinizing for expert guidance to develop React-based applications, contact Infomaze. Our reliable outsourcing React development service can help build the most viable solutions on various platforms and domains which are scalable and functional React JS-based products.
---