US Companies: Tips to Hire React JS Developers Outside the United States
Do you need to hire React JS developers for your next application development project? But you must know that more than 10,000 prominent organizations and 1,50,000 websites worldwide use React JS.
Top companies like Amazon, Netflix, Codeacademy, Instagram, Skype, Pinterest, Salesforce, Airbnb, and more built their favorite apps using React.
The primary reason for hiring React JS developers from India is that we deliver high-quality products and reduce the lead time to reach the marketplace.
Companies Hire React developers in the US because React is the JavaScript library for developing efficient and robust online applications with scalability, flexibility, fast rendering, and the ability to build interactive UI/UIX interfaces.
Suppose you must stay afloat in modern technology. In that case, you need to
create a virtual identity
by creating an application. Companies are naturally cautious when
hiring React developers
in the United States for their unique projects.
ReactJS has gained popularity in the past decade, and many Reactjs programmers are available for hire. But you wouldn't know hiring a React JS developer is good or well-versed without considering certain aspects and experience.
You have decided to hire React developers in the US for your next project, but finding the right talent with technical proficiency, experience, and skills can be challenging.
This blog will discuss the factors and provides a roadmap to consider while hiring React programmers outside the US. Before that, let us look into the roles and responsibilities of a React Developer.
Primary Duties of a React Developer
Now you know the true potential of ReactJS, it's time to learn more about React developers' primary roles and responsibilities.
Creating Avant-grade user interface code based on mock designs and wireframes.
Enhance application performance by following requirements constantly.
Build and utilize UI components and make them cross-compatible with other OS.
Write concise and clean UI code that uses CSS preprocessors, styles sheets, SASS/LESS, and JavaScript attributes.
Design extensible application architecture and use APIs to assist them.
Handle functional libraries and the state of the applications effectively.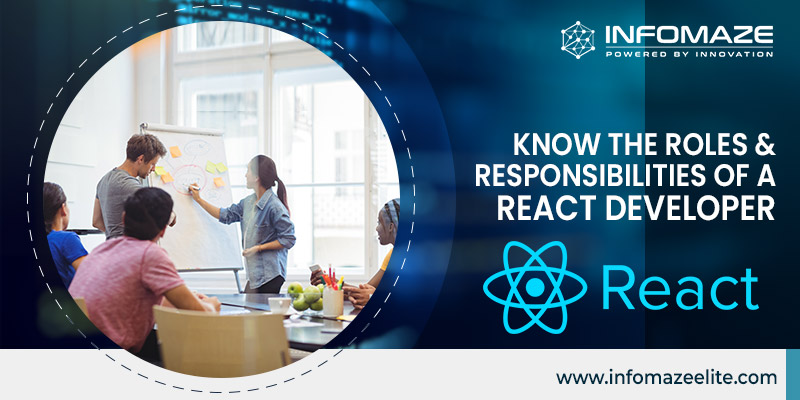 Use React workflows like Redux and context APIs to create and procure asynchronous API calls.
Conduct meticulous QA tests, including end-to-end, integration, and unit testing.
Create additional plugins for easy workflow and optimal app maintenance.
Implement the client's vision into an application through extensive software application development.
Deliver a robust, interactive, and scalable application that works in various resolutions, devices, and OSs.
Tips for Hiring React JS Developers from India
Plan Basic Requirements and Objectives

The foremost step is to plot and plan the project requirements, goals, and objectives you want to meet by hiring Reactjs programmers. Have a precise idea about the complete process of application development with Reactjs to make it less complicated. It's vital to decide if you need in-house React developers or offshore developers if your project tasks are a bit more comprehensive.

Shortlist Skilled React Developers

Once you have determined the objectives and goals of your ReactJS project, the next step is to choose the best-fitted experienced React developers based on their portfolio. Ensure the shortlisted candidates are well versed with the technology, match your essential project requirements, and deliver expected outputs.

Check the Genuineness of the Developer Portfolio

To ensure the reliability of a developer for your unique ReactJS project, you need to check their past projects to get an idea and understand how capable a developer is in delivering desired results. You can hire React developers in the United States and outsource your project with us quickly to increase overall business productivity.

Examine the Programmer's Technical Skills and Expertise

Before you agree with the developer or a company, ensure they have the technical skills and expertise to complete the project successfully. You can build beautiful appealing and interactive user experiences by analyzing technical skills.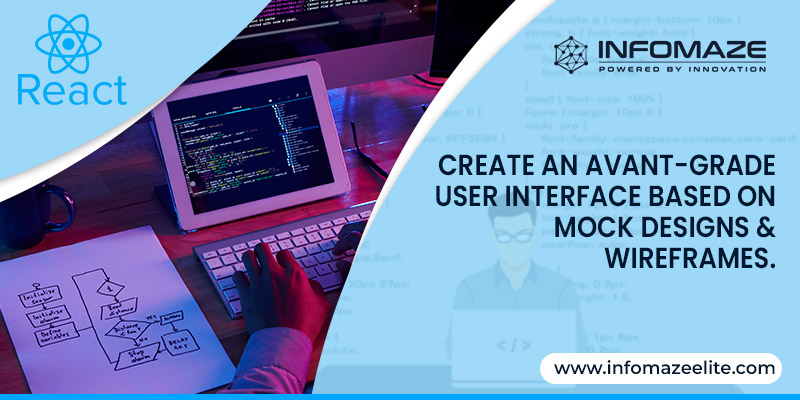 Talk through your Project Requirements

Once you have obeyed all the above phases, it's time to discuss your specific project requirements with the hired React developers in the United States or the development company to learn and understand the strategies and methodologies to develop the application efficiently and cost-effectively.

Analyze Engagement Modules

When you hire React JS developers from India or a company, it should have flexible engagement modules to offer services and solutions per your business requirements. Choose full-time, part-time, or on-demand services and ensure what tools the organization use for development to deliver quality solutions at an agreed cost.

Audit offers and proposals

Once you have fulfilled all the above prerequisites, it's time to discuss the offers and proposals, so it's essential to analyze the competitors who are providing React development services and hiring React JS developers from different companies. Make sure all your project requirements will match your budget.
Hire React developers from Infomaze who follow industry standard practice to deliver scalable, robust, and secure web and mobile applications from React dashboards, multiple architectures, enterprise-level applications, single page applications, and real-time web apps to name a few. We have worked with all shapes and sizes of various industry verticals. Contact us today to get a personalized quote.
---