Reasons why MEAN Stack for your next Web Application Development is Excellent?
Developing a web application requires a lot of prior thought and planning. Deciding on the technology stack to be used based on the functionality, size, type, among other factors of the web application, choosing a robust tech stack is crucial.
This article discusses how choosing a MEAN stack for your next web application project will be an excellent idea for you and your business. The following section will help you get a better idea if you are new to MEAN stack development.
MEAN stack is a tech stack that leverages open-source technologies and frameworks, MongoDB, Express.js, Angular, and Node.js. Each component works compatibly with one another to create impressive web applications.
Here's how each component contributes to the development process:
The Reasons why you Should opt MEAN for your Web Application Development?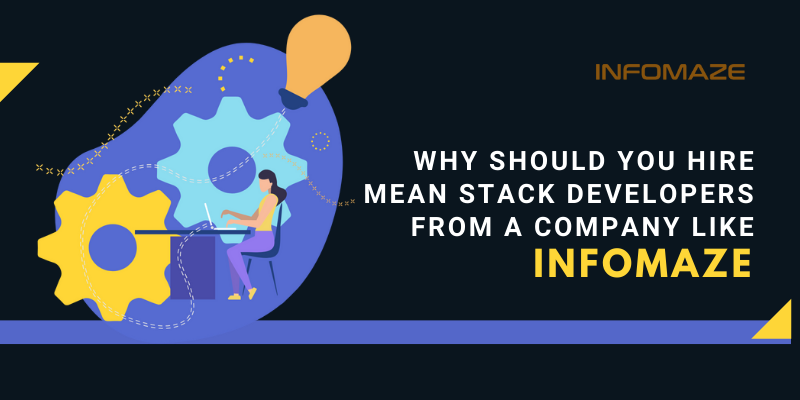 Efficient Skillbase: With MEAN in high demand for web application development, the need for full-stack developers is at its peak, and there will not be a shortage of developers when you need to hire Mean stack developers.
Cost-effective: Using an open-source technology stack for web application development with MEAN stack, you save substantial development costs.
Flexible Stack: From app development, testing to deployment, the MEAN stack handles all, including managing the user-generated data and provides isomorphic coding advantage.
User-friendly: With the MVC (Model-View-Controller) architecture, reusability of codes and cloud usage, the MEAN stack provides UIs that maximises user experience.
Strong Community: With JavaScript frameworks popularity, even with the deprecation of Angular.js, finding solutions for any queries is not tricky.
Single Language: The whole stack based on one common language provides high compatibility and no scope for miscommunication.
Effectual: The JavaScript-based MEAN stack is scalable, easy to implement and developer-friendly, making faster and reliable web apps development possible.
What kind of Web Applications Should you use MEAN Stack?
With major players using MEAN for their applications, including Walmart, LinkedIn, Uber, to name a few, it is clear that the application of the MEAN stack is quite flexible.
The MEAN stack can be used for dynamic single-page applications, social media apps, enterprise apps, streaming apps, and real-time applications.
What Should you Consider while Hiring MEAN Stack Developers?
Experience and deep expertise
Efficient solutions at affordable pricing
Secure and quality – MEAN stack application development
An ISO accredited company
Quick delivery, efficient project management and smooth implementation with flexible hiring modules.
---