Benefits of Business Application Migration to the Cloud
Reduce Costs, Accelerate Operations, and Improve Collaboration via Cloud Application Migration Services
Cloud application migration services are the trendiest technology in the modern era of the digital world. The worldwide pandemic has seen more businesses accelerate their application migration to the cloud to handle uncertainty, renovate their offering, and become affordable, innovative, and agile in operating their business.
The exceptional benefits of application migration service to the cloud, be it the migration of web, desktop-based, or mobile applications, attract entrepreneurs and IT leaders of all levels to stay connected with the targetted market by accessing the application anywhere, anytime, just by an internet connection.
The quick adoption of cloud platforms allows businesses to make business-objective decisions by accessing data in real-time due to their on-demand and self-environment characteristics. Application migration to the cloud aids in executing end-to-end digital transformation and help business to outplay uncertainty, reinvent, and reopen opportunities.
Cloud application migration services can be overwhelming due to cost, stability, and security concerns. Successful application migration to the cloud improves scalability and reduces cyber incidents cost and risk. Let's jump in and discuss what cloud migration is and its benefits.
Everyone and every business use cloud services these days. You have interacted with the cloud if you have used Zoom, Gmail, Google Drive, or Office 365. Cloud migration involves complete or partial deployment of a business IT data, resources, applications, digital assets, and other business components on the cloud platform.
Popular cloud migration services, including Google Cloud, Amazon Web Services, Microsoft Azure, and many more, allow you to handle IT infrastructure remotely without inconvenience, security risk, or cost of maintenance of on-premise hardware. A cloud platform is a coalition of an onsite IT infrastructure with a remote cloud infrastructure. The migrated assets are functional behind a firewall of the cloud.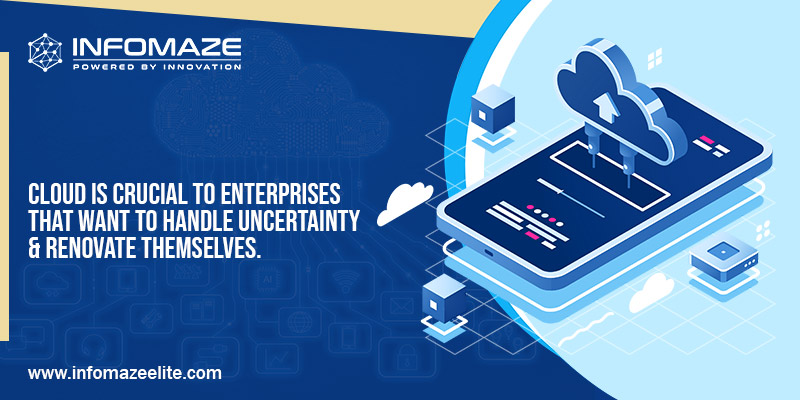 Advantages of Application Migration to the Cloud
Cloud application migration services offer numerous benefits that can ultimately make your team more productive and eventually a profitable business. Here are some vital advantages of business application migration to the cloud.
Do your employees save all the vital information on computers without a backup? What if your system is crashed tomorrow or lost or stolen? It's necessary to migrate your application to the cloud platform by a reliable cloud migration service provider to manage security updates and patches to save your devices from cyber threats.
You can access your data anywhere and anytime with a stable internet connection with cloud applications. If there is any disaster and something happens to your computer, you can still access the information. If your laptop or system does wind up to strangers, you can clear your system information remotely.
You no longer have to invest in expensive systems and equipment by adopting cloud application migration services. You need to pay for what you use, and you can organize your budget by spending more in peak times and less when you do not need infrastructure and storage capacity.
Famous public cloud platforms like Google Cloud, Microsoft Azure, and AWS are incredibly scalable, efficient, and affordable. Application migration to the cloud is inexpensive to run on-premise applications when handled and maintained correctly.
If you operate a business with ample employees and your business solution is available on the internet, you will eventually increase productivity. The employees also feel the flexibility in work to use, edit and share information or documents in real-time through shared storage of cloud-based platforms.
Infomaze offers application migration services to ease the daily business workflows efficient and robust, further optimizing the cost and infrastructure by facilitating collaborations, customer services, and product development.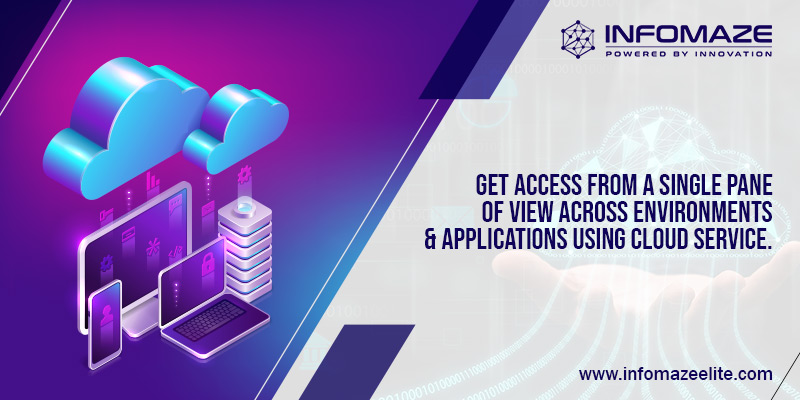 Cloud is an ideal platform for enterprises with an unstable market. Leverage cloud-based services to scale up or down your storage needs and operational cost of IT infrastructure as per varying circumstances.
When you start application migration to the cloud, you might know company requirements, but as the enterprise grows, you need more infrastructure to manage productivity. Thriving businesses require more space in the cloud platform to cope with increasing demands.
Most cloud application migration services help enhance business continuity by offering built-in, one-click backup and recovery abilities. Because disaster recovery is expensive, you have to hope your information and data are safe without any external physical damage if you use on-premise applications.
With application migration to the cloud service, your data gets automatically backed up, and you can start working anywhere remotely where you left off. It also offers the system to log off any data or information if there is a power failure or sudden halt of operations to prevent you from data loss in the future.
Cloud-based applications and data are accessible across the globe, and employees can perform their tasks using the application via tablets, smartphones, and laptops anytime and anywhere.
Employees no longer need to be tied to their desktops to get complete daily tasks. Cloud application migration service allows employees, vendors, and clients to access documents from any location and device, increasing productivity and availability.
Infomaze offers cloud application migration services from planning to deployment. We first understand your business and application requirements and offer tailor-made solutions to create a cloud migration methodology. Talk to our friendly team today, and we will assist you with all aspects of cloud migration.
---