Why Outsourcing SEO Services Can Skyrocket Your Website's Rankings
Imagine you are playing a game in a competition, and there are so many other players playing with you. So how and what will you do to get the first ranking? Now think the same about your business. You have a website, but it's not enough. So how can you optimize it, or who can help you optimize it? You will need SEO services or a team of SEO experts to do the magic.
Many businesses find it challenging to provide in-house SEO services. That is why you have a better, or maybe the best option, which is outsourcing SEO services. A company hires a third party with SEO expert knowledge to optimize its online presence and boost its search engine rankings.
If you're wondering why outsourcing SEO services can spike your website's ranking, this blog is just the perfect one you're looking for.
Importance of Outsourcing SEO Services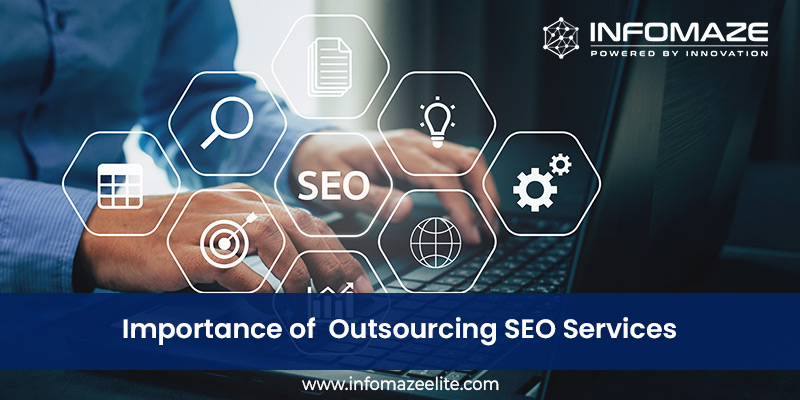 Outsourcing SEO (search engine optimization) services refers to a way to hire external individuals or agencies to handle all or some specific aspects of your website's SEO strategies and implementations.
Here are some highly important reasons why you should consider outsourcing SEO services:
Cost Saving and Affordable :

Hiring and maintaining an in house SEO expert is not only overrated, but it's expensive as well. Outsourcing can give you a wide range of service packages that are customized according to your needs.

Expertise and Specialization :

SEO is a specialized profession that requires in-depth knowledge and staying up to date with trends and market changes. The best way to stay ahead is to outsource an SEO expert who is well-versed in the field, algorithms, and the latest techniques.

Efficiency of Time and Resources :

SEO is such a time consuming work and always requires a lot of attention. It's better to split your work between an in-house SEO expert and an SEO professional because the in-house staff can handle your main tasks and an outsourced expert can deal with optimization and much more.

Growth and Versatility :

Outsourced SEO is known for its flexible nature. Whether you need intensive SEO work for a specific campaign or you need to cut costs during slacky times.
The Power of Outsourcing SEO Services that Elevates the Ranking of Your Website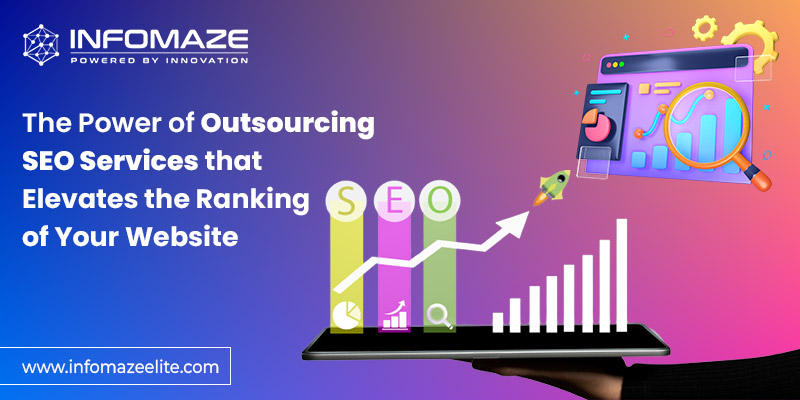 SEO is never about one-size fits all solution. Professional SEO services mainly specializes in conducting in-depth keyword research, on page optimization, link building, and boosting your website's ranking drastically. They are essential because they help businesses because they boost their online visibility, attract more organic traffic, and increase their chance to rank highly in SERPs (Search Engine Result Pages).
Managing in-house SEO experts can be time consuming, expensive, and distracts your team from the main tasks that include the growth of your company. Outsourcing SEO services frees up time and resources for crucial tasks. Instead of constantly worrying about keyword research and optimization, you can focus more on creating new innovative products, building your customer base, and elevating your overall business performance.
Many organizations are hesitant to outsource SEO services due to cost concerns. Outsourcing, on the other hand, appears to be a cost-effective alternative when seen as an investment rather than an expense. Putting together and sustaining an in-house SEO staff may be costly, with pay, perks, and the need for numerous tools all adding up. While outsourcing SEO, allows you to pay for services only when they are required, offering a flexible and scalable method that fits your budget.
Search engines often alter their algorithms, which can have a significant influence on the ranks of your website. Keeping up with these changes and changing your SEO strategy properly is a difficult effort. Professional SEO service providers have the knowledge and resources to track algorithm modifications and make appropriate changes. This keeps your website optimized for the most recent ranking variables, giving you a competitive advantage in search results.
SEO is mainly known for its technological upgrade with the use of advanced tools for high performance. To track website performance, analyze data, and monitor competitors, SEO uses various tools for various purposes. But the downside is these tools can be very expensive and time consuming but with an outsourcing SEO expert, you can get access to all the latest tools.
When you outsource search engine optimization services for a company or agency, you just don't get an individual expert; you get a team of experts who have more knowledge in that specific field. The SEO management team specializes in content optimization, technical SEO, and link building.
Outsourcing SEO is like adding a sprinkle of fairy dust to your online visibility. It's a thoughtful choice that might help your website rise to the top of search results like a phoenix. You may obtain access to knowledge, skills, and tools that are just as elusive as the Fountain of Youth by working with an experienced SEO service provider.
Infomaze has over 21 years of expertise in providing software solutions at a reasonable price. Our team of experts will guide you throughout your journey to outsourcing SEO services.
Consider the magical powers of outsourcing your SEO services if you want to see your website fly in the search engine sky. It's a strategic investment that might give you an advantage over rivals in the competitive world.
Unleash the magic of outsourcing SEO services and boost the ranking of your website with Infomaze!
---