How Does an SEO Service Provider Help You With Unique SEO Strategies?
Set up Your Website by SEO Strategy Agency for Better Search Ranks
To create winning SEO strategies, you need to follow the best industry practices to create brand awareness, expand target audiences, and earn more revenue by search engine optimization.
SEO marketing strategy is a decade old conventional practice, but in 2022 SEO strategies are still relevant for most people and the vast amount of information available on the internet.
Hiring SEO service providers is the most practical means of gaining a wide range of digital marketing goals. Attract the more relevant customers to your website & create a high converting lead funnel by SEO strategy services.
SEO stands for Search Engine Optimization. The process of enhancing your web content to be more favourable in both search engines & readers' eyes. A higher rank results in increased visibility, more relevant traffic to your website and a better chance to convert them into clients.
Your SEO strategies and content optimization strategy are the backbones of your digital presence. It determines if each website page meets your requirements where it ranks on the SERPs (Search Engines Results Page).
SEO strategies are carefully constructed long term plans that aim to get your unique website ranking on search engines like Google. Maintaining those rankings and driving relevant traffic to your site is part of SEO strategies.
If you plan SEO marketing strategy & SEO content strategy correctly, it can help your company website climb to the first page of Bing & Google results. The highest-ranked pages will eventually receive more clicks.
Moving up one rank in the search results will gain you a 30% higher click-through rate on average. Ultimately, more click means better leads, more clients & increased overall revenue.
What are the Essential Elements of a Victorious SEO Strategy?
There are three main focused areas to ensure your business has an effective SEO strategy:
On-page SEO:

On-page SEO is also named on-site SEO. It is the process of optimizing the content on your site, including keywords, body copy, meta tags, headers, images and many more.

Consider these tips for on-page SEO, including optimizing the metadata, researching your keywords, & performing internal linking.

Off-Page SEO:

As the name says, off-page SEO is everything that doesn't happen within your site. Off-page SEO is all about creating trust & exposure for your company resulting in more sales & visitors.

Off-page SEO primarily focus on link building. It is the process of getting other reputed websites to link back to your website. Other link building tactics include competitor analysis, pitching blogs/articles & helping reporters.

Technical SEO:

Technical SEO involves enhancing all the technical aspects of your site by helping search engines crawl your site & improve user experience (UX).

Technical SEO is constantly evolving and ensuring no issues with your website & UX, and your SEO efforts must be efficient, including mobile friendliness, site structure & website speed.
How SEO Service Providers Helps You in Building Unique SEO Strategies
Follow the below-outlined process to start your SEO optimization strategies.
Begin your SEO content strategy by considering what topics your content should include. Consider the services or products your business offers and any selling points you need to highlight first.
Create a list of 10-12 keywords that best suits your content & the services offered by your business. Use online keywords research tools to analyze the search volumes of these keywords and ensure they have enough traffic before you commit to them.
Long tail keywords are essential to building great SEO strategies. Long-tail keywords are longer keywords that focus on a specific aspect of the initial topic.
For instance, "SEO services" is your keyword. It would be best if you built several long-tail keywords, including "best SEO service provider", "where to find professional SEO services", & "SEO services provider near me", using the local SEO strategy.
Keyword research is usually considered an SEO marketing strategy. Do not rush into and assume this is not essential. If you do not begin with a substantial list of high-volume keywords, your SEO efforts will not pay off.
To make it easier for end-users to find content on a specific topic, you need the best content optimization strategy. With so many keywords to rank, you need to organize content to host on your website.
Create pillar pages on each of the short-tail keywords you picked. It also helps search engines like Google & Bing understand that all these pages are related. Reinforcing the same idea on your site, you will be a hub of experts knowledge within your topic.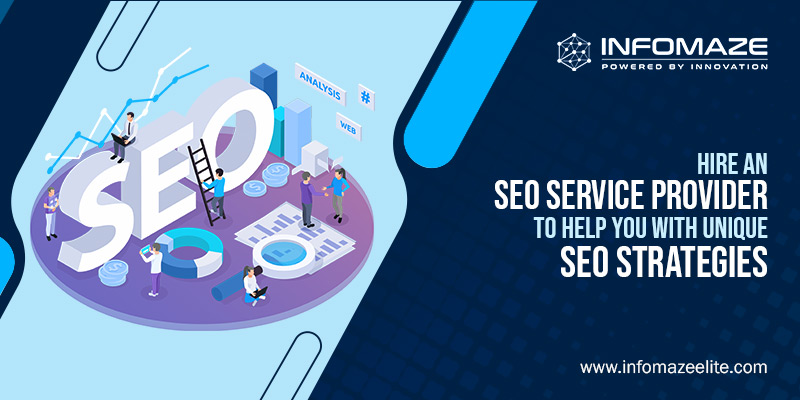 Come with a regular plan to post blogs or articles to host your content with its own set of keywords. Many businesses post blogs or articles once a week or month, which is not recommendable.
Once you have an organized plan to post blogs or articles, stick to it. Avoid competing with other pages on your site, and make sure you don't repeat keywords.
Keyword stuffing can be penalized by Google, so add keywords moderately and ensure to add an internal link to the right pillar page. By this, your audience can expect more content from you.
Your SEO campaign strategy should also include backlinks. These are the links to your site that appear on other websites around the internet. Backlinks are the significant components of SEO in the modern internet era.
List some reputable websites and place some backlinks yourself on review sites & online business directories. Or reach out to social media and influencers for backlinking.
Reach out to a trusted website for a backline if that link helps you reach your goals. SEO marketing strategy has the expertise & connections to secure quality links that will make a massive difference in your search ranks.
If your website has high-resolution images & videos to upload, reduce the file size. Because it will slow down the page speed on most internet connections.
Many online tools will compress your files without surrendering quality. Since page load speed plays a vital role in SEO marketing strategy.
Keep up with new developments, including SEO practices, SEO news, SEO content strategy, SEO marketing strategy and many more to be updated in the SEO field.
Conversing with the SEO strategy services team and exploring new announcements from Google and other major SEO service providers will get an idea of the new criteria the day those changes go live; otherwise, it will be inconceivable for you to prepare your website on time.
SEO is not always a foreseeable process. The content you have written may not end well with the audience. So it would help if you keep tracking the content performance by using a content optimization strategy to attract people searching for the same set of keywords you intended.
Use the best tools to analyze how your content is doing after being published. Google Analytics is the best tool to track your content performance and be prepared to make appropriate changes to increase your overall SEO strategies.
Get effective & guaranteed SEO strategies by hiring leading SEO service providers in India like Infomaze. Our defined SEO strategy services have assured top search ranks for different industry verticals at competitive prices.
Contact us today to help you grow your organic traffic and brand awareness via SEO.
---