The Must-Know Top SEO Lead Generation Techniques
Everything that you look for on Google or any search engine produces a collection of results. The results you find, the order in which it appears, and how it impacts you as a user, company, startup, freelancer or enterprise, fall to one significant factor that a lot are unaware of and should know; Search Engine Optimization (SEO).
This article covers everything you should know about SEO, how it impacts lead generation, what is lead generation, and why is it crucial to enhance your lead generation through SEO in brief.
SEO's complete form is Search Engine Optimization, which refers to optimizing the quality of the website or the web pages to help search engines find them, increase visibility naturally and organically, and improve the quantity of traffic to your website.
SEO improves your visibility based on multiple factors but significantly on one, the user's search intent. Google's algorithm mainly factors this while providing the SERP (Search Engine Results Page).
Based on the sales funnel (the path a prospect or a potential customer follows to turn into a customer), the search intent can be categorized into two;
User intent to get informed &
User intent to purchase.
The SEO needs to be optimized for every sale funnel stage to gain more leads and help improve lead generation through SEO.
To turn a consumer showing interest in your products or services and convert them into parties interested in the sale is lead generation.
What makes it Essential to Generate Leads through SEO?
With users having the option to block ads on Google, organically reaching out to consumers at the appropriate time becomes even more crucial. Hence, SEO lead generation techniques come to the foreground and are of utmost importance for companies to know the role of SEO in lead generation.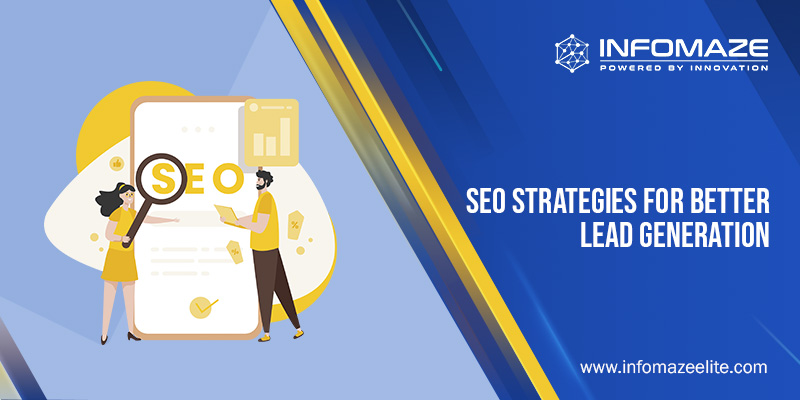 Way to Achieve Lead Generation through SEO
SEO lead generation techniques are many. Choosing which combination of techniques works for your website or helps engage the target audience more requires SEO experts. And an SEO Service Provider can help you with the same through efficient SEO lead generation services.
SEO Lead Generation Techniques that SEO Experts Follow:
Follow the below-outlined process to start your SEO optimization strategies.
Always start with describing who your intended customer is. It doesn't matter if you conduct an outbound lead generation exercise with calls or launch PPC lead generation through Google Ads; always know your target audience.
Determining & building a customer persona will help you create more accurate content that aligns with the target's questions, desires, problems, motivations, frustrations & favourite food.
Make sure your organization appears as many times as possible to generate leads through SEO with the right content at the correct time. Hire SEO service providers to map out your ideal lead generation in SEO.
You can learn a lot from competitive analysis. With SEO lead generation techniques, you can determine what competitors are working on, the ranking of their site and how you can outrank them by generating leads through SEO.
Compare traffic data from various competitors, including how numerous visitors they yield in a month, where the traffic is arriving from, and which content their top pages are ranking. If you detect more traffic from social media platforms, this may be an excellent opportunity to drive organic traffic through SEO.
Similarly, if you detect more traffic from social media platforms, this may be an excellent opportunity to focus on SEO.
Before we get into content optimization strategy, it is vital to audit your website's content to determine the relative weakness & strengths.
Auditing the content will enable you to determine what product or service page you need to focus your SEO lead generation techniques on to fill the content gaps.
Through this exercise, you can decide which content pages are performing well on your website, what specific topic your audience connects with & which content is not gaining traffic. By the end of auditing content, you will be able to:

What type of content is ideal for lead generation in SEO.
Determine what type of content is performing well on your website.
Collect concepts for future content writings. Discard content that is no longer with your business service.
Locate & fill content gaps where the audience might be dropping off within the sales funnel.
Uncover web pages with solid impressions but with a low conversion rate.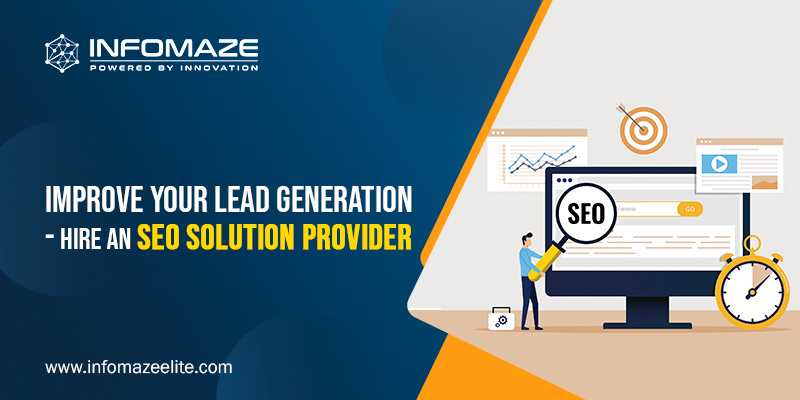 It's time to write content for your target audience. But before writing, you need to research and structure the content you need to write. Keep in mind to write related content to the target audience scouting on the internet.
Make competitive analysis, determine which keywords & phrases competitors are ranking, and write the content accordingly to lead generation through SEO.
Use a keyword tool to list out keywords & long-tail keyphrases with a high volume of searches. By this, you can develop a list of high ranking keywords.
Discover content ideas from Google's top-performing content pages to include in your research & write about the topics that will generate leads through SEO.
With planned & organized SEO lead generation services, you can turn a visitor into a lead, ultimately a sale. There are three primary stages in sales conduct; awareness, consideration & decision.
To pivot a visitor into a trustable lead, you need to organize the content that fulfils their requirements at every stage and drive them towards a discussion.
Let us assume you are looking for SEO service providers; here is what you might be looking at every phase: Now you have collected enough information on SEO service providers & probably created a shortlist. Now you will start comparing the prices and different services they offer.
The next step is the awareness stage, where you simplify the information on various services they offer, but you are nowhere near making a purchase. It is time to make a perfect decision, and you know who is the best SEO service provider to generate leads through SEO, how much are the costs & where to get SEO lead generation services.
Your leads are going through the same phases when looking for information about your enterprise offerings. It's true for B2B SEO lead generation techniques, where the decision to get the service can take up to 1 to 6 months with multiple touchpoints.
Infomaze is an ISO 9001:2015 certified & ISO 27001 accredited company & has provided services globally with various industry verticals. With our SEO lead generation services, we have created content with the right keywords as per your requirements. You can trust us for increasing your chances of turning a visitor into a trustable lead & ultimately a sale.
---