Algorithmic Trading Software- Get one Customized From Infomaze
Unlock the puzzles of  Stock Market algorithm software and level up your trading. Welcome to the captivating world of Algorithm- based trading software, where technology trends and the learning of the ages join to create great success in the trading universe.
We understand different traders need different trading strategies, and hence we are here to give you a well-structured approach and customize the algorithmic trading software at its core.
Algorithmic trading software combines the brilliance of artificial intelligence with the speed of lighting to analyze complex market data and execute trades in the blink of an eye.
Algorithmic Trading Software (also known as algo trading software, algo trading application, stock market algorithm software, or black-box trading) is a sophisticated computer program designed to execute trades based on predefined rules and algorithms. It leverages real-time market data, historical price patterns, technical indicators, and machine learning to identify profitable trading opportunities, execute orders without human intervention, and generate profits and frequency impossible for a human reader.
But not all algorithmic solutions are created equal. The central principle lies in the customization of the software and tweaking it to your unique trading preferences. This is where Infomaze steps in with its expertise and experience to evaluate your trading game.
Algo trading software has stirred up the financial industry by bringing automation, efficiency, and data-driven decision-making to traders worldwide.
Its challenging features like speed, consistency, best execution, and risk management have made it an integral tool for individual traders and industrial investors.
Algo-trading software provides simultaneous automated checks on different conditions.
Algorithmic trading strategies include arbitrage opportunities, trend following strategies, index fund rebalancing, mathematical model-based strategies, volume-weighted average price, TWAP, POV, etc.
Best Stock-Market Algorithm Software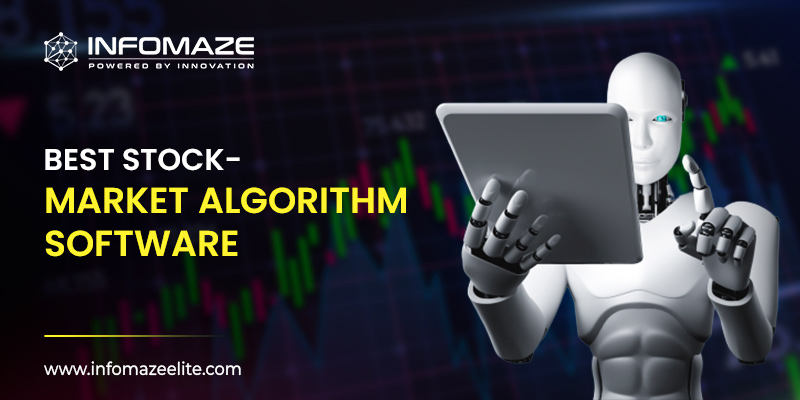 Here are some of our best algorithmic trading software that is user-friendly, has back-setting capabilities, asset class support, and integration with data sources
To master trading in the stock market, it's necessary to know charting, backtesting and future analysis. However many programs are available in the market that makes trading easier. One such tool we have expertise in customizing and designing as per the trader's needs is Amibroker, popularly known as the best trading decision-making software in the market.
Amibroker, an algo software for trading, offers a versatile and powerful platform to tackle the potential of automated trading.
Here are some of the key highlights by us, that validate Amibroker as a sought-after tool among traders and investors:
Advanced backtesting Capabilities:

Serve as a magical vat, allowing traders to test their trading strategies. Enables traders to assess the performance of strategies, identify strengths, and detect areas that need improvements, which eventually lead to valuable insights for live trading.

AFL (AmiBroker Formula Language) :

At the heart of Amibroker lies its proprietary AFL, a versatile and powerful scripting language. AFL empowers traders to create custom trading systems and exploration rules.

User-Friendly and Risk Management:

The UI acts as a guiding light for traders of all levels. Also, on the cloak of diversification and risk management.
Some of the pros and cons include:
Can easily customize the scanning tool to set multiple conditions.
User-friendly automated trading platform, easy to navigate, suitable for beginners to expert traders.
Only available for Zerodha subscribers
Cannot completely rely on this tool; some manual efforts are needed.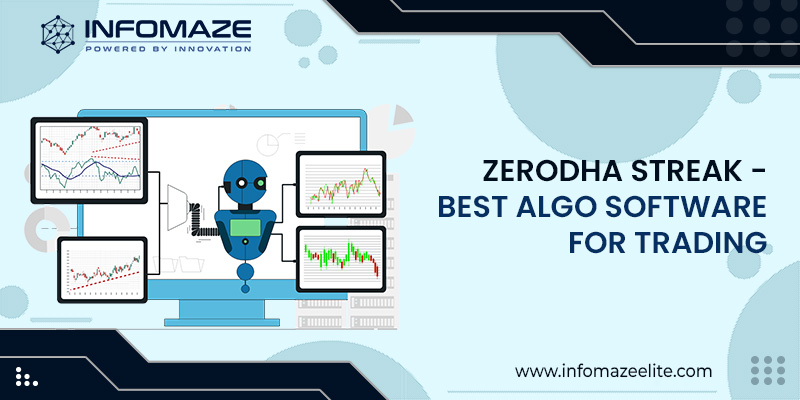 Another product from Zerodha that provides excellent features. This algorithm-based trading software was launched in 2013 in the Indian stock market with a few attractive trading features. This tool holds up well for excellent automated backtesting and technical analysis.
Here are some of the pros and cons:
All the strategies can be tested using the backtest feature.
Great capability to run a technical analysis for excellent outcomes.
Can run both fully and partly automated trading strategies.
It has a few features that are need to pay to avail of them.
It has a complex interface and needs basic programming knowledge to understand the UI.
If you wish to try something new in algorithmic trading software, Tradition Tech serves you right. It offers different trading strategies to trade in the stock market. It allows you to run fundamental and technical analyses which customize the strategies.
Pros and cons include:
Can be customized easily, and get unique strategies even from third parties.
Can use even-based algo for more outcomes.
Easy UI with competitive features.
Not Cost-friendly.
In the free version, only one strategy is enabled to run.
Algo test is high-end algorithm-based trading software specially developed for experienced traders. It supports multiple machine-learning algorithms and different predictive analyses. It also comes with forward testing, backtesting, and live trade options with great compatibility with TradingView, Fyers, Zerodha, and many other applications.
Specially created and is easily accessible to Indian traders.
Accurate because of machine learning algorithms and predictive analysis.
Only designed for experienced traders with high-end computer systems.
Traders must use advanced tools to stay ahead of market trends.
When it comes to algorithmic trading software, versatility won't cut it. That's where Infomaze excels. Our algorithmic trading software developer understands each trader's requirements and preferences. This is why we prefer focusing on understanding our clients needs for truly personalized solutions.
Here are some of the tailored strategies by Infomaze:
The seasoned algo trading software development team collaborates with you to design algorithms that align with your trading objectives.
Our designs and customizations adapt to your style, ensuring your trades are efficient.
We customize and fine-tune the software to your unique trading preferences and objectives.
Features that Set Us Apart
Cutting-edge Technologies: using the Latest advanced AI and machine learning
Seamless and hassle-free integration with your existing trading platforms
Data-driven insights that form the bedrock of your trading strategies
Backtesting and optimization with personalized support
Unlocking the potential of algorithmic trading with great speed and efficiency
Operating on predefined rules and minimizing emotional bias
Diversification and rock-solid risk management.
In the era of technology-driven markets, algorithmic trading software has become an incredible tool for traders aspiring for a competitive edge. Making customization and personalization a vital key, Infomaze serves an apt mix of AI-powered algorithms and professional customization to help our clients navigate complex financial markets with precision.
Enfold the power of our custom algo trading software development Team and let our algo trading Software Developers pave the way for your success in the world of trading. Partner with us today and open the door to a brighter and more profitable trading future!
---