Migrate Microsoft Access database to Office 365
Convert the Microsoft Access Database to Office 365 to Meet Your Modern Enterprise's Requirements
Discover the power of Office 365 for your organization by seamlessly converting your Microsoft Access Database to a cloud-based platform. With Office 365, you gain the flexibility and adaptability needed to meet the demands of a modern enterprise.
One of the remarkable advantages of utilizing the Office 365 access database is its cloud-based nature, ensuring accessibility from anywhere, anytime. By migrating your data, including emails and apps, to the Office 365 access database, you can quickly identify any potential issues and streamline your organization's operations.
In October 2020, Microsoft announced the retirement and shutdown of Microsoft Access web apps (2016) with complete support ending; however, extended support will continue until 2025. To prepare for this change and ensure a smooth transition, there are several steps you can take to convert your existing Access database to Office 365 efficiently.
Make the most of this opportunity and leverage the features and benefits offered by Office 365. Prepare your enterprise for the future by seamlessly migrating your Microsoft Access Database to Office 365, empowering your organization with a modern and robust solution.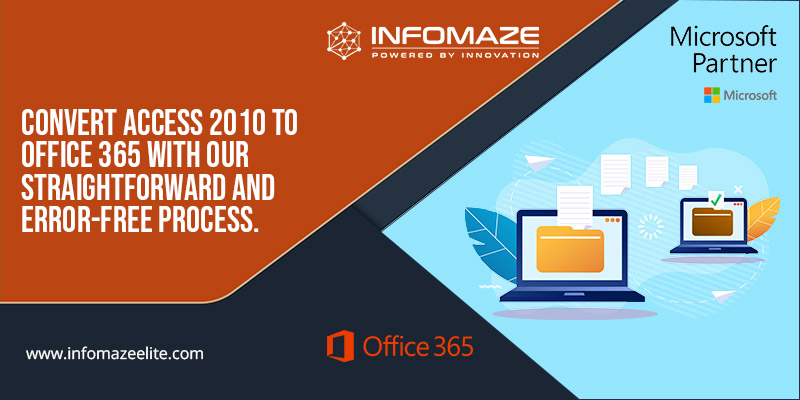 Access Migration to Office 365
Understanding how to migrate Access web apps to Office 365 and scrutinizing through the internet to choose the best data migration service provider can be challenging, so Infomaze's Office 365 and SharePoint online experts come into the picture.
Even if you have to convert the access database to office 365, our migration specialists at Infomaze can effectively plan and execute your migration before it's too late.
There are several ways we convert access 2010 to office 365 or migrate data from an Access app to a different data source, including relocating the data to Microsoft SQL Server, exporting the data to an Access desktop database, or exporting the data to SharePoint lists.
Our Office 365 specialists are readily available and are just a click away can help you plan and migrate all your Access web apps or convert your access database to office 365 and Sharepoint online, all while avoiding expensive migration mistakes that could cost you time and resources.
Don't get caught unprepared. Get in touch with us today to get started.
Key Benefits of Using Office 365
Access and Work from Anywhere
Convert access database to office 365 to accumulate all the files in the cloud. You can effortlessly access it from any device and location with a stable internet connection. For enterprises where mobile working is vital, accessing all the files and apps you need when out of the office is priceless.
If you choose to convert access 2010 to office 365 with Microsoft access database cloud, you get a two-factor authentication that ensures unauthorized people cannot access your data or files. If you are an enterprise dealing with confidential data, threat detection and anti-malware will identify and stop security threats.
Office 365 access database tools will keep the user communication straightforward and centralized across Outlook and Skype. You can always collaborate and communicate with external agencies globally, regardless of time and distance. Also supports co-authorizing documents and cross-department collaboration.
Office 365 offers a paid subscription per user or month, and the cost relies on the level of functionality you prefer for your enterprise. Upgrades are included in the subscription plan, so there are no additional costs. Paying per month gives you a foreseeable outgoing and allows you to organize your IT spending for the coming years.
In case of a disaster in the office, no matter what happens to your physical devices, files, emails, or data. Regular backing up data in cloud storage lets your business operate as usual. If you convert the access database to office 365, you have recovery features where all the emails and data can be restored when you need them.
Upgrades are performed automatically at predetermined stages. So you don't worry about the latest version of essential apps like Excel, Word, or Outlook. Upgradation is included in the subscription license fee.
With the office 365 access database migration, you can see who is available in your business and schedule meetings to work for everyone. Office 365 lets you share calendars, documents, contacts, and mailboxes in real time. SharePoint is another essential tool for facilitating collaboration that multiple people can access simultaneously.
Why choose Infomaze for Access migration to Office 365?
Moving out-of-date Microsoft Access apps and databases to Office 365 is seldom a straightforward and hassle-free process.
At Infomaze, we can evaluate your Microsoft Access data to perform a smooth migration for you. Added to this, we will be immensely pleased to work with you if you wish to include improvements and enhancements as a part of the process.
We highly recommend you move all versions to convert the access database to office 365 because the mainstream support for Access 2016 ends in October 2020. However, extended support will continue until 2025. Therefore Microsoft suggests migration to the current version of Access before the end of their support period.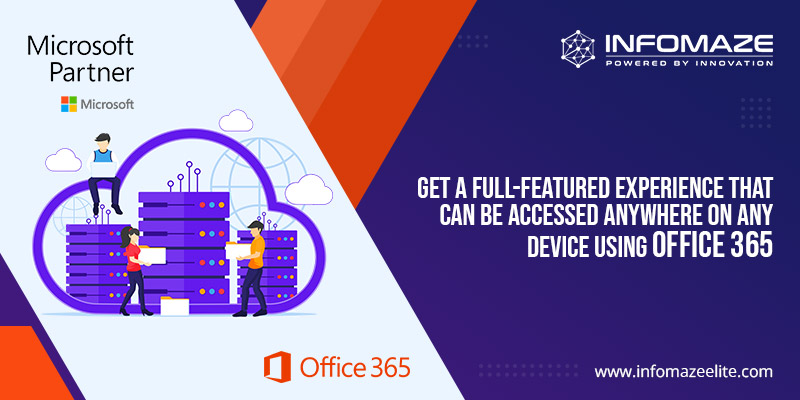 Whether to convert access 2010 to office 365, our developers can do it all. So, if you need to convert pre-Access 2010 databases up to Access 2013, 2016, 2019, or Microsoft 365, Infomaze can help you get there.
Our clients have reported that they couldn't complete the process without errors. Access migration to the office 365 access database froze and declined requests. Not all migration errors are logged even if you complete the process.
Based on our years of experience gained through numerous migrations, we use open source cloud migration tools and outline a well-orchestrated migration strategy and shift your applications and databases to faster workloads with minimum costs and zero risks. Our expert developers hold the proper knowledge, skills, and experience to maximize your overall performance and minimize data loss so that your business stays in business during the entire process.
Want to get your migration right?
Talk to our certified Microsoft access database cloud professionals, and they will assist you with all aspects of the migrating access database to office 365, right from implementation to deployment. We understand your business needs and can effectively transfer your workloads to the cloud without interrupting your business processes.
---