Migrate Microsoft Access database to Office 365
Migrate Microsoft Access database to Office 365 to meet the requirements of your modern enterprise
The good thing about Office 365 is that it exists on the cloud and is extremely adaptable. You can relocate any amount of data from emails to apps to Office 365 and immediately figure out what might go wrong if you migrate the entire organization.
Microsoft had announced the retirement and shutdown of Microsoft Access web apps (2016) and stopped all support since October 2020, however the extended support will remain until 2025. You can do various things to prepare for the shutdown and migrate to Office 365 in no time.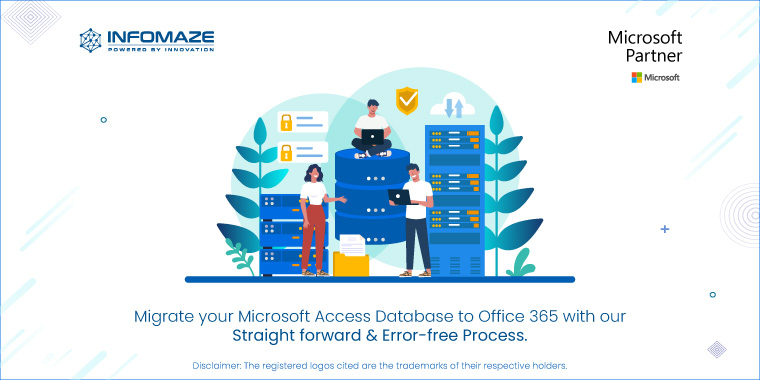 Access migration to Office365
Understanding how to migrate Access web apps to Office 365 and choosing the best data migration option can be a hard choice in itself. This is where Infomaze's Office 365 and SharePoint online experts fall in.
Even if you have Access apps as a part of your Office 365 solution, our migration specialists at Infomaze can effectively plan and execute your migration before it's too late. 
There are several ways we migrate data from an Access app to a different data source, including relocating the data to Microsoft SQL Server, exporting the data to an Access desktop database, or exporting the data to SharePoint lists.
Our Office 365 specialists are readily available who are just a click away can help you plan and migrate all your Access web apps and data to Office 365 and Sharepoint online, all while avoiding expensive migration mistakes that could cost you time, effort, and resources.
Don't get caught unprepared. Get in touch with us today to get started.
Why choose Infomaze for Access migration to Office 365?
Moving out-of-date Microsoft Access apps and database to Office 365 is seldom a straightforward and hassle-free process.
At Infomaze we can evaluate your Microsoft Access data to perform a smooth migration for you. Added to this, we will be immensely pleased to work with you if you wish to include improvements and enhancements as a part of the process.
We highly recommend you to move all versions of your Microsoft Access applications to Office 365 because the mainstream support for Access 2016 ends in October 2020, however, extended support will continue until 2025. Therefore Microsoft suggests migration to the current version of Access before the end of their support period.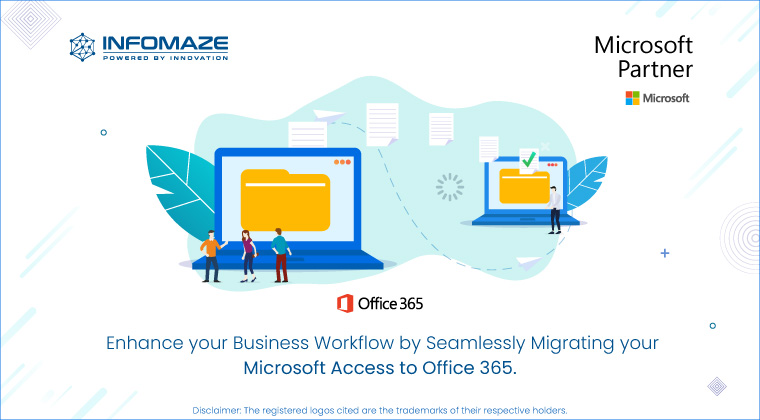 Whether it's converting databases to Access 2010, 2013, 2016, 2019, or Microsoft 365, our developers can do it all. So, if you need to convert pre-Access 2010 databases up to Access 2013, 2016, 2019, or Microsoft 365, Infomaze can help you get there.
Our clients who have previously attempted migrations by themselves have reported that they couldn't complete the process without errors wherein Access migration to Office 365 froze and declined their requests. Even if you end up completing the process, not all migration errors are logged as part of the method. Hence you're left not understanding precisely what might have gone wrong during the migration.
Based on our years of experience gained through numerous migrations, we use open source cloud migration tools and outline a well-orchestrated migration strategy and shift your applications and databases to faster workloads with minimum costs and zero risks. Our expert developers hold the right knowledge, skills, and experience to maximize your overall performance and minimize data loss so that your business stays in business during the entire process.
Want to get your migration right?
Talk to our certified cloud professionals, and they will assist you with all aspects of the migration, right from implementation to deployment. We understand your business needs and can effectively transfer your workloads to the cloud without interrupting your business processes.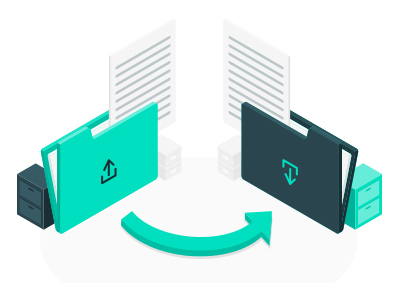 Get a free, no obligation quote.
---