Clear Indications It's Time to Embrace Business Intelligence
Lacking a strong BI tool with perfect business software leads to missing valuable insights, causing frustration and underutilization
It's disheartening when you've invested so much to synchronize everything for better profits, yet miss out on the major advantages of business intelligence. With BI, you gain real-time sharing of valuable information and effortless updates whenever needed.
Business intelligence services cover everything, from expert consultation to providing you with an optimal solution that truly works.
If you find yourself drowning in unmanageable paperwork, clinging to outdated data storage methods, and facing constant struggles to resolve issues, it's time to consider investing in efficient business organizing software. There are two main reasons you might hesitate to make this investment:
Worried about software costs digging into your budget?
Concerned your non-tech-savvy staff won't use it?
Fortunately, there is a software that effortlessly tackles both problems – it's budget-friendly and user-friendly, no technical expertise needed. Once you make the switch, say goodbye to paperwork for good!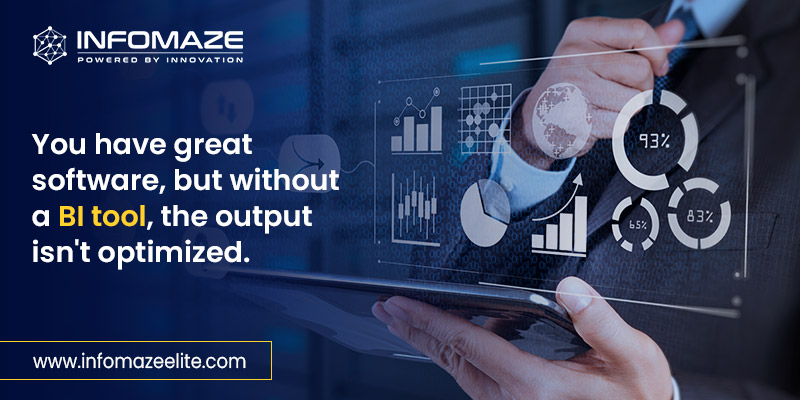 Discovering numerous errors in your system or paper-based information might not be surprising, given that manual work is prone to human errors, which can be reduced but not completely avoided. However, a BI tool operates like a computer, ensuring errors are close to zero or negligible, providing reliable and accurate insights.
When your data is scattered and messy, making it difficult to filter and organize the essential information, a BI tool comes to the rescue. It transforms this disorganized data into valuable insights, empowering you to make the best business decisions confidently.
Analytics relies on gathered business data, which can be confusing and challenging to distinguish between the various available information. However, Business Intelligence presents this data in a user-friendly and comprehensive format, accessible even to non-technical individuals, empowering them to make better decisions that drive increased profits. Reports are useful for tracking your business growth.
Say goodbye to the confusion of managing bills and purchase orders or tracking client payments. With business intelligence, you'll have real-time access to precise overdue information, so you don't have to make a decision. You just follow what is already there!
With a skilled business intelligence team, you can have a tailor-made BI tool that perfectly aligns with your business requirements. If any of the above points sound familiar, it's time to invest in a reliable business intelligence services from a reputable provider.
Infomaze stands out as a company with a dedicated business intelligence team that has been delivering top-notch BI services to clients worldwide for numerous years.
---