Migrate from Zoho Creator API v1 to the enhanced Zoho Creator API v2
Are you prepared to handle the Zoho Creator API v1 deprecation?
Zoho is deprecating its Zoho Creator v1 API this February 2021. Any application or third-party application running on v1 API will not work without updating to the Zoho Creator v2 API. Zoho creator is a web-based, low-coding platform that can be used to build applications that suit your business specifically.
Prevent interruptions in your business workflow by upgrading to Zoho Creator v2 API and be 100% ready to handle the deprecation of Zoho Creator v1 API. If you are unsure about going about the up-gradation, our Zoho experts can help you seamlessly migrate from Zoho Creator v1 API to Zoho Creator v2 API.
The Zoho v2 update, a necessity than an option!
With the Zoho Creator upgrading its API v1 to the advanced API v2, it is time to install the latest version with enhanced features to smoothen the business process. The older version will set down on 3rd Feb 2021.
Here's what Zoho Creator API v2 brings
Zoho creator API v2 comes with flexibility, additional features, and enhanced security.
The most crucial change with the update you get is the easy to use drag and drop feature that speeds up the application development process. Low-code skills are sufficient to create complex processes. Given below is a list of the additional superior features that come with the Zoho Creator API v2 update.
O-Auth based authentication -An authentication framework that allows client applications to access limited user's data without giving away the user credentials. Unlike the Authtoken feature, O-Auth refreshes the form data on an hourly basis to restrict application access.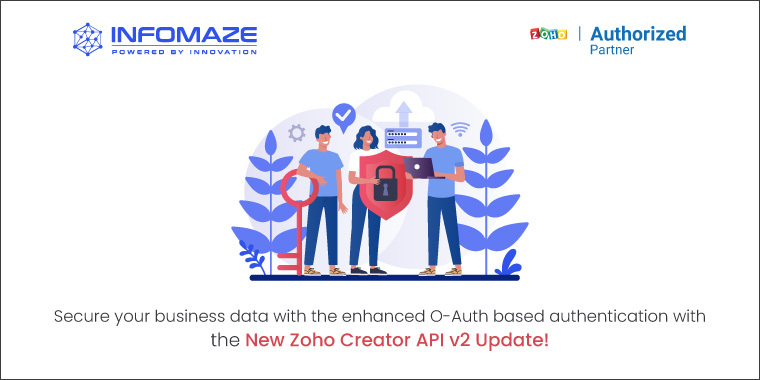 Support for PATCH methods – This HTTP(Hypertext Transfer Protocol) method allows users to make partial changes to an existing resource. Also, it supplies a set of instructions to modify the resources identified by the URI(Universal Resource Identifier).
Better Structuring – In the v2 release, form data is encoded and validated through the JSON method. This enhances data security and multi-platform accessibility.
Error Handling – Compared to the earlier version, v2 enables consistent error code handling. This intensifies proper communication in conveying the error to the client.
Performance – With this release of Zoho Creator, the application response time has increased to ensure accelerated business processing.
Keyword Restriction – The new update has extended its search enhancement by removing the limited criteria for keyword lookup.
Upgrade from Zoho Creator API v1 to Zoho Creator API v2 with Infomaze
Infomaze, being a Zoho Creator certified developer and solution provider, we have been providing a wide range of business solutions. With invaluable experience in building Zoho Creator applications for different industry verticals that empower your business, our Zoho experts plan a seamless transiting from Zoho Creator API v1 to API v2.
As a trusted Zoho Authorized Partners, we will co-ordinate with you at all times, and with the new codes in place, our developers will authenticate the entire enhancements to sail through the migration process. Our developers will also guide you with third-party integrations to streamline your workflow processes.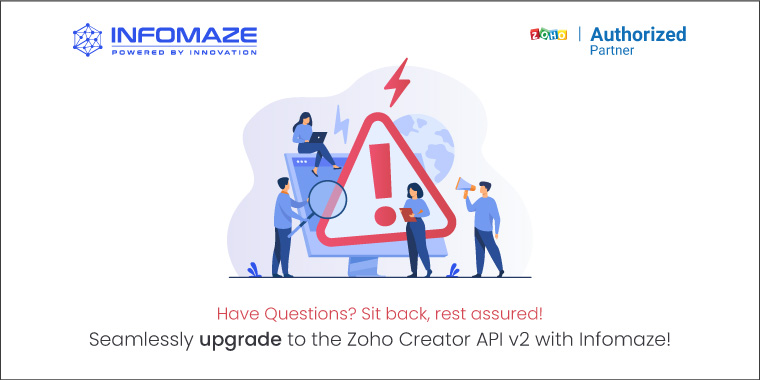 To make sure the solutions we develop fit your business needs, we build a custom plan for each of our client base. Be it a startup business or a large enterprise, we have set our stand in every field. Our
Zoho Creator Developers
at Infomaze know in-depth about the technology that suits the client's.
Do you have any Requirements?
Our team of experts assesses your business needs and create beautiful applications. Contact our team of Certified Zoho Creator developers to upgrade from v1 API to v2 API NOW!
---