Shopify website development services
Hire Shopify website builder to create top-notch customized eCommerce stores with exceptional web performance and enhance the functionality of an existing Shopify website to increase sales.

Shopify app development services
Keep your eCommerce business at your fingertips with our proficient Shopify app development team. The Shopify app allows you to manage your orders, staff, products, and more anytime.

Shopify theme customization services
Hire Shopify theme developers to design a theme per your eCommerce store's business requirements and help you succeed by offering Shopify theme customization services and reliable Shopify services.

Data migration and re-platforming services
Our Shopify developers for hire migrate your data from one platform to another as smoothly and efficiently as possible. Also, if you want to move from your web store to any other eCommerce platform to Shopify, our developers can help you.

ERP systems setup services
Hire Shopify developers to connect any state-of-the-art ERP systems with applications or Shopify platforms. Get a holistic view of your business process and upgrade your decision-making processes to the next level with ERP systems.

Multi-language and multi-currency store development services
With abundant experience providing service to the eCommerce industry, we know how to enable eCommerce store selling in multiple languages and stores to achieve new leads and markets globally. Hire Shopify developers to create a shopping experience effortless by using the currencies and languages of local markets.

Third-party application integration services
Hire a dedicated Shopify developer who can extend your Shopify-based website functionality with third-party applications. We help integrate inventory management platforms, ERPs, and other marketing software for your e-store.

Website speed optimization services
Our experienced and skilled Shopify developers create an e-platform to sustain high loading speeds and ensure the swift performance of the individual blocks, catalogs, and resources to keep your prospects happy and satisfied.

Innovative UI/UX design services
For any eCommerce business, an attractive UI/UX design is vital for customers to be engaging and convenient for online sales. Our Shopify developers for hire will implement their best skills to ensure your site has smooth performance with innovative UI.

Consulting and support services
Maintaining your website to ensure high performance is vital in the competitive digital world. We provide ongoing support and consulting services to keep your eCommerce store running seamlessly for better productivity.
Our Shopify Blog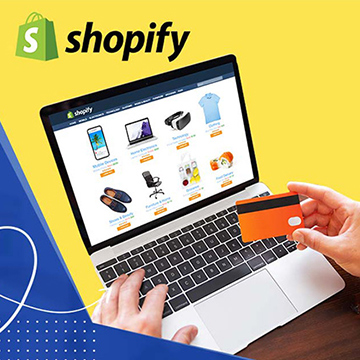 Build an e-commerce website with Shopify
Hiring a dedicated Shopify developer is a significant step for any business, and the platform is very flexible and can suit various industry verticals. Whether you need to sell your goods or expand your existing business for more revenue, it's best to build an eCommerce store on Shopify and sell online.
View Details
Infomaze's Affordable And
Flexible Hiring Modules
We are experts in offering flexible hiring modules as per your business needs. Hire Shopify developers and select a full-time, part-time, or on-demand team that meets your project prerequisites. Do you have an opinion and need to complete it on a fixed-cost basis?
Our fixed-cost module will furnish the exact solutions at an approved cost. Choose our flexible hiring modules for Shopify developers and share your requirements for your eCommerce project. We can reduce your fixed cost and deliver state-of-the-art solutions as per your requirements.
Hire Shopify Team Today

Fixed Cost Project Based
Engage us to develop your e-store project on a fixed-cost basis. We need the project's requirements, and our competent Shopify developers can take it from there. Your tasks are delivered on a milestone basis by performing multiple QA tests before delivering your project.

Hire Professional Shopify Developer
Hire a Shopify developer(s) or team for your unique project needs and engage us monthly or long-term. You can begin a 12 hours trial task and hire the team based on results. The price is more competitive with the duration. We offer the best-dedicated Shopify developer or team with the experience to deliver top-notch results.

Hire Team on Demand
Usually, you may not require a part-time or full-time Shopify developer or team to work on your project. This model lets you hire our proficient team on demand to perform critical demands and requirements. Our team of Shopify developers for hire can initiate work instantly and strategically.
How to Hire Professional Shopify Developers from Infomaze?
Share Project Requirements
Call or Email us a line or share your creative thoughts to let us understand your precise project demands and specifications.
01
Hire Shopify Programmers
Filter our talented pool of developers and select from a Shopify developer's profile list to work on your unique project.
02
Get the Project completed
Our Shopify experts will keep you in the loop during the development process, from coding, designing, and testing to delivery.
03
QA &
Testing
Once the project is complete, we will run detailed QA (Quality Assurance) tests on your site for flourishing performance.
04
Our Shopify developers have experience in the following
industry verticals
Jewelry

Jewelry

Hire Shopify website builder to understand customers' needs and keep up with the changing requirements for your jewelry and accessories e-store. We can help your Shopify store connect with modern buyers and convert them into a source of revenue for your enterprise.

Food

Food

With a block shop theme, our skilled Shopify developers turn your customers into true fans. Using the theme features, we help you promote your store activities and promotion effortlessly suitable for independent artists, boutiques, and startups.

Sports

Sports

Hire Shopify website builder to create a setup with a simple theme covering the basics for most online eCommerce stores. We can develop your e-site as per your specific customizations with color schemes, fonts, logo size, and web parts to suit your needs.

Personal Care

Personal Care

Nowadays, customers are unique, so we use a feature-filled theme with a layout, menu, and font. Our theme design primarily aims to be elegant, spacious, and simple so you can grab customer attention and retain it for a long time.

Clothing

Clothing

The apparel industry is booming, so our Shopify developers use cutting-edge tech with high-end functionality themes, responsive design, and pre-designed color presets to load websites faster and offer more SEO features.

Entertainment

Entertainment

No matter what is going around the world, entertainment is necessary, so hire Shopify experts to create an eCommerce store offering games, music, TV and film, books, and even stationary for startups and big enterprises.

Electronics

Electronics

Our dedicated Shopify developers create a perfect eCommerce store with Shopify for retailers to supply electronic goods, including gaming devices, personal computers, laptops, alarm systems, home monitoring devices, innovative living products, and more.

Household Goods

Household Goods

Using custom themes, our Shopify developers for hire build an efficient eCommerce platform to sell household goods. If you're a small business owner looking for a quick and easy online store setup, hire Shopify developers.
Why choose Infomaze for eCommerce site development?
Our Shopify developers have abundant experience and completed numerous eCommerce projects of different complexity, scales, and industry verticals.

Get access to a large pool of knowledgeable professionals and hire Shopify theme developers with niche experts for a quick and easy online store setup.

Get an e-store designed by professionals following all the industry practices in development, design, and user experience that would help you get your enterprise in front of prospective customers.

Hire Shopify development service for your business to help you add additional functionalities and features to your site and make it highly personalized based on your needs.

Our Shopify developers and teams work smoothly and efficiently, setting goals and schedules in no time to ensure the project starts on time.

We keep updated through regular meetings, week-by-week breakdowns, and documenting completed and remaining tasks. Such unique reports function as proof of the team's performance.

Our dedicated Shopify developers have experience in the latest tools and technology to protect your valuable information from leakage or deletion. So rest assured, all your crucial data is safe with us.

Hire Shopify development service to follow an agile approach so our team can measure its plan countermeasures and spot pitfalls and performance.

Once your eCommerce store is up and running, our developers can help you with website support and maintenance, so there's no downtime.

Our Shopify development service has unique insights and experience in the eCommerce industry that come in handy to attract more customers.

We have good knowledge of inventory management systems, Shopify applications, payment gateways, and more, making them a valuable asset for any business looking to launch an e-store.

As an ISO 9001:2015 Certified and ISO/IEC 27001 Certified company, we sign strict NDAs and agreements that are clear-cut and comply with your local laws.
Hire Shopify development service
Salvatore

Project Manager
"Infomaze is the best technology partner any business could ask for, they go above and beyond to satisfy my business needs and they will do research and develop anything you need. I will never switch to any other company, may your success be our success! P.S. Gaj is the best."
Bryce

Project Manager
"Vic and the team at Infomaze are absolutely awesome to work with. Their price was fair and their professionalism is top notch. They spent more time waiting on me than I did them, and they were patient and courteous every step of the way. I would definitely recommend hiring them , and I will continue to use them for my future projects"
Jonathan

Project Manager
"I was very happy with the promises made and, more importantly, delivered. Quality code. Neat and organized. Ace assisted with the last tweaks to ensure I was a happy client. I would be happy to work with them again on my next project."
Gerhard

Project Manager
"The project thus far was not complicated and we are continuing to the next phase. My experience with Vik to date: Very good service – friendly and helpful with" high level of technical understanding and competence. Listens to what I want, makes suggestions where appropriate and delivers very quickly.