Zoho Vs Zoho One – which should you choose?
The collective number of customers, be it startups, small to medium businesses, or large enterprises leaning towards Zoho, all have the same question. And If you have been asking yourself that very question, we are here to answer that precisely.
What is that question? It is the one that this article addresses and helps you in answering; Zoho vs Zoho One, which to choose?
For the sole purpose of being thorough, we will also cover what is Zoho One & what Zoho is and cover the differences between Zoho and Zoho One before we give our expert opinion as Zoho Authorized Partners in helping you decide which of the two should you choose.
What is Zoho?
Zoho offers web-based business and productivity tools. One can purchase the cloud-based suite of applications on a la carte pricing model provided by the Indian company Zoho Corporation.
While Zoho also offers productivity and collaborative suites, including Zoho CRM Plus, other similar bundles and Zoho One. We will mainly focus on how going for a la carte model, Zoho bundles, or Zoho One can favour your business.
Addressing every operation in your business and automating the same, Zoho has come up with the unification of apps as follows:
Zoho One is an integrated suite of applications or an application bundle that run seamlessly to manage sales, finances, marketing, operations, human resources through a centralized, one-solution approach.
What is the difference between Zoho and Zoho One?
Understanding what Zoho One is and what Zoho is, provides us with the highlights of the main differences between the two business software models.
One is a stack of applications, individually put to use or used with other chosen applications on a la carte basis, while the other is a stack of applications that come as a package.
The other essential aspect that comes into consideration is the pricing of the business modules. We will evaluate the kind of application features Zoho offers to discuss the same.
The Application features that Zoho, exclusively Zoho CRM, offers in their annual or monthly plans, from free, standard, professional, enterprise, ultimate plans, are as follows:
Sales Force Automation,
Product Customization,
Automation & Process Management,
Prediction and Artificial Intelligence (Zia),
Reports,
Analytics and Measurement,
Social,
Marketing Automation,
WebForms,
Team Collaboration,
Inventory Management,
Customer Support,
User Portal,
Document Library,
File Storage,
Data Administration,
Security Administration,
Developer Tools,
Add-Ons & Integrations,
Integration with Microsoft,
Integration with Google Workspace,
Support.
Note: The above list has differences in their volumes, from the number of users, integrations to developer tools available from one plan to another depending on the plan chosen. The above list has sub-features, including the available number of forms, which may vary based on the number of subscribers and the chosen plan.
For more info on the same, talk to our experts who can help you decide which plan best suits your business.
The Zoho applications that one can use individually or as an integrated suite as Zoho One is as follows:
As the volumes of the above applications that can be given in a bundle highly varies and is dependable on the enterprise requirement, it is significant that we compare which option to go with – whether the A la carte model, the Zoho bundles or specifically Zoho One?
How to choose: Zoho vs Zoho One?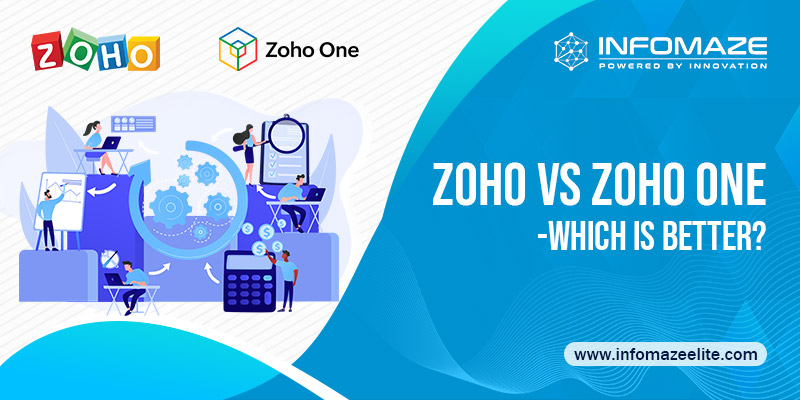 Among the options, when you consider your enterprise requirements, it helps your Zoho consultation partner or yourself to help make the decisions easier.
The factors that one can consider are as follows:
We will elaborate on all of the above and help you decide what should you go for among the given options.
How the pricing affects your enterprise?
When you are deciding whether to go with A la carte pricing model and choose to subscribe to only a few applications, or just Zoho CRM, instead of choosing to go with one of the Zoho Bundles, specifically Zoho One, or vice versa, it is best to compare the cost savings you could make by thoroughly going through the plans and their advantages when choosing the best option for your enterprise.
Let's say you want to choose a few applications; then, you might have to make comparisons to check whether Zoho One vs Zoho CRM or Zoho One vs Zoho Creator is your best bet. Will the CRM alone fit your business needs, or does your enterprise need a custom application developed?!
Once you shortlist the applications, you need the overall pricing; check whether it works for you or if it is better to go with multiple applications included in Zoho One, even though you do not use all of them.
Consider the below example to understand better what we say above; the Zoho One subscription plan requires you to purchase the license for all of your employees while it is not the case for Zoho CRM Plus or other bundles or even the a la carte pricing model.
But the catch here is the Zoho One bundle is available at remarkably nominal pricing that provides enormous features and applications.
Now, let's say you are running a company of 3-5 employees and just starting your business; choosing only the applications you need becomes a relatively costly affair.
However, even though you need to licence it for all the employees or most employees, opting for Zoho One still works out cheaper and becomes affordable. On the other hand, you also get a feature-rich array of applications in the Zoho One bundle.
Or maybe you are an enterprise with many employees; It does not make sense to licence Zoho One for all of your employees when only a handful of them use the applications, then choosing the different pricing model of the Zoho One might still work better.
Even when the pricing of Zoho One seems higher when you want to license it for only a few employees compared to licensing it for all, the number of applications and features it renders still makes it a better option than any.
So, weighing your options based on the pricing helps make the decision easier and more practical at times like this. One utmost advantage of going with Zoho One is that the 45+ applications you get under the bundle are all enterprise-level applications which also plays a major role in weighing your options.
What are the functional requirements that need to be fulfilled?
But, let's say all you need is one specific application, and that is the end of your SME or large enterprise requirement as there are other applications already in place to run your operations. When you do a Zoho vs Zoho One comparison to help you decide, Zoho comes out as a winner.
At the same time, when your need for functionalities and feature-rich application requirements are more, Zoho One comes out as a winner in comparing Zoho vs Zoho One.
How best can you achieve cost savings during implementation?
Let us say you opt to go with a bundle like Zoho CRM Plus, but you also need a few more applications to fulfil your enterprise requirements; then, the below factors help you in your decision-making process.
Opting for the Zoho CRM Plus bundle could instantly seem like a good idea. Still, when you consider the subscription costs for the applications themselves and the number of API integrations allowed and the cost of those additional application subscription fee, all of them put together doesn't help in cost savings in the long run. At times like this, Zoho One seems to be your best bet.
Also, Zoho One comes with Zoho Creator and complimentary mobile versions of the applications you create. Hence, if your enterprise requires a series of ready Zoho apps while requiring a custom application, then choosing Zoho One Solutions helps.
But, when you choose to customize the Zoho applications on A la carte basis, getting those customizations done may not work best and turn into a costly affair.
So, it is crucial to understand that every business is different and looking in profoundly at the application needs, the pricing, and the cost savings take care of narrowing down the Zoho plan you need to choose. Comparisons of Zoho vs Zoho One Solutions helps tremendously.
Are you too overwhelmed to choose the right Zoho plan?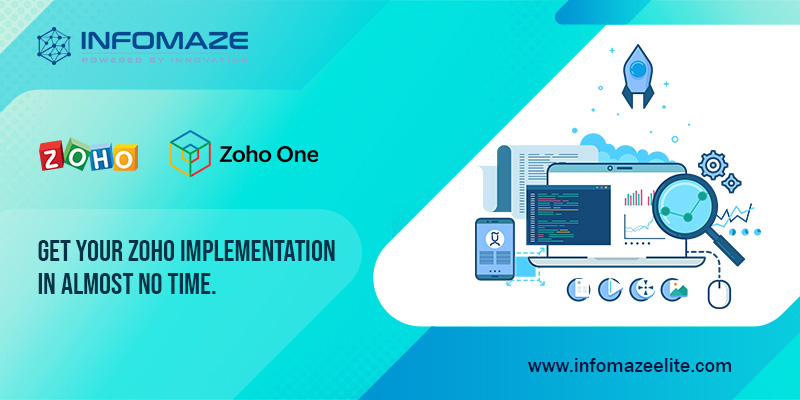 ---