Why Hiring Shopify Developers Can Take Your E-Commerce Business to the Next Level
Running a business can be overwhelming, with never-ending to-do lists and multiple roles to juggle. As an entrepreneur, you're not just a business owner, but also an accountant, content manager, marketer, and CEO. This heavy workload can leave you feeling exhausted. While it may seem like the only option, there's a better way to reduce your load and boost the success of your eCommerce business.
Instead of hiring a full-time web co-ordinator, which may not be feasible due to budget and time constraints, consider the invaluable assistance of Shopify experts. By bringing Shopify developers on board, you can lighten some of the burdens on your shoulders while ensuring they fully grasp your company's unique needs.
Why Hire Dedicated Shopify Developers?
Hiring dedicated Shopify developers brings numerous benefits to your business. These experts possess specialized knowledge and experience in working with the Shopify platform, ensuring efficient and effective development of your online store. They can customize your website to meet your unique requirements, providing a tailored and user-friendly experience.
A Shopify developer's main job is to make your online store awesome and help you sell more. They use your brand's guidelines to create a customized and user-friendly eCommerce website. They also connect different parts of your store to work together smoothly.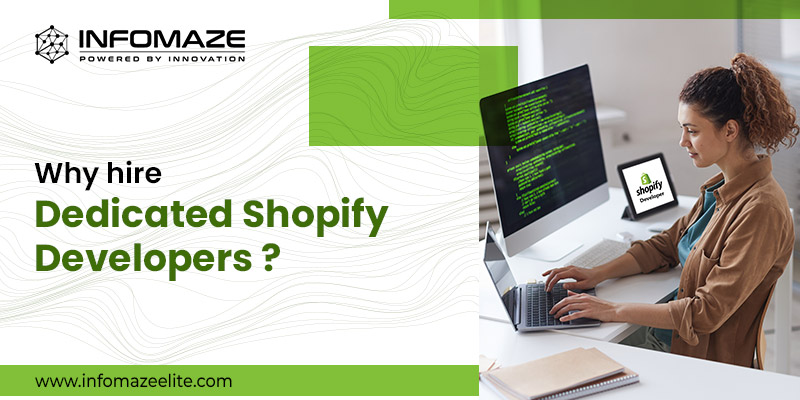 Shopify web developers are experts in building and managing online stores on Shopify. They know how to make the most of Shopify's powerful features by combining web development skills, creative design elements, and technical know-how. They are familiar with every aspect of Shopify's admin system, so they can handle all the behind-the-scenes stuff.
When you bring onboard Shopify developers, they'll make your online store truly unique by personalizing its appearance, adding special features, and customizing the design.With their assistance, you can scale your online store as your business grows. Ultimately, hiring dedicated Shopify developers empowers you to create a successful, scalable, and highly functional online presence for your business.
Advantages of Hiring Dedicated Shopify Developers:
Expert Shopify developers have extensive experience working with the Shopify platform. They possess in-depth knowledge of its features, functionalities, and best practices. Their expertise allows them to efficiently and effectively build, customize, and optimize your online store.
By hiring a Shopify developer, you can create an unique and customized website for your business, setting you apart from competitors. Customers are attracted to visually appealing and personalized websites, enhancing their interest in your products and services.
In today's digital world, having a user-friendly and well-designed website is crucial for business expansion and building a strong reputation. A beautiful website helps establish your brand and attract customers, giving you an edge in the market.
Shopify includes Abundance of SEO-friendly features that can help drive new business opportunities and benefit your online store. Furthermore, by allowing mobile-friendly themes, optimized images, and avoiding massive-sized sliders, Shopify allows your online store to load quickly.
To succeed, it's essential to efficiently manage and run your business without distractions like website development. Hiring a Shopify developer allows you to concentrate on expanding your business while getting a professionally crafted website that aligns with your vision.
These experts understand the online market and trends, ensuring your website is not only perfect for your business but also up-to-date with the latest online market trends.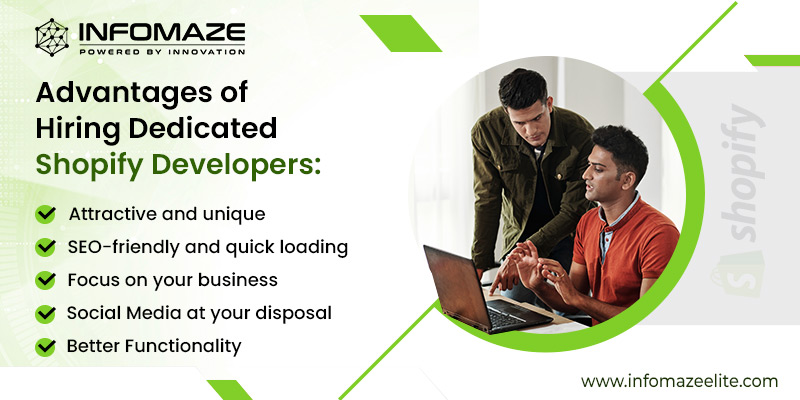 Social media plays a crucial role in online marketing, and Shopify makes it easy for you to leverage these platforms. With Shopify, you can seamlessly integrate your e-commerce business into major social media platforms like Twitter, Facebook, and Pinterest. This integration allows you to engage and attract traffic from these platforms by offering in-platform shopping functionality.
For example, on Twitter, you can add a "Buy Now" button to your tweets, while on Facebook, you can incorporate a "Shop" tab on your business page. Pinterest also offers a "Buyable Pins" option, enabling customers to make purchases without leaving the app. Shopify simplifies social media marketing for your business.
By hiring Shopify developers, you can enhance the functionality of your Shopify templates to meet your specific needs, giving your business a boost. They offer various applications and solutions to overcome limitations and difficulties you may have encountered while creating a website on your own. With their in-depth knowledge, working with expert Shopify developers allows for seamless customization and enhanced functionality.
Hiring expert Shopify developers offers numerous advantages, particularly in creating a customized website that enhances your brand reputation. While you may be able to develop a basic functional website on your own, dedicated developers bring the necessary skills and experience to take your website to the next level.
At Infomaze, we have experienced Shopify professionals ready to help you achieve your goals. Contact us, for tailored software services worldwide.
---