RingCentral Integration with Zoho CRM – A Case Study
The Summary:
The client is a healthcare, cosmetic surgery and consultations provider for their patients.
With the advent of businesses moving online all across the globe and the consecutive years of the pandemic, the healthcare sector too chose to move things online.
Our client wanted to follow suit and bring in telephony communications in their practice and came to us for our Zoho consultation services.
The Client: Planning to Incorporate Telemedicine
The client used Zoho CRM to manage their clientele and planned to bring telephony into practice to cope with the difficult pandemic times.
The customer came to us looking for a solution that would work seamlessly with the Zoho system that they were using.
And, we helped automate cosmetic surgery practitioners' day-to-day online consultations using telephony integration with Zoho CRM.
The Requirements: Automated Telemedicine Practice
The client wanted a Zoho-VOIP integration to help them attend to their patients with easy access to the patient records, chats and prior communications.
To prevent multiple data entries, the client wanted a telephony integration with Zoho CRM that allowed calls to be placed/received from within the CRM with pop-ups of the patient records showing upon arrival of a call.
Maintain a clear and crisp log of calls with easy tracking in Zoho CRM, which would help the practitioners maintain a detailed patient history.
Overall the client wanted a telephony integration with Zoho CRM to prevent unwanted app switching and provide seamless video consultations for their patients.
The Technology: RingCentral Telephony
As Zoho authorized partners, we provided our consultation services and, aligning with the client's requirements; we chose RingCentral telephony for a telephony integration with Zoho CRM.
RingCentral is a could-based system that provides businesses with seamless voice, SMS, video-enabled communications and more.
The Solution: A RingCentral Zoho Integration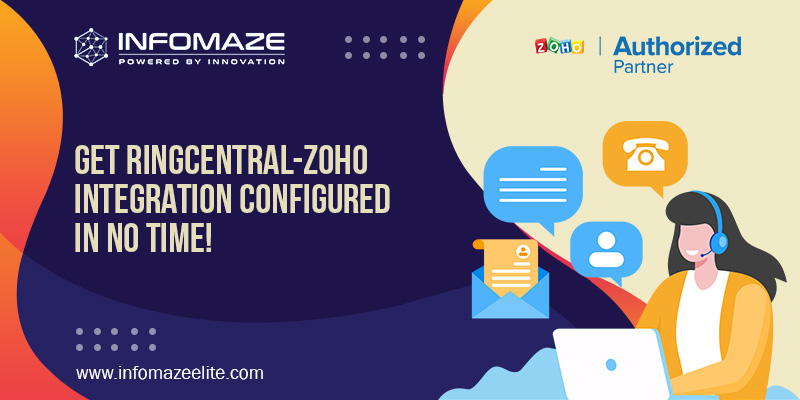 The Result: A Successful Implementation of RingCentral Zoho Integration
---